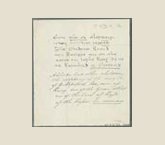 UCD manuscript
UCD Library Special Collections holds a collection of 28 manuscripts, mainly in the English language.
Identity Statement
Reference code IE/SC/UCD ms
Title
UCD Manuscripts.
Dates
1700s-1900s.
Level of Description
Fonds.
Extent
c. 10 boxes.
Scope and Content
28 mainly English language manuscripts.
Includes The Return of the Native by Thomas Hardy (UCD ms 11).
Contains the UCD Letters Collection, many of which pertain to the Catholic University of Ireland. These include the correspondence of 19th century scholars John O'Donovan and William Reeves.
Manuscripts 7 and 8 are 18th century Latin texts on religious matters written by the scribe Andrew Ryan in 1759.
Manuscript 15 William Lover.
The other material is from the 19th and 20th century.
A manuscript copy of William Wilde's History of Irish Medicine and Popular Cures is also included.
Access and Use
Access
The materials in this collection are available by appointment only to research students, reaching staff and scholars. Research students should have a letter of recommendation from their supervisor.
Reproduction
Photocopying or digital photographing of this material is not permitted.
Language
Primarily English.
Finding Aid
The material is listed online in Sources: A National Library of Ireland database for Irish research. This search tool is the online version of Hayes, Richard J. (1965) Manuscript Sources for the History of Irish Civilisation, Boston Hall, also available in James Joyce Library, Level 2, Ref GR 016/091.