John O'Donovan/William Reeves Correspondence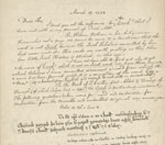 John O'Donovan Letter
UCD Library Special Collections holds the correspondence between John O'Donovan and William Reeves.
Identity Statement
Reference code IE/ UCD/SC/JO'D
Title
John O'Donovan/William Reeves Correspondence.
Dates
1832-1860.
Level of Description
Fonds.
Extent
106 items.
Context
Creator
John O'Donovan (1806-1861).
Biographical History
John O'Donovan was born in Kilcolumb, County Kilkenny.
In 1830 he took up the post of 'Orthographer and Etymologist' with the Ordnance Survey and was appointed the head of the Topographical Department the following year.
In 1834 he began fieldwork for the Ordnance Survey and travelled throughout Ireland working on place names.
He was assisted with this task by several people including Eugene O'Curry. (O'Curry's manuscript collection is also held in UCD Library Special Collections).
This fieldwork involved writing an explanation of over 60,000 townland names as well as details of the history and antiquities of these townlands.
It was as part of this fieldwork that the famous O'Donovan's name books and O'Donovan's letters were produced. (Copies of O'Donovan's letters and name books are held in UCD National Folklore Collection).
O'Donovan was a prolific writer and appeared in various publications of the time.
His greatest achievement was the publication of a transcription and translation of the Annals of the Four Masters in seven volumes in 1848-51.
Creator
William Reeves (1815-1892).
Biographical History
He was a celebrated antiquarian and the Church of Ireland Bishop of Down, Connor and Dromore.
Prior to this he had been the Armagh diocesan librarian for a time.
Reeves published several books including the Life of St. Columba and the History and Antiquities of Down, Connor and Dromore and the paper On the Townland Distribution of Ireland.
Source of Acquisition
Inherited by UCD Library from an antecedent body of UCD.
Scope and Content
There are 80 letters either to or from John O'Donovan O'Donovan's principal correspondent is William Reeves.
One letter is to George Petrie [1789-1866).
Three letters are to James Henthorn Todd (1805-1869).
One letter is to Edmund Getty
One letter is to O'Donovan from Arthur Blennerhassett Rowan (1800-1861).
One letter is to O'Donovan from W. Oldham.
The correspondence with William Reeves often takes an interesting form. Reeves writes to O'Donovan with enquiries about Irish words and place-names and O'Donovan annotates the letter with his answers and sends it back.
In addition to these letters, there are 26 fragments, mostly of questions and answers; some of these may belong with letters, as there is sometimes reference in a letter to queries enclosed.
Access and Use
Access
The material in this collection is available by appointment to students, teaching staff, and independent researchers. We also welcome interested members of the public.
Please contact us at special.collections@ucd.ie for further information. To book an appointment click here.
Reproduction
Photocopying or digital photographing of this material is not permitted.
Language
English and Irish.
Finding Aid
Descriptive list
Allied Materials
This collection has been digitised and is available in the UCD Digital Library.
More Information
Find information on John O'Donovan and William Reeve in the Dictionary of Irish Biography (UCD only).