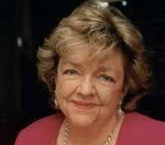 Maeve Binchy
UCD Library Special Collections holds the literary archives of Maeve Binchy.
Identity Statement
Reference code IE/UCD/SC/MB
Title
Maeve Binchy Papers.
Dates
[1968-2004?].
Level of description
Fonds.
Extent
31 boxes.
Context
Creator
Maeve Binchy (1940-2012)
Biographical History
Maeve Binchy was born in Dalkey, County Dublin.
She studied History and French at UCD and subsequently became a teacher.
Binchy then pursued a career in journalism, becoming an Irish Times feature columnist in 1968 and joining their London office in 1973.
In 1977 she married the writer Gordon Snell.
Collections of her journalism entitled My First Book (1969) and Maeve's Diary (1974) were published, as well as the plays Deeply Regretted By (1976, screenplay), End of Term (1976) and Half Promised Land (1979).
Her first collection of short stories, Central Line, was published in 1978 and her first novel, Light a Penny Candle, appeared in 1982.
Since then Binchy wrote over a dozen best-selling novels and short-story collections.
There have been several film adaptations of her work, including the major motion picture Circle of Friends starring Minnie Driver, Chris O'Donnell and Colin Firth.
Binchy received international recognition of her work, consistently topping polls of popular writers in Ireland and Britain.
In 1999 she was winner of a British Book Award in the category Lifetime Achievement.
Source of Acquisition
Donated to UCD Special Collections by the author.
Scope and Content
Drafts of novels including Light a Penny Candle (1982), The Lilac Bus (1984), Echoes (1985), Firefly Summer (1987), Silver Wedding (1988), Circle of Friends (1990), Glasslake (1996), Scarlet Feather (2001).
Drafts of screenplays and adaptations including Deeply Regretted (1978), Echoes (1988), The Lilac Bus (1990), Circle of Friends (1995), and Good Girls (2004).
Drafts of plays including End of Term (1976) and Half Promised Land (1979).
Drafts of short story collections including Central Line (1978) and Victoria Line (1980).
Correspondence concerning book tours, publications and films; Scrapbooks of Binchy's Irish Times articles and newscuttings regarding her novels and screenplays [1968–2004?].
Access and Use
The material in this collection is available by appointment to students, teaching staff, and independent researchers. We also welcome interested members of the public.
Please contact us at special.collections@ucd.ie for further information. To book an appointment click here.
Reproduction
Photocopying or digital photographing of this material is not permitted.
Language
English.
Finding Aid
Box list available.