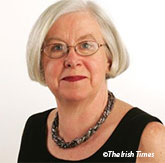 Caroline Walsh
UCD Library holds the papers of writer and journalist Caroline Walsh.
Identity Statement
Reference code IE/UCD/SC/ML
Title
Caroline Walsh Papers.
Level of Description
Fonds.
Extent
4 boxes.
Context
Creator
Caroline Walsh (1952-2011).
Biographical History
Caroline Walsh was born on December 1st, 1952, one of three daughters to solicitor William Walsh (-1954) and writer Mary Lavin (1912-1996).
She was a student at University College Dublin completing both a BA in English and Art History in 1973, and later an MA in American Literature in 1974.
She was a journalist with the Irish Times from 1975 onwards, becoming their Literary Editor in 1999.
She was the author of The Homes of Irish Writers and edited three collections of short stories: Modern Irish Short Stories from The Irish Times, Virgins and Hyacinths and Arrows in Flight: Stories from a New Ireland.
Caroline was married to novelist and university lecturer, James Ryan.
Source of Acquisition
This collection was donated by James Ryan in 2015 with further materials added in 2016.
Scope and Content
This collection contains papers relating to Caroline Walsh's career as a journalist and writer and is divided into four series as follows:
Material related to Walsh's Literary Landmarks articles for the Irish Times
Research notes and drafts regarding her book The Homes of Irish Writers
Dissociated material
Cassette tapes of interviews with Irish writers
Access and Use
The material in this collection is available by appointment to students, teaching staff, and independent researchers. We also welcome interested members of the public.
Please contact us at special.collections@ucd.ie for further information. To book an appointment click here.
Reproduction
Photocopying or digital photographing of this material is not permitted.
Language
English.