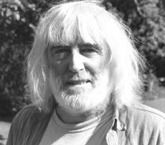 Tom MacIntyre
UCD Special Collections holds the papers of Tom MacIntyre.
Identity Statement
Reference code IE/ UCD/SC/MI
Title
Tom MacIntyre Papers.
Dates
[1997-2008].
Level of Description
Fonds.
Extent
13 boxes.
Context
Creator
Tom MacIntyre (1931-).
Biographical History

Tom MacIntyre was born in Cavan.
He studied English literature at UCD.
Before he became a full time writer in 1965 he taught in Clongowes Wood College, in University of Michigan and Williams College, Massachusetts.
New directions taken within New York theatre during the early 1970s impacted on MacIntyre's plays.
He is a member of Aosdána and won the Stewart Parker Prize in 1999 for Caoineadh Airt Uí Laoghaire and the Irish Times/ESB Irish Theatre Best New Play Award in 2002 for The Gallant John Joe.
Selective Bibliography:

Theatre:

The Great Hunger (1983)
Good Evening, Mr Collins (1997)
Caoineadh Airt Uí Laoghaire (1998)
The Gallant John-Joe (2001)
What Happened to Bridget Cleary? (2005)
Only an Apple (2009)

Poetry

Blood Relations: Versions of Gaelic Poems of the Seventeenth and Eighteenth Centuries (1972)
I Bailed Out At Ardee (1987)
Ag caint leis an mBanríon (1997)
Stories of the Wandering Moon (2000)
ABC New Poems (2006).

Fiction:

Dance the Dance (1969
The Harper's Turn (preface by Seamus Heaney) (1982),
The Word for Yes: New and Selected Stories (1991)
The Charollais (1969)

Non-fiction:

Through the Bridewell Gate: A Diary of the Dublin Arms Trial (1971).
Source of Acquisition
Purchased from the author in 2008.
Scope and Content
Literary works including Find the Lady, ABC New Poems, and plays (also containing rehearsal notebooks and diaries) such as What Happened to Bridget Cleary?, Good Evening Mr. Collins, and Only an Apple [1997–2008?].
Personal and professional correspondence featuring letters from fellow writers including Marina Carr, Tom Kilroy, Cathal O'Searcaigh and Nuala Ni Dhomhnaill [1990s–2008?].
Legal papers, diaries, newscuttings and publications [1990s–2008?].
Access and Use
Access
The material in this collection is available by appointment to students, teaching staff, and independent researchers. We also welcome interested members of the public.
Please contact us at special.collections@ucd.ie for further information. To book an appointment click here.
Reproduction
Photocopying or digital photographing of this material is not permitted.
Language
English.
Finding Aid
Collection requires processing and listing. Box list available.
More Information
Find books in the collection:
Go to the Library catalogue
Select author and input Tom Macintyre
When you get a results screen select Special Collections from Location option in the left panel