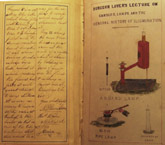 William Lover Paper
UCD Library Special Collections holds the William Lover Collection which consists of letters from his students on scientific subjects.
Identity Statement
Reference code IE/UCD/SC/ms 15a-d
Title
William Lover Papers.
Dates 1849-1850.
Level of description
Fonds.
Extent
4 volumes (c.300 letters).
Context
Creator
William Lover.
Biographical History
William Lover was a lecturer in science in various Dublin schools. He was the step-brother of the poet and novelist Samuel Lover.
Source of Acquisition
Purchased in 1986.
Scope and Content
The bound volumes consist of letters sent to Lover by his science pupils.
The letters include summaries of Lover's classes; some include drawings or diagrams. There are occasional annotations by Lover (1849–1850).
Access and Use
Access
The materials in this collection are available by appointment only to research students, teaching staff and scholars.
Research students should have a letter of recommendation from their supervisor.
Reproduction
Photocopying or digital photographing of this material is not permitted.
Language
English.
Finding Aid
n/a.