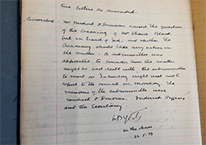 UCD Special Collections holds a collection from the Irish Academy of Letters.
Identity Statement
Reference code IE/ UCD ms 12 a-b
Title
Irish Academy of Letters Collection
Dates
14th September 1932 - 13th November 1971
Level of Description
Fonds.
Extent
2 vols.
Context
Creator
Irish Academy of Letters
Administrative and Biographical History
In 1932 W.B. Yeats and George Bernard Shaw founded an Irish Academy of Letters. In establishing the Academy of Letters, Yeats had two objects: to reward publicly literary achievement and to organise writers to oppose literary censorship. James Stephens, Oliver St. John Gogarty, FR Higgins, Padraic Colum, Sean O'Faolain, Frank O'Connor, Austin Clarke, Lennox Robinson, Brinsley Macnamara, and St John Ervine were also members. Joyce was invited to become a member but declined. At the outset the Academy campaigned against censorship, but its efforts were not successful. As time went on the Academy focused less on censorship and more on literary awards. The minute books finish in 1970 but the NLI's collection relating to the academy contains material up to 1984.
Source of Acquisition
Donation of the Council of the Academy via Mervyn Wall in 1975.
Content and Structure
Minutes of the meetings of the Irish Academy of letters from 1932-1970. The minutes include information on membership, activities including lecture series, reading committees, awards, financial reports and the decisions on who should receive the Gregory medal. The minutes are regular for the first 20 years and thereafter are far less regular. The academy awarded twelve Gregory medals for literature between 1932 and 1968. The recipients were: W.B. Yeats, George William Russell (AE), George Bernard Shaw, Edith Somerville & Violet Martin (1 medal), Eoin MacNeill, Stephen Gwynn, Padraic Colum, Seumas O'Sullivan, Micheál Mac Liammóir, Austin Clarke.
Vol 1: 1932-1940
Vol 2: 1940-1971
Access and Use
Access
The material in this collection is available by appointment to students, teaching staff, and independent researchers. We also welcome interested members of the public.
Please contact us at special.collections@ucd.ie for further information. To book an appointment click here.
Reproduction
Photocopying or digital photographing of this material is not permitted.
Language
English.
Finding Aid
n/a.