Gerard Manley Hopkins Letters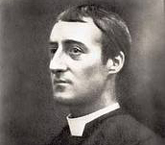 Gerard Manley Hopkins
UCD Special Collections holds the personal letters of Gerard Manley Hopkins to Alexander Mowbray Baillie.
Identity Statement
Reference code IE/ UCD/SC/L29-L71
Title
Gerard Manly Hopkins Letters.
Dates
1863-1888.
Level of Description
Fonds.
Extent
43 items.
Context
Creator
Gerard Manley Hopkins (1844-1889).
Biographical History
Gerard Manley Hopkins was born in Essex.
He studied classics at Balliol College, Oxford.
While there Hopkins converted from Anglicanism to Roman Catholicism, having been influenced by John Henry Newman.
After graduating he became a Jesuit priest and held various teaching posts in Britain.
In 1884 he became professor of Greek literature at University College Dublin.
His disapproval of Irish political unrest and the strain of teaching made his time in Dublin a very dark period in his life.
This is reflected in his later poetry, which is some of his most melancholy and also most critically acclaimed work.
Hopkins died in Dublin in 1889 and was buried in Glasnevin Cemetery.
It was not until after his death that his poetry received critical attention and that he was recognised as a leading Victorian poet.
Source of Acquisition
Donated by Vernon Brooks, 1989.
Scope and Content
Personal letters of Gerard Manley Hopkins to Alexander William Mobray Baillie, a college friend and barrister who lived in London.
Subject matter of letters includes:
Work
Poetry
Literature
Travel
References to mutual friends and acquaintances
Egyptian and Greek etymology
Politics
Catholicism
Law
Hobbies
Gifts
Social occasions
Letters with drawings by Hopkins.
Access and Use
Access
The materials in this collection are available by appointment only to research students, reaching staff and scholars. Research students should have a letter of recommendation from their supervisor.
Reproduction
Photocopying or digital photographing of this material is not permitted.
Language
English.
Finding Aid
n/a.
Allied Material
Publication Note
All letters have been digitised and can be found in the UCD Digital Library collection "UCD Letters".
All letters are published in Abbott, C.C. (Ed.) (1956) Further Letters of Gerard Manley Hopkins, including his correspondence with Coventry Patmore, 2nd ed. London: OUP, pp. 199-294.
More Information