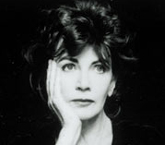 Edna O'Brien
UCD Library Special Collections holds the papers of Edna O'Brien.
Identity Statement
Reference code IE/ UCD/SC/OB
Title
Edna O'Brien Papers.
Dates
[1960s-2006]
Level of Description
Fonds.
Extent
55 boxes.
Context
Creator
Edna O'Brien (1930-).
Biographical History
Edna O'Brien was born in Tuamgraney, Co Clare to Michael O'Brien and Lena O'Brien (neé Cleary).
She attended the National School in Scariff and the Convent of Mercy at Loughrea, before moving to Dublin to study pharmacy.
In 1954 O'Brien married the Czech/Irish writer Ernest Gébler and the couple moved to London, where they had two sons, Carlo and Sasha. (The marriage ultimately dissolved in the 1960s. Ernest Gébler died in 1997.)
Edna O'Brien published her first novel, The Country Girls, in 1960.
It met with much criticism and was swiftly banned by the Irish Censorship Board for its perceived explicit sexual content.
Her following five books published during the 1960s met the same fate at the hands of the Irish Censorship Board.
A number of O'Brien's novels display strong autobiographical tendencies, a feature which may be ascribed to the significant influence of her literary mentor, James Joyce.
In 1999 she wrote a biography of James Joyce for the Penguin Lives series which pairs celebrated writers with famous individuals who have shaped our thinking.
In addition to prose, Edna O'Brien has also written a substantial body of drama, including:
The Wedding Dress (1963)
A Pagan Place (1972, adapted from novel)
The Gathering (1974)
Virginia (1980)
Our Father (1999)
Iphigenia (2003)
Triptych (2003)
Family Butchers (2005).
To date Edna O'Brien has written over 20 works of fiction, as well as plays, screenplays, poems, and non-fiction.
She has received many awards such as becoming an honorary member of the American Academy of Letters and the recipient of the Irish PEN Lifetime Award, the Los Angeles Times Book Prize, the European Prize for Literature, and the Ulysses Medal from University College Dublin.
During the five decades of O'Brien's prolific literary career she has, according to Professor Declan Kiberd, 'crafted a prose of surpassing beauty and exactitude'.
Her impact upon modern Irish writing and the scope for further critical interpretation of her work is considerable.
Source of Acquisition
Purchased by UCD Library in 2006.
Scope and Content
Correspondence both of a professional and personal nature with a large number of individuals including Cherie Blair, Harold Bloom, Hilary Clinton, John Osborne, Antonia Fraser, Harold Pinter, Jane Fonda, John Major, and Seamus Heaney.
Notes, drafts, and proofs of novels Wild Decembers, In the Forest and Light of Evening. Also contains research and related materials for these titles.
Proof copies of novels Time and Tide, The High Road, and A Pagan Place.
Notes, drafts, and proofs of biography, James Joyce, and other works relating to Joyce.
Plays, screenplay and critical work regarding William Butler Yeats.
Critical work/articles regarding Samuel Beckett.
Drafts of plays including Iphigenia, Trojan Women, Triptych, The Wedding Dress, and Family Butchers.
Adaptations of novels for the screen including screenplays of Down by the River and The Country Girls.
Notebooks, journals, photographs, and memorabilia Drafts and corrected proofs of articles and short stories primarily for the New Yorker magazine.
Access and Use
Access
The materials in this collection are available by appointment only to research students, reaching staff and scholars. Research students should have a letter of recommendation from their supervisor.
Reproduction
Photocopying or digital photographing of this material is not permitted.
Language
English.
Finding Aid
Descriptive list.
More Information
Find books in the collection:
Use

The Library Catalogue

to key in

Edna O'Brien

When you get a results screen select

Special Collections

from

Location

option in the left panel