Construction Social Spaces (SPARC project)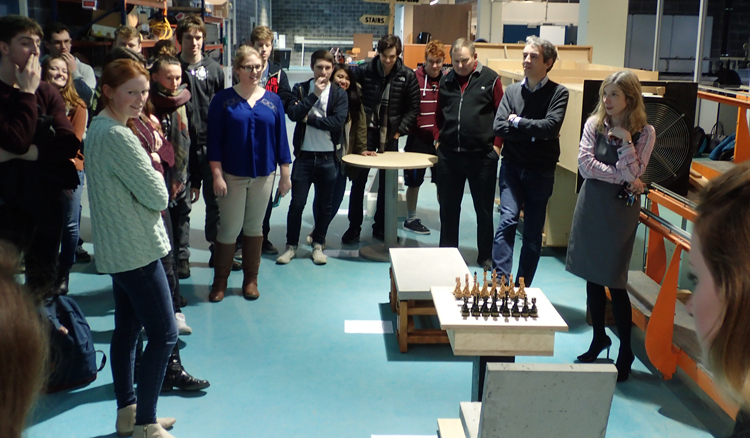 The aim of this project is to improve the quality of the social spaces in the Newstead Building through staff-student collaboration. The Newstead Building and surrounding spaces have the potential to be a social hub, but there sometimes exists a disconnect between the space provided and the needs of the building users. This project will bridge this gap by facilitating the staff and students in the School of Civil Engineering work together to design and build according to their needs. This will turn the Newstead building into an active learning environment and lead to:
Deeper interest on the part of the students in the development of UCD. By designing and building dedicated spaces in the Newstead building for students, we will encourage interaction between disciplines and year groups and improve community spirit.
Improved teaching practices within the School – staff will have the opportunity to link these activities to the material delivered in lectures. This will make the content more relevant to students and further interest in Civil Engineering.
Improved facilities and amenities for students within the Newstead building.
A more welcoming building that reflects the various disciplines that are based in Newstead through innovative interior design. This will also have the potential to attract increased numbers of students to the discipline of civil engineering.
This is a SPARC (Supporting Partnership and Realising Change) UCD project. More details in http://www.ucd.ie/sparc/current%20projects.html. The team members in this project are:
Eoghan Kilroy is a fourth year Civil Engineering student and initiated the application process.
Colum Hegarty is a fourth year Civil Engineering student and Auditor of the UCD Civil Engineering Society.
Ecaterina Guzen is a third year Structural Engineering with Architecture student and Auditor of the UCD Structural Engineering Society.
Mark Richardson is Head of School and will oversee the link between the planned activities and the School teaching programme
Ciaran McNally is chair of the Newstead Building Committee and will liaise with UCD Buildings & Services to ensure the work is in line with any development planned.
John Ryan is a technician in the School of Civil Engineering and will assist students in safely using the needed equipment.