Dr. Ken Gavin (BaTIR) plays role examining offshore foundation systems in the SFI MaREI research centre led by UCC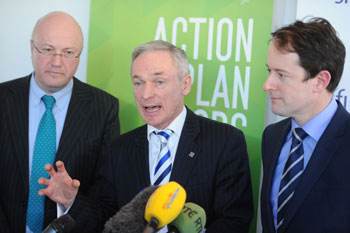 €200 million of Irish exchequer funding will be delivered over the next six years through Science Foundation Ireland's (SFI) Research Centres Programme coupled with over €100 million in cash and in-kind contributions from industry partners (Pictured at the announcement: Professor Mark Ferguson, Director General of SFI; Minister for Jobs, Enterprise & Innovation, Mr Richard Bruton TD & Minister for Research & Innovation Mr Sean Sherlock TD ). So far, 156 industry partners are connected to the centres, spanning multinationals and SMEs, including Cisco, Hewlett Packard, Microsoft, Medtronic, GSK, Pfizer, Eli Lilly, BT, Kerry Group, The Irish Times, ESB, Alere, Intune Networks, Intel, IBM, RTE, Roche, UTRC Ireland and many more. One of these Research Centres is the Centre for Marine Renewable Energy Ireland (MaREI) which involves UCD School of Civil, Structural and Environmental Engineering.
Marine Renewable Energy (MRE) is an important future energy source globally. However, significant engineering and technology challenges must be resolved before the fledgling MRE industry contributes to mainstream electricity production.

Ireland is one of the best locations in the world in terms of marine renewable energy resources. This centre will look to generate energy technologies for industry from wave, tidal and floating wind devices, their connection to the national grid and novel methods for storing the energy generated.

Led by Professor Alistair Borthwick at UCC, the centre includes UCD's Professor Frederic Dias as Co-PI, supported by Professor Chris Bean and Dr Ken Gavin, along with colleagues from NUI Maynooth, NUI Galway and the University of Limerick. The centre has partnership support from more than forty companies.
Ireland is highly dependent on energy imports so, by advancing MRE technologies and infrastructure, Ireland will be able to harness this energy and improve its economy by becoming a long term exporter of electricity. Ireland's target for MRE is 75MW by 2020 from wave and tidal energy, in addition to 550MW from offshore wind.

The centre will focus on three research deliverables, MRE engineering, MRE software tools and MRE supporting framework – which includes level 9 programmes to train industry-related researchers.
More information in http://www.ucd.ie/news/2013/02FEB13/260213-Irish_Government_and_industry_partners_invest_300million.html