Intel and UCD Renew Collaboration on Talent, Research and Education
Friday, 7 February, 2020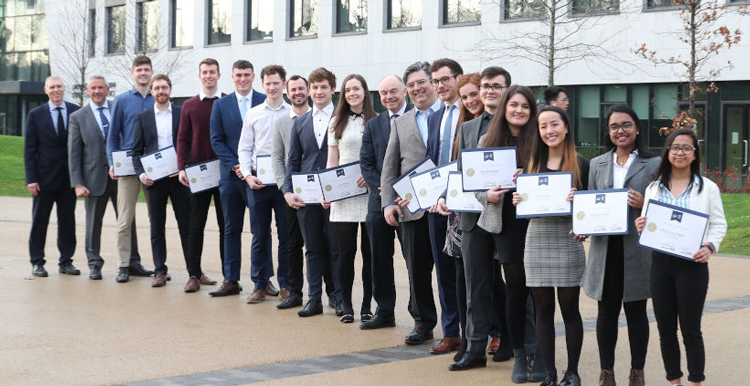 In addition to the signing of a renewed partnership between Intel and UCD, 15 students from Engineering and Science disciplines were awarded today with UCD-Intel Masters Student Scholarships.
Intel and University College Dublin (UCD) have announced the next phase of a strategic partnership between the two organisations. Their renewed commitment will see Intel and UCD work closely together over the next 5 years across three key areas: talent, research, and national policy associated with research and education.
The partnership includes a substantial investment by Intel in the development of an Engineering Suite in the new UCD Centre for Creativity, a landmark building at the main Stillorgan Entrance to the campus set to be part of the University's Future Campus.
In addition to the signing of the renewed partnership, 15 UCD students from Science and Engineering disciplines were awarded UCD-Intel Masters Student Scholarships. Each recipient is provided with a €3,000 bursary to support their academic studies and given the opportunity to experience practical learning aligned to the needs of industry. Additionally, they are provided with employee mentors by Intel to give them a direct relationship to the world of work.
Abel Paul Kannan is a Mechanical Engineering Masters graduate from UCD and was a participant in the Intel sponsored Masters programme in 2018. Abel has gone on to work as an engineer in Intel's Fab 24, a state of the art semiconductor manufacturing facility in Leixlip. Abel reflects on his experience of the Master's programme;
"The Intel sponsored Masters programme provided me with so many unique and valuable opportunities. In particular, I appreciated having a close connection to the practical world of work whilst completing my studies at UCD. I completed a graduate internship at Intel and I loved the work so much that I continued in my role on a part-time basis after my internship finished and I returned to UCD. I can't imagine having a better opportunity to combine the wealth of learning I gained at UCD with a dynamic engineering environment".
The recipients of the UCD-Intel Masters Student Scholarship were as follows:
Emily White Chemical engineering
Kallum Doyle Chemical engineering
Brandon Blacoe Electronic & Computer engineering
Kyle Flynn Mechanical engineering
Ruth Quinn Electronic & Computer engineering
Ciaran O'Sullivan Chemical engineering
Stephen Sherin Mechanical engineering
Hazal Beceriklican Chemical engineering
Ciaran McNamara Mechanical engineering
Janet Tsanng Chemical engineering
Sean O'Braonain Electronic & Computer engineering
Andrew Donohue Mechanical engineering
Adam Atouani Msc Nano materials chemistry
Briji Mary Joseph Msc Nano materials chemistry
Chyna De Los Angeles Msc in Computer science
UCD College of Engineering and Architecture
Room 122 & Room 126, UCD Engineering and Materials Science Centre, University College Dublin, Belfield, Dublin 4, Ireland T:
+353 1 716 1868
| E:
eng.arch@ucd.ie