UCD Staff reflect on COVID-19's Transformation of Education
Thursday, 23 April, 2020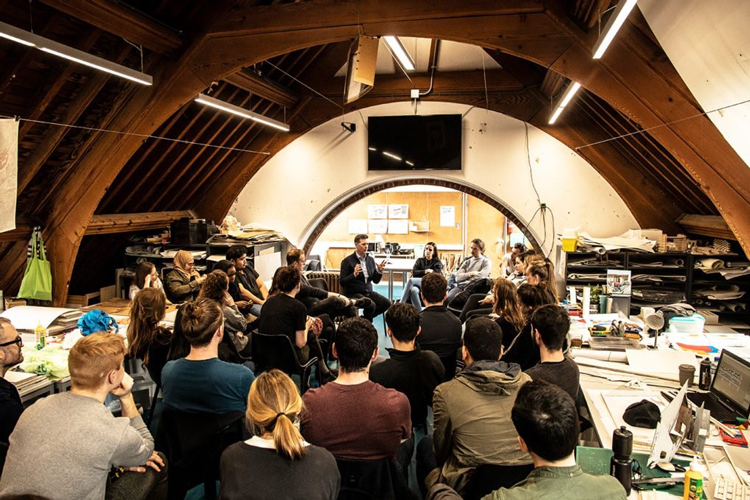 An architecture studio at University College Dublin in the now-distant recent past. [Peter Molloy]
Places Journal, of which UCD is a partner, have recently published essays as part of its "Field Notes on Pandemic Teaching" series, in which educators working in architecture, landscape and urbanism around the globe share their thoughts on the challenges of abruptly moving their teaching online during the COVID-19 pandemic. UCD School of Architecture, Planning & Environmental Policy faculty, including Hugh Campbell, Orla Murphy and Emmett Scanlon are among the contributors.
The massive move to online teaching has raised acute challenges and general anxieties. Some are practical and technical; others are more conceptual, political, and even philosophical, involving the importance of campus community, the role of schools in providing for the wellbeing of students, and passionate convictions about the nature of learning and the transmission of knowledge. How will the current adaptations inflect our understandings of studio and seminar instruction, in which the tools might be digital but the teaching is individualized and immersive, grounded in time and place, rooted in embodied encounters that allow for serendipitous discovery?
UCD Dean of Architecture Hugh Campbell's essay entitled "Lost in Zoom", is a comment on how during these times of ubiquitous, seemingly continuous digital communication through which we are all now living and teaching, technology allows us to manage, for now, but for all the promise of social interaction, Zoom and it's equivalents facilitate only a highly transactional form of exchange. There are no gaps or pauses. Whole dimensions are lost. Space — the very medium of architecture — is conspicuously absent.
While Orla Murphy and Emmett Scanlon reflect on how architecture as a practice, as a social, material, and spatial endeavour, has people at its core. That while they must move their design studios from a physical space to a virtual environment you cannot replicate the culture of learning that the physical space of the studio provides.
Read the full pieces in "Field Notes on Pandemic Teaching" here. Places Journal provides public scholarship on architecture, landscape, and urbanism. Learn more here.
UCD College of Engineering and Architecture
Room 122 & Room 126, UCD Engineering and Materials Science Centre, University College Dublin, Belfield, Dublin 4, Ireland T:
+353 1 716 1868
| E:
eng.arch@ucd.ie