UCD-based Inventors Help Create Ingenious Solutions to Everyday Problems for Extraordinary People on Big Life Fix
Friday, 6 March, 2020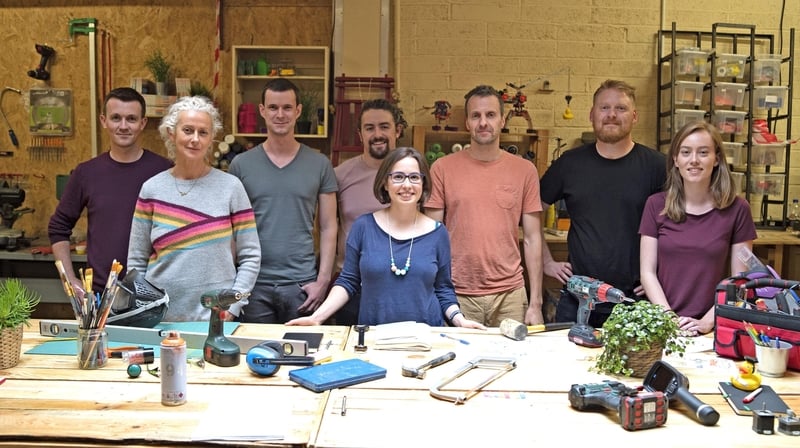 A brand new RTÉ series, BIG LIFE FIX, which commences tonight on RTÉ 1, challenges a group of 'fixers' - leading designers, engineers, computer programmers and technology experts, including two from University College Dublin (UCD), to create inventions that will transform people's lives.
Filmed over the course of a full year, the group uses cutting-edge science and technology to build practical solutions for those who need their help.
Based at TOG, a facility for makers in Dublin, the team harnesses the power of science to create tailor-made inventions for individuals and families. Between them, the fixers can build everything from space satellites to life saving medical devices and military hardware.
The two UCD-based fixers are Dr David McKeown and Dr Shane Phelan.
Dr McKeown is an Assistant Professor at the UCD School of Mechanical and Materials Engineering whose main area of research is the design of control systems for flexible mechanical systems, including space satellites.
Dr Phelan is an electronic engineer and co-founder of a UCD spin-in company, Iamus Technologies Ltd, which is headquartered at NovaUCD. Iamus Iamus is using machine learning to turn visual, environmental and biometric bird and farm information into actionable data for poultry producers.
The fixer team will take on twelve projects in total across the series. During the programme they will attempt to preserve the voice of Roisin Foley, a young mother dealing with Motor Neurone Disease, and help Eoghan Barry, a teenage rower from Skibbereen, who is missing part of his right arm, to reach his full potential.
They will work with 32-year-old Kevin McGarry, who lost his legs in a farming accident, and who would love to be able to cycle again, and 15-year-old Erin, who was born without arms, and wants to become more independent. They will also help 3-year-old Alana Reid Sochan, who has Epidermolysis Bullosa (EB) or 'Butterfly Syndrome' and needs 24-hour care, to sleep in her own room.
In the first episode, which airs tonight on RTÉ 1 at 9:35 pm, the team will try to provide some quality of life to 68-year-old grandmother, Jacinta Dixon, whose world has been torn apart by a rare form of Alzheimer's.
Dr David McKeown is the lead fixer on the Eoghan Barry project which airs on 11th of March.
Dr McKeown said, "It was a really rewarding experience to build something to allow someone to no longer struggle doing something they really love. I found the project a tough challenge but Eoghan is a determined rower, so I felt I had to make sure I brought the same level of stubbornness to finding solutions to the issues he was having. It took a lot of prototypes and late nights, but we got there eventually."
Dr Shane Phelan is the lead fixer on the Alana Reid Sochan project which airs on 18th of March.
Dr Phelan said, "While working with Alana and her family I learned about how they live their lives and how they managed with Alana's Butterfly Syndrome. I found their bravery and resilience to be quite inspirational and a huge driving force for developing fixes that would help make their lives a little easier."
He added, "In my line of work I am rarely working so closely with the person who will benefit directly from the devices I make so it was great to meet with Alana and her family over the last year to iterate through all her prototypes. Completing the project wasn't easy, there were a lot of things that simply didn't work or things that didn't work well enough before the final fixes were chosen." He concluded, "It was fantastic to see their reactions when they got the final completed fixes and it's great to know they are being used every day since making a real change in their lives."
The other fixers in addition to Dr McKeown and Dr Phelan are:
Lorna Ross, formally Group Director of Fjord Design Studio, Accenture's The Dock, and currently Chief Innovation Officer, VHI Health and Wellness Group, who is the fixer on the first programme
Trevor Vaugh, Assistant Professor Maynooth University, and Principal Investigator Mi:Lab (Maynooth University Innovation Lab)
Niamh Stockil, Software Engineer, Microsoft Ireland
Chiara Cavarra, Senior Digital Design Engineer, Xilinx
James Carrigan, Designer and co-founder, Sugru
John O'Donnell, Game Designer, IT University Copenhagen.
Made with the support of Science Foundation Ireland, this series marries real problems and human drama with science, proving that with a little bit of ingenuity - nothing is impossible.
UCD College of Engineering and Architecture
Room 122 & Room 126, UCD Engineering and Materials Science Centre, University College Dublin, Belfield, Dublin 4, Ireland T:
+353 1 716 1868
| E:
eng.arch@ucd.ie