Two University College Dublin Spin-out Companies Shortlisted for the 2020 IChemE Global Awards
Friday, 24 November, 2023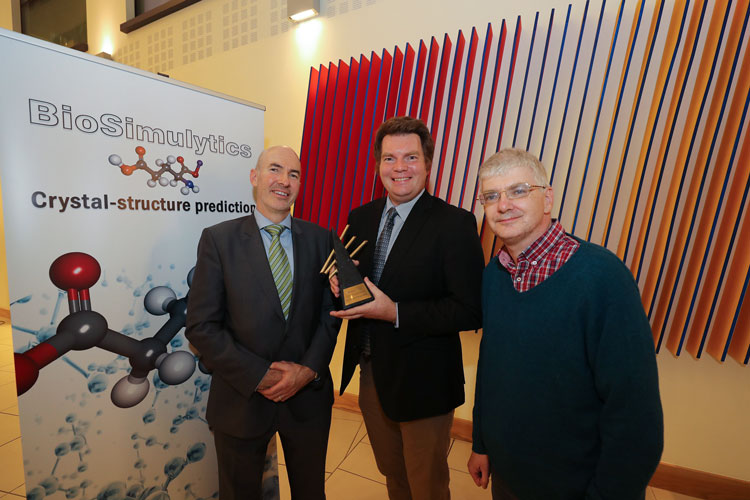 Dublin, Ireland, 2 October 2020, Two University College Dublin (UCD) spin-out companies, AquaB (AquaB Nanobubble Innovations Ltd) and BioSimulytics are among the more than 120 entries, from around the world, which have been shortlisted for the 2020 IChemE Global Awards.
The companies are the only Irish entrants shortlisted across 20 Award categories.
The Institution of Chemical Engineers (IChemE) Global Awards celebrate chemical, process and biochemical engineering excellence, and are widely considered as the world's most prestigious chemical-engineering awards.
AquaB (http://www.aqua-bubble.com/) was established earlier this year to commercialise a new energy-efficient method to generate and release substantial volumes of metastable, nano-scale gas bubbles in water. This method is based on research carried out by Professor Niall English and Dr Mohammad Reza Ghaani at UCD's School of Chemical and Bioprocess Engineering, who are the co-founders of AquaB.
AquaB has been shortlisted in the Water Award category.
BioSimulytics (www.biosimulytics.ai/) is developing a software solution which only requires the basic 2-D structure of a compound to accurately predict the detailed profiles of all its polymorphic forms, ranked by the most stable, with full certainty achieved within weeks. This results in a 20-50% time saving on the current experimentation method used by drug manufacturers to identify the correct crystal structure of a new drug. The company was founded by Professor Niall English and Dr Christian Burnham, alongside commercial lead, Peter Doyle, and is also a spin-out from the UCD School of Chemical and Bioprocess Engineering.
BioSimulytics has been shortlisted for the Business Start-Up Award and the Pharma Award.
Professor Niall English, a co-founder of both companies and a Fellow of the IChemE, said, "I am delighted that AquaB and BioSimulytics have both been shortlisted for the prestigious IChemE Global Awards, and will now compete against other companies and research institutions on a global stage. That AquaB and BioSimultyics are the only Irish entrants included in the shortlist is a reflection of the quality and global potential of the chemical-engineering companies emerging from UCD. I now look forward to pitching both companies at the Award webinars in November."
AquaB and BioSimulytics have been established with the support of NovaUCD, the Centre for New Ventures and Entrepreneurs at UCD where BioSimulytics is headquartered. BioSimulytics was the overall winner of the 2019 UCD VentureLaunch Accelerator Programme, run by NovaUCD, and AquaB is taking part in this year's programme, which commences later this month.
Keith Batchelor, Chair of the IChemE Global Awards volunteer judging panel, said, "Our peer-reviewed awards recognise the high standard and significant achievements made by chemical engineers around the world providing solutions to some of toughest challenges faced by society."
"With the skillset and flexibility to adapt to challenges as they occur, during this pandemic we have seen the unwavering efforts of chemical engineers to continue innovating and maintain safe practices. Our judges felt it especially important to recognise these efforts this year, just in a virtual way."
"Thank you to all those who submitted your remarkable entries and thank you to my fellow judges for your dedication and rigorous assessment. Congratulations to all the finalists and we look forward to sharing your stories and celebrating your success in our first-ever IChemE Global Awards webinar series."
The winners of this year's IChemE Global Awards will be announced in a series of webinars, showcasing the finalists, from 2 to 19 November.
Find out more about the Awards and the shortlisted finalists across all categories via https://www.icheme.org/career/events/awards/global-awards/.
UCD College of Engineering and Architecture
Room 122 & Room 126, UCD Engineering and Materials Science Centre, University College Dublin, Belfield, Dublin 4, Ireland T:
+353 1 716 1868
| E:
eng.arch@ucd.ie