2017 NUI Awards names two UCD Engineering Students
Monday, 20 November, 2017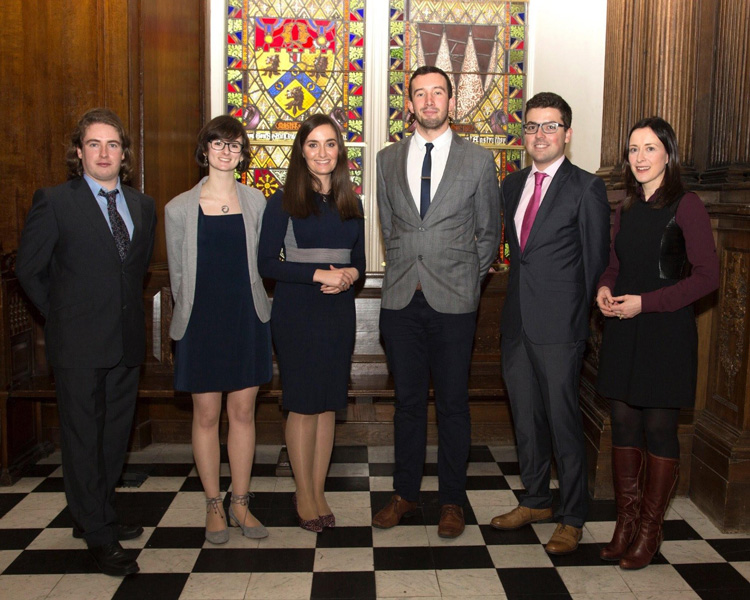 Image http://www.nui.ie: Martina Moyne, Denis Phelan Scholarship, UCD (Third from left)
The National University of Ireland is pleased to announce that in 2017, it will have granted awards to a value in excess of €1 million to NUI students, graduates, staff and institutions. Two UCD Engineering PhD students were among the recipients.
These awards are competed for annually by students and graduates of NUI constituent universities (i.e. UCD, UCC, NUI Galway and Maynooth University) and other NUI member institutions including RCSI, NCAD and St. Angela's College, Sligo.
The awards honour and support scholars of distinction at every stage of their academic studies, from undergraduates to senior scholars well established in their fields of expertise. Promoting scholars and scholarship is a core aim of NUI, and through these awards, the University honours academic distinction among its students and graduates and seeks to provide opportunities for students to engage in further studies.
The NUI Chancellor Dr Maurice Manning presented the awards to over one hundred and thirty students and graduates from NUI institutions at a ceremony in the RHK on 14th November 2017.
Martina Moyne, BDes, MSc, Meng is the 2017 recipient of the NUI Denis Phelan Scholarship. This scholarship is funded by the NUI Robe-makers, Phelan Conan Limited and is awarded in connection with the Travelling Studentship competitions and will fund a doctoral student for one year.
Moyne graduated with a BDes in Industrial Design and MSc in Medical Device Design from the National College of Art and Design. She is also a graduate of University College Dublin where she undertook an MEng in Management. Her current research focuses on Engineering Design Pedagogy and design research methods, and will be based predominantly in University College Dublin. She has secured opportunities to conduct studies in Harvard School of Engineering and Applied Science during the coming year.
Matthew Flood, BSc, ME is the 2017 recipient of the Fulbright/NUI Visiting Researcher Award. The purpose of this grant is to enable Irish citizens or E.U. citizens who are holders of an honours bachelor degree or masters degree from an NUI institution and have been resident in Ireland for three or more years to complete postgraduate research or study for up to one year in the United States.
Flood graduated with a BSc in Electronic Engineering and ME in Biomedical Engineering from University College Dublin. He is currently undertaking a PhD at the Insight Centre for Data Analytics, and the School of Electrical & Electronic Engineering, UCD, where his research focuses on the development of biomarkers of Parkinson's disease using electromyography. As a Fulbright-NUI Visiting Researcher to the Motion Analysis Laboratory at the Spaulding Rehabilitation Hospital, Boston, Matthew will employ advanced signal processing methods to investigate motor control in individuals with Parkinson's disease using wireless sensing technology.
Further information on NUI Awards can be found at http://www.nui.ie/awards/.
You will also find information on Twitter at @NUIMerrionSq and #NUIAwards17.
UCD College of Engineering and Architecture
Room 122 & Room 126, UCD Engineering and Materials Science Centre, University College Dublin, Belfield, Dublin 4, Ireland T:
+353 1 716 1868
| E:
eng.arch@ucd.ie