Professor Gerry Byrne receives the Fraunhofer Thaler Award
Wednesday, 31 May, 2017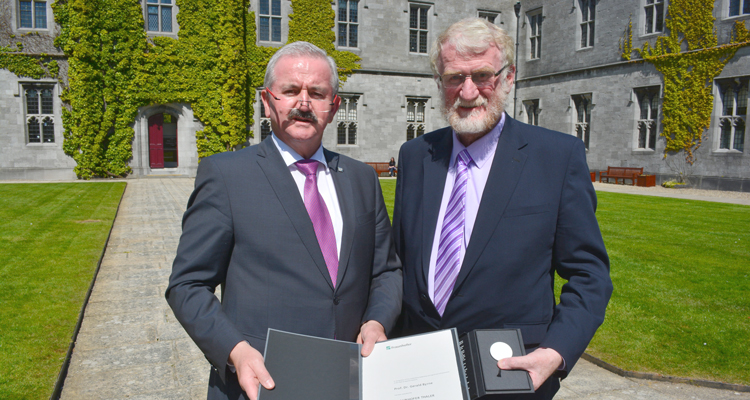 During his recent visit to Ireland, the President of the Fraunhofer Gesellschaft, Germany, Professor Reimund Neugebauer presented the Fraunhofer Thaler Award to Professor Gerry Byrne in recognition of his "outstanding leadership and significant achievements in the field of applied research". In presenting the award, the President referred to the excellence of the long term contribution of Professor Byrne through activities such as his Presidency of the International Academy for Production Engineering (CIRP). He also noted the recent work of Professor Byrne in support of the development of Fraunhofer in the UK and Ireland. He thanked him for his significant background work in facilitating the establishment of the Fraunhofer Project Centre (for Embedded Bioanalytical Systems) at Dublin City University in collaboration with the Fraunhofer Institute for Production Technology (IPT) Aachen, Germany. This is the first centre of its kind in Ireland and is supported by Science Foundation Ireland (SFI) and the Fraunhofer-Gesellschaft in Germany. It is thought that Professor Byrne is the first Irish person to receive the Fraunhofer Thaler Award.
Professor Gerry Byrne is a Senior Advisor to the President of the Fraunhofer-Gesellschaft. He is a Professor of Mechanical Engineering at University College Dublin and former College Principal and Dean of Engineering at UCD. He is a Past-President of the Institution of Engineers of Ireland, Past-President of the Irish Academy of Engineering, Past-President of the International Academy for Production Engineering (CIRP), a Fellow of the Royal Academy of Engineering (UK), of the Society of Manufacturing Engineers (USA) and a Fellow of the German National Academy for Science and Engineering (acatech). He established his own company, GB Innovation Ltd. in 2014. His company provides a managed service to European Industries and Organisations in the area of applied research, development and innovation. Professor Byrne is a currently a member of the High Level Commission overseeing the German Universities Excellence Initiative. He sits on the Board of Directors and Chairs the R&D Boards of a number of companies.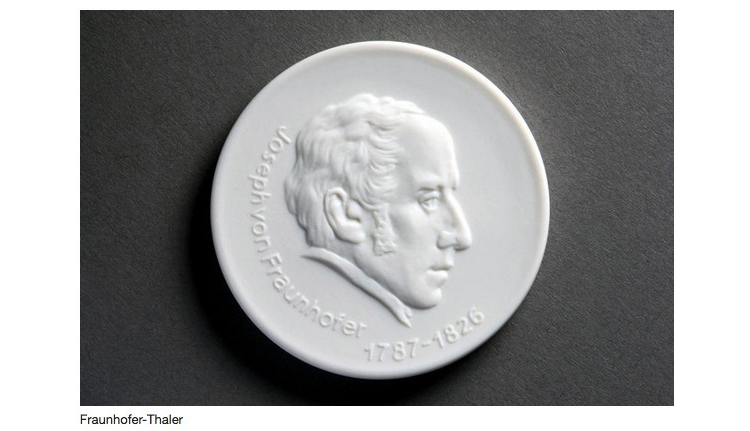 About Fraunhofer
Established in 1949, the Fraunhofer-Gesellschaft is the leading research and technology organization for applied research in Europe. Its research activities are conducted by 69 institutes and research units at locations throughout Germany. The Fraunhofer-Gesellschaft employs a staff of 24,500. Of the annual research budget totalling 2.1 billion euros, 1.9 billion euros is generated through contract research. More than 70 percent of the Fraunhofer-Gesellschaft's contract research revenue is derived from contracts with industry and from publicly financed research projects. International collaborations with excellent research partners and innovative companies around the world ensure direct access to regions of the greatest importance to present and future scientific progress and economic development. The Fraunhofer- Gesellschaft is engaged in a number of international activities mainly in Europe, North and South America, Asia and the MENA-Region. Fraunhofer operates subsidiaries in Europe and also in North and South America. Worldwide Representative Offices and Senior Advisors form a bridge between the local markets and the Fraunhofer Institutes.
UCD College of Engineering and Architecture
Room 122 & Room 126, UCD Engineering and Materials Science Centre, University College Dublin, Belfield, Dublin 4, Ireland T:
+353 1 716 1868
| E:
eng.arch@ucd.ie