ENBIO Secures €650,000 Contract with European Space Agency
Wednesday, 10 May, 2017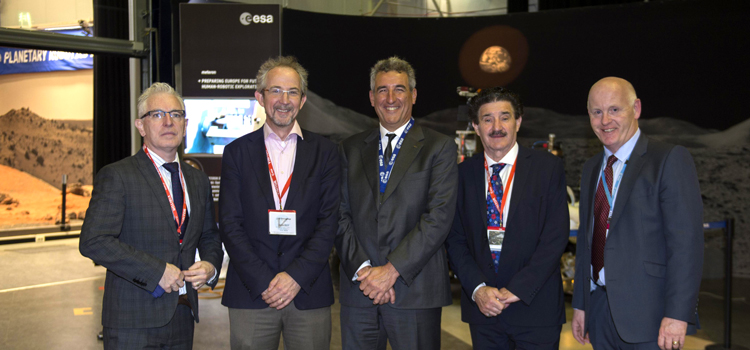 Pictured (l-r) at the European Space Agency Technology Centre are H.E. Kevin Kelly, Ireland's Ambassador to the Netherlands; John O'Donoghue, CEO, ENBIO; Franco Ongaro, Director of Technology, Engineering and Quality and Head of ESTEC, ESA, Minister John Halligan TD and Tony McDonald, Programme Manager, Space Industry Activities, Enterprise Ireland
ENBIO has announced a European Space Agency (ESA) contract worth €650,000 to develop advanced surface coatings for Neosat, Europe's next generation of telecommunications satellites. ENBIO, a graduate of NovaUCD, is working with ESA as part of its Advanced Research in Telecommunications Systems programme (ARTES).
The aim of the Neosat platform is to create the next generation satellite platforms and allow European manufacturers to capture over half the world's satcom market between now and 2030, potentially worth €25 billion.
The announcement was made during an Enterprise Ireland trade mission visit to the European Space Agency Technology Centre (ESTEC) in Noordwijk, the Netherlands, led by John Halligan TD, Minister for Training, Skills and Innovation.
This new contract builds on the work recently completed by ENBIO for Neosat during which the company conducted early-stage development of a coating, called SolarWhite. The SolarWhite coating was initially developed by the company in collaboration with University College Dublin's Associate Professor Kenneth Stanton, UCD School of Mechanical and Materials Engineering. The coating is now being used on ESA's most advanced spacecraft, Solar Orbiter, to help protect it as it goes to orbit and study the sun.
This next phase of the Neosat ARTES contract is for two years, and will enable ENBIO to continue its work in scaling the coating process and qualifying it for use by European satellite manufacturers. The company's facility in Clonmel, Co. Tipperary, will be a central part of the next contract, allowing ENBIO to deliver the highest quality coatings.
ENBIO has benefitted significantly over the last six years from Irish Government investment in ESA. Through Enterprise Ireland, ENBIO has been supported to compete for opportunities in ESA and is now successfully coating satellite components for many European satellite manufacturers. This has grown the Dublin and Tipperary based company from six people to its present size of sixteen.
The global desire for increased telecommunications creates challenges for the satellite builders to continue to improve the bandwidth of the satellites. This additional demand creates more heat which must be properly managed or it limits the satellite capacity. ENBIO's new thermal coatings provide an opportunity for a leap forward in the performance of the satellite thermal management system, allowing more power to be put through the satellite.
Minister John Halligan, TD said, "ENBIO is a prime example of how Irish technology companies can be at the forefront of ground breaking technology developments for the most demanding of space systems engineering. It is particularly encouraging to see such high-level space engineering activities taking place in the South East region".
John O'Donoghue, ENBIO, CEO, said, "We have a wonderful team in ENBIO Clonmel and Dublin that have worked incredibly hard to get us so far in such a short space of time. The support we've had from the Department of Jobs Enterprise and Innovation and Enterprise Ireland continues to be invaluable as we push to expand the work being done in Clonmel."
"This is an example of how ESA's ARTES programme helps European and Canadian industry to stay innovative in a very competitive environment. It enables SMEs and large satellite integrators to collaborate so that a technology matches the specific needs of telecom satellite applications," said Andreas Mauroschat, Neosat Project Manager at ESA.
He added, "Satellite communications account for two thirds of the overall space industry revenue."
During the visit two additional ESA contracts with Irish companies were announced.
Innalabs has secured a €980,000 contract to develop a space qualified Rate Measurement Unit (RMU) that will be used for satellite Attitude and Orbit Control Subsystems (AOCS) in a range of future space missions as well as in the commercial space market.
PilotPhotonics has secured a €335,000 contract to develop laser communications sub-systems for use in a range of advanced communications satellite systems.
Gearóid Mooney, Research and Innovation Manager, Enterprise Ireland, said, "This high-level trade visit to ESTEC provides an opportunity for Enterprise Ireland to help further build relationship between Irish companies and ESA, with a specific focus on new entrant companies and as a means to progress Irish industrial involvement in upcoming Space mission procurement opportunities. Supporting our client companies to identify new markets for their products and services is part of Enterprise Ireland's strategy to enable our clients to build scale and expand global reach".
UCD College of Engineering and Architecture
Room 122 & Room 126, UCD Engineering and Materials Science Centre, University College Dublin, Belfield, Dublin 4, Ireland T:
+353 1 716 1868
| E:
eng.arch@ucd.ie