UCD SBFE Assoc Professor Featured in Irish Times Article
UCD SBFE Assoc Professor Aoife Gowen Featured in Irish Times Article
UCD School of Biosystems and Food Engineering Associate Professor Aoife Gowen featured recently in an Irish Times article highlighting the benefits of the EU Marie Sklodowska-Curie Actions programme. Dr. Gowen researched the use of Hyperspectral Imaging to investigate how the human body interacts with biomaterials in Kobe University, Japan under the Marie Sklodowska-Curie award. This work formed the basis of her being awarded a European Research Council grant to set up an imaging lab in UCD.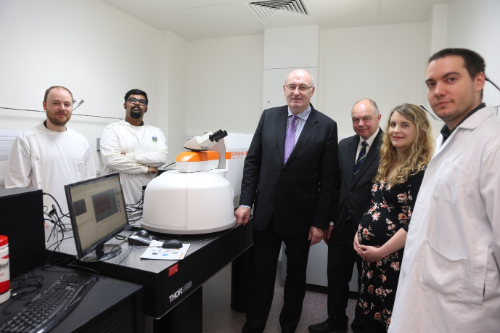 Pictured at the official launch of the ERC funded UCD Hyperspectral Imaging Laboratory were, (l-r): Ronan Dorrepaal, PhD candidate; Sindhuraj Mukherjee, PhD candidate; Phil Hogan, EU Commissioner for Agriculture and Rural Development; Professor Andrew Deeks, UCD President; Associate Professor Aoife Gowen, UCD School of Biosystems and Food Engineering; and Dr Jose Martinez-Gonzalez, Postdoctoral Research Fellow‌‌.
The full article is available here.
UCD College of Engineering and Architecture
Room 122 & Room 126, UCD Engineering and Materials Science Centre, University College Dublin, Belfield, Dublin 4, Ireland T:
+353 1 716 1868
| E:
eng.arch@ucd.ie