Accelerate your career with UCD's Master of Engineering Management
Tuesday, 21 November, 2017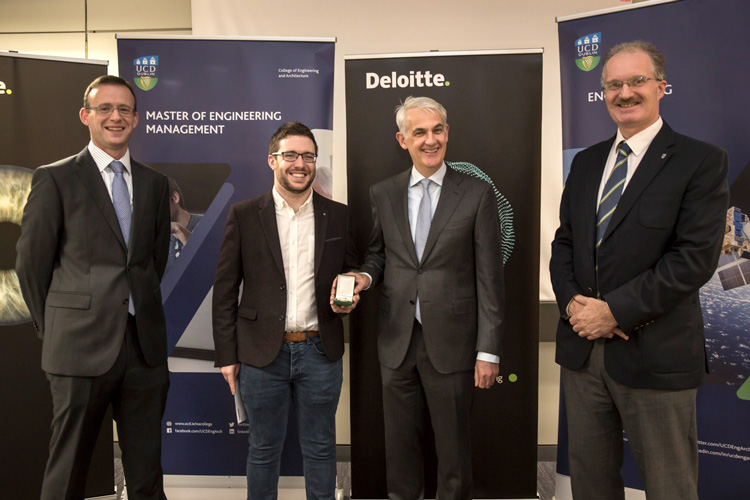 (L-r: Dr Vincent Hargaden, UCD, MEM Programme Director; David O'Callaghan, Intel, 2017 MEM Deloitte Gold Medal recipient; David Hearn, Head of Deloitte (EMEA); Professor David FitzPatrick, College Principal, UCD College Of Engineering & Architecture‌)
The part-time MEM programme allows participants to continue in employment and to quickly apply their newly acquired skills in an experiential manner, providing practising engineers with the management knowledge to progress to the 'C-suite'
"Move over MBAs, here come the engineers," suggested aWall Street Journalheadline in 2012. While deliberately provocative, this argument was actually based on the results of two studies, one by Harvard Business School and the other by Identified Inc, a data analytics firm. Both studies found that managers who possessed primary degrees in engineering were becoming increasingly more valuable in today's companies.
The Harvard Business School study and a subsequent 2014Management Sciencejournal paper ('Who lives in the C-suite?') found, not surprisingly, that firms had changed significantly over the preceding 30 years, with generic management positions decreasing and functional management positions on the rise. Co-author of both the study and the journal paper, Julie Wulf, argued, "There may be implications for mid-level managers looking to advance their careers, as corporate succession plans might favour functional experts with managerial capabilities."
Technology and operations management scholar, the late David Garvin, writing in 2013, described how Google "sold its engineers on management". He outlined how, a few years into the company's life, founders Larry Page and Sergey Brin actually wondered whether Google needed any managers at all. They even went as far as experimenting with a completely flat organisation, eliminating engineering managers in an effort to break down barriers to rapid idea development and to replicate the collegial environment they had experienced during their postgraduate studies at Stanford University.
That experiment lasted only a short while and ended when too many people went directly to Page with questions about expense reports, interpersonal conflicts and other nitty-gritty issues. And as the company grew, the founders soon realised that engineering managers contributed in many other important ways—for instance, by communicating strategy, helping employees prioritise projects, facilitating collaboration, supporting career development and ensuring that processes and systems aligned with company goals.
Around the world, masters-level programmes, such as the Master in Engineering Management (MEM), provide practising engineers with the management knowledge to make this valuable contribution to companies and to enable them to progress their careers to the 'C-suite'.
One such programme at University College Dublin has, for the past 50 years, delivered a masters-level qualification in management to the engineering profession. Launched in 1967 as the Master of Industrial Engineering (MIE) and renamed in the 2000s as the Master of Engineering Management (MEM), this Level 9 programme is designed for professionals with a minimum of five years of industry experience and a background in engineering, technology, science or mathematics.
Delivered over two years on a part-time basis, the programme is for individuals with the ambition to progress to senior management and leadership roles in global engineering and technology enterprises. It aims to develop technically oriented leaders and students are encouraged to be critical thinkers, creative problem solvers, to communicate in the language of business and move from thinking tactically to thinking strategically, while always cognisant of the economic, environmental and social implications of their actions.
The nature of the learning environment is highly collaborative and experiential. The part-time nature of the programme allows participants to continue in employment and to quickly apply their newly acquired skills in an experiential manner. Through the discussion based classroom environment, there is a high degree of learning from peers across different industry sectors and organisation types. Active learning occurs through lectures, seminars, workshops and projects. There is extensive use of case studies and business simulations and a strong orientation towards team work and collaborative industry based assignments.
MEM graduate and MEM employer testimonials:
"I was looking to progress my career, and for a course that would enable me to bridge the gap between engineering and senior management. An engineer's approach to problem solving is very well regarded in the business world, and this course builds on those strengths while developing the other business skills required. This course without doubt played a direct role in my career development." — Cathal Cavanagh, MEM graduate
"He's quick to transform business scenarios into quantitative analyses from which he can draw actionable conclusions. I believe the MEM has given him the tools to make real business impact, and a framework to support his future leadership development." — ESB senior manager, MEM employer
For further information about UCD's MEM programme, check our website at www.ucd.ie/mem. Application are now being accepted for September 2018: www.ucd.ie/apply
Dr Vincent Hargaden (vincent.hargaden@ucd.ie) is the director of the Master of Engineering Management Programme and an assistant professor in UCD's School of Mechanical & Materials Engineering.
UCD College of Engineering and Architecture
Room 122 & Room 126, UCD Engineering and Materials Science Centre, University College Dublin, Belfield, Dublin 4, Ireland T:
+353 1 716 1868
| E:
eng.arch@ucd.ie