UCD engineers named among Ten Outstanding Young People in Ireland
Wednesday, 17 May, 2017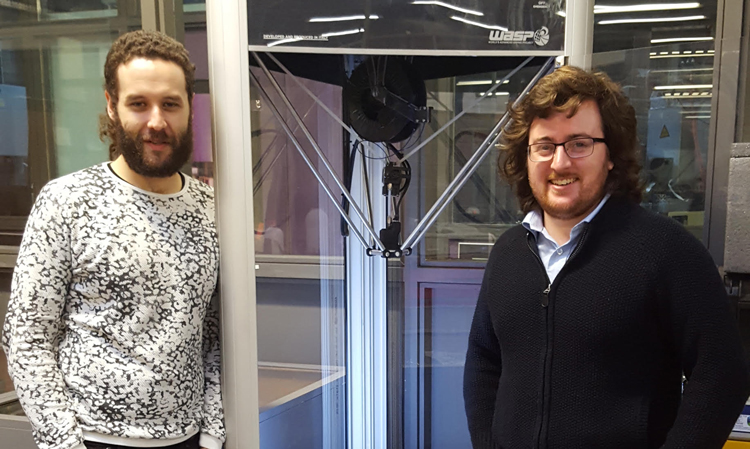 3D printing advocates Colin Keogh and Dr Shane Keaveney have been named as two of Ireland's Ten Outstanding Young People by Junior Chamber International Ireland.
In 2014, the UCD duo founded the Rapid Foundation to bring 3D printers, low-cost electronics like Raspberry Pi and virtual reality technology to people and communities around the world.
The Rapid Foundation currently supplies technology and training to communities in Mexico, Rwanda, Uganda and India. Once the training is complete, communities are given full ownership of the equipment. This allows them to invent, design and create solutions to issues affecting them.
Keogh is a research engineer completing a PhD in Inclusive Design and Creative Technology at University College Dublin. In January, he was named by Forbes on their 30 Under 30 Europe list of people "who will impact Europe for the next 50 years."
Dr Keaveney is a post-doctoral researcher at the University College Dublin Medical Device Design Group. He completed his PhD at the UCD School of Mechanical and Materials Engineering in 2013.
Junior Chamber International (JCI) is a non-profit organisation of people aged 18-40 who are active and engaged in helping their communities. The JCI Ten Outstanding Young People awards recognise those who excel in their field and create positive change.
By: Jonny Baxter, digital journalist, UCD University Relations
UCD College of Engineering and Architecture
Room 122 & Room 126, UCD Engineering and Materials Science Centre, University College Dublin, Belfield, Dublin 4, Ireland T:
+353 1 716 1868
| E:
eng.arch@ucd.ie