Saudi Aramco Takes Stake in UCD School of Chemical & Bioprocess Engineering Spin-out
Wednesday, 21 June, 2017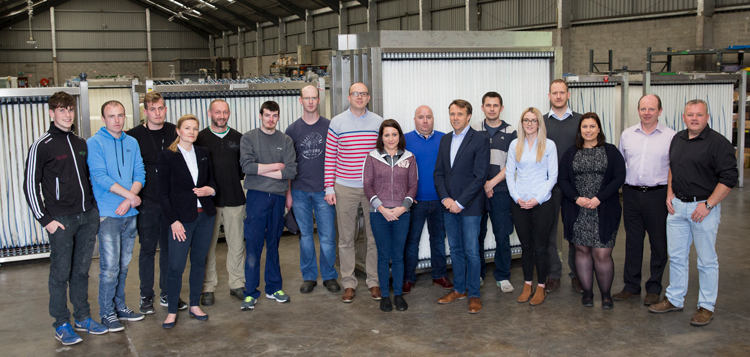 Dublin, Ireland, 20 June 2017, OxyMem Ltd, a UCD School of Chemical & Bioprocess Engineering spin-out company, and a leading innovator in energy efficient wastewater treatment, today announced that it has added Saudi Aramco Energy Ventures (SAEV) to its growing shareholder base.
SAEV is the corporate venturing subsidiary of Saudi Aramco, a world leader in integrated energy and chemicals.
This announcement follows on from the company securing investment from Dow Water and Process Solutions, a business unit of The Dow Chemical Company (NYSE: DOW).
OxyMem's ground breaking Membrane Aerated Biofilm Reactor (MABR) technology has the potential to bring wastewater treatment closer to energy neutrality by reducing energy consumption for aeration by up to 75 percent. The funds raised will enable OxyMem to further focus on growing the business by increasing investments in product development, expanding its manufacturing capacity, and increasing its sales force.
OxyMem was co-founded by Wayne Byrne, Professor Eoin Casey and Dr Eoin Syron in 2013 as a spin-out from UCD's School of Chemical and Bioprocess Engineering.
Wayne Byrne, Managing Director, OxyMem, said, "We are delighted to have secured this latest funding from such an influential actor in the energy world. We feel strongly supported by Saudi Aramco and believe this investment will add momentum to our market development goals, particularly in some of the more water stressed regions."
He added, "I believe that we have an important technology that can make a sizeable contribution in the wastewater market where there is a significant need for more efficient infrastructure solutions."
Bruce Niven, Chief Investment Officer, SAEV, said, "We are delighted to have the opportunity to make this investment into OxyMem. The Membrane Aerated Biofilm Reactor (MABR) is a compelling technology for energy reduction and cost-effective capacity expansion in wastewater treatment plants, and we see a clear need for such solutions in the fast-growing MENA market. We look forward to working with the OxyMem team to further develop their transformative wastewater technology and to growing the business."
Snehal Desai, Global Business Director, Dow Water and Process Solutions, said, "Our work with OxyMem in the past year has validated our belief in the MABR technology and the cost effective solutions it can provide to the industrial and municipal wastewater industry. As an existing strategic investor, Dow welcomes SAEV as a knowledgeable co-investor. The additional financing will allow OxyMem to accelerate its commercialization activity."
OxyMem currently operates a 25,000 sq. ft. facility and offices in Athlone, Co. Westmeath, to manufacture the OxyMem Membrane Aerated Biofilm Reactor and also has an office at NovaUCD, the Centre for New Ventures and Entrepreneurs at UCD.
Earlier this year OxyMem was the only Irish company included in the prestigious 2017 Global Cleantech 100 list. The list, which is produced by the Cleantech Group, represents the most innovative and promising ideas impacting the future of a wide-range of industries.
UCD College of Engineering and Architecture
Room 122 & Room 126, UCD Engineering and Materials Science Centre, University College Dublin, Belfield, Dublin 4, Ireland T:
+353 1 716 1868
| E:
eng.arch@ucd.ie