The 23rd RAMI Silver Medal from the Section of Bioengineering of the Royal Academy of Medicine in Ireland, has been awarded to Professor David FitzPatrick
Monday, 27 February, 2017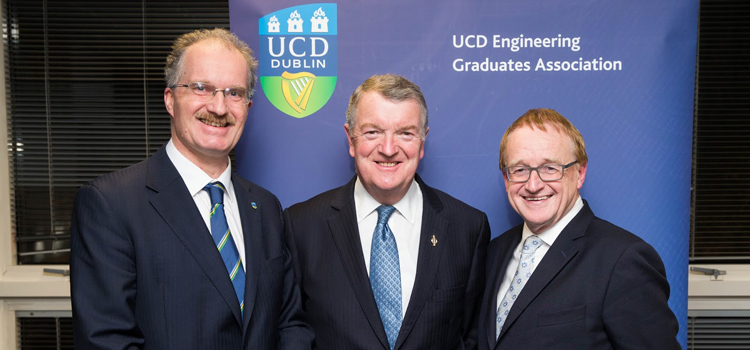 ‌
‌[From left to right:] Professor David FitzPatrick, Dean of Engineering UCD, John Power, incoming President of the EGA, and PJ Rudden, outgoing President of EGA.
Since 2014, Prof. FitzPatrick has been the Dean of Engineering and Principal of the UCD College of Engineering & Architecture. The Haughton Lecture in honour of the Rev. Samuel Haughton is organised by the Section of Bioengineering of the Royal Academy of Medicine in Ireland and an Academy silver medal is awarded to the lecturer.
The Medal is presented to a distinguished clinician or engineer who has made a significant contribution to the field of bioengineering through academic endeavour and research, with the recipient delivering the distinguished Samuel Haughton Honorary Lecture at the annual Bioengineering in Ireland conference.
Professor FitzPatrick was cited for his significant and sustained contribution to the development of bioengineering in Ireland.
He is a contributing researcher within the Bioengineering Research Group within the College and is a principal research contributor within the Trinity Centre for Bioengineering, University of Dublin.
Upon receiving his Doctorate, he worked within the orthopaedic industry, initially as a Development Bioengineer with Howmedica International Ltd. followed by a career path within DePuy International Ltd. including managing product development and basic research programmes for knee, upper limb, trauma and spinal product lines.
As Senior Development Manager, he was directly responsible for the development of a worldwide knee product development strategy and for the close liaison with clinicians involved in the design and development of knee, spine and upper limb devices.
Prof. FitzPatrick retains collaborative links with leading researcher centres around the world. His primary research interests are in the fields of musculoskeletal modeling and anthropometrics, medical device design and design process methodologies.
A Selection Committee, composed of the President, Secretary and two Council Members of the Section and two nominated members of the General Council of the Academy, will invite a suitable person to deliver the Samuel Haughton Lecture.
UCD College of Engineering and Architecture
Room 122 & Room 126, UCD Engineering and Materials Science Centre, University College Dublin, Belfield, Dublin 4, Ireland T:
+353 1 716 1868
| E:
eng.arch@ucd.ie