PolliNation Takes Top Spot at Sustainability LaunchPad Awards 2017
Tuesday, 12 December, 2017
PolliNation, an early-stage start-up, has secured first place, winning the Sustainability LaunchPad Award 2017. David Gormley pitched the early-stage venture which looks to rent beehives to farmers, to increase farm yields and encourage the growth of the bee population. With the honey produced, they propose to produce an artisanal mead.
Deputy Eamon Ryan, TD and leader of the Green Party presented the award to UCD Engineering students David Gormley, Fionn O'Connell-Hussey, Katie Mullan and Abdullah Alsaeed.
The 2017 Sustainability LaunchPad was led by UpThink Innovation Agency in partnership with UCD School of Electrical & Electronic Engineering and the Energy Institute. The Sustainability Launchpad collaborated with Social Entrepreneurs Ireland plus industry partners ESB, Electric Ireland, Enernoc, O'Cualann Co-Housing Alliance and The Grow Dome Project
On winning the Award, Fionn O'Connell-Hussey of the PolliNation project said, "This Sustainability Launchpad has been a fantastic opportunity for us to accelerate our idea and understand entrepreneurship. The customer-centric design tools and frameworks helped us iterate to our PolliNation business model which will ultimately help the decline of the bee population."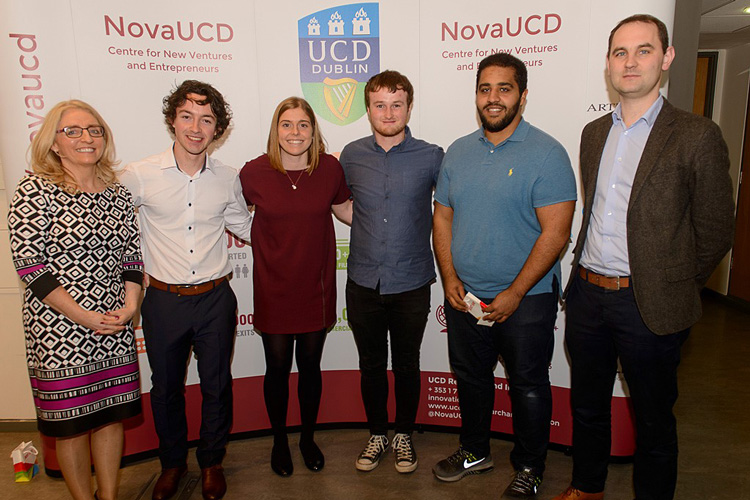 Pictured L-R: Mary Cronin, David Gormley, Katie Mullan, Fionn O'Connell-Hussey, Abdullah Alsaeed, Andrew Keane.
Ireland has recently been ranked number 49 out of 59 countries in the 2017 Climate Change Performance Index, dropping 28 places since last year. The focus of the Sustainability LaunchPad is to facilitate the cross fertilisation of ideas and co-create sustainable future business models. Mary Cronin founder of UpThink "A change in mind-set and pace needs to take place at a much wider level to increase awareness of the challenges and opportunities of climate change. We need to work together to become a low-carbon, climate-resilient, and an environmentally sustainable economy."
The shortlisted finalists have completed a 12-week accelerator programme, whereby budding entrepreneurs from a variety of engineering specialities partnered with industry in harnessing academic and research backgrounds to help solve real-world problems. Themes centred around creating community-centric passive homes, the opportunities of blockchain in the energy sector, the future of electric cars, sustainable food with a social impact and preserving the future of bees in the ecosystem.
Two of the finalists are social entrepreneurs, who recently received a Social Entrepreneurs Ireland Award: The Grow Dome Project has developed geodesic domes to create community hubs, housing hydroponic garden systems and growing sustainable foods with no agricultural waste run-off into local water streams. O'Cualann provides affordable housing through collaboration with local authorities allowing for the waiving of development levies and providing discounted land, thus enabling people to afford to buy homes when they otherwise would not have been able to do so.
Andrew Keane, Head of the School of Electrical and Electronic Engineering and Head of the Energy Institute said, "It is uplifting to see the innovative change being presented by all five Sustainability LaunchPad finalists this year. The depth of talent coming through from our Engineering teams is impressive as is their commitment to taking on the big challenges that face society."
For further information contactMichelle Doyle, University College Dublin, Communications Manager, Nova UCD, e: michelle.doyle@ucd.ie, t: + 353 1 716 3712.
UCD College of Engineering and Architecture
Room 122 & Room 126, UCD Engineering and Materials Science Centre, University College Dublin, Belfield, Dublin 4, Ireland T:
+353 1 716 1868
| E:
eng.arch@ucd.ie