UCD Engineers Shane Keaveney and Colin Keogh receive Outstanding Young People Award
Wednesday, 10 May, 2017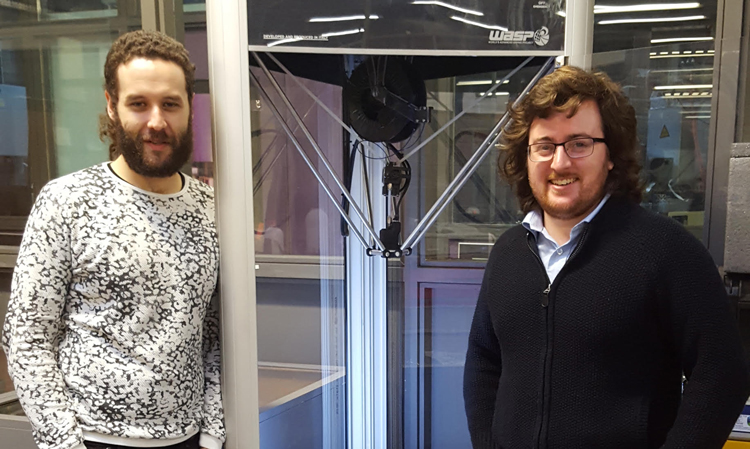 UCD College of Engineering and Architecture Postdoc Shane Keaveney and PhD candidate Colin Keogh have been named as one of Ten Outstanding Young People of 2017 by JCI (Junior Chamber International) Dublin.
After a lengthy process of nominations, forms and judging, JCI Dublin's Ten Outstanding Young People for 2017 were announced at the Gala Awards Night in the Mansion House on the 6th of April.
The Ten Outstanding Young People will have the opportunity to win at the National event and subsequently progress to International candidates and then put forward for representation at JCI world Congress held in the Netherlands in November 2017.
Shane and Colin were featured for their work towards "using low-cost disruptive technologies to help improve the world." Together they co-founded The Rapid Foundation which aims to put "technology such as 3D printers and low-cost electronics in the hands of people who need it most in developing countries".
About the Awards: The JCI Outstanding Young Persons Awards serves to formally recognize young people between 18-40 who excel in their chosen fields and create positive change. By recognizing these young people, JCI raises the status of socially responsible leaders in this world. The honourees motivate their peers to seek excellence and serve others. Their stories of discovery, determination and ingenuity inspire young people to be better leaders and create better societies.
Past recipients of National awards include such well-known personalities as John F. Kennedy, Henry Kissinger, Elvis Presley, Jackie Chan, Wayne Gretzky and many more, all named before the age of 40 and before they had achieved national prominence.
UCD College of Engineering and Architecture
Room 122 & Room 126, UCD Engineering and Materials Science Centre, University College Dublin, Belfield, Dublin 4, Ireland T:
+353 1 716 1868
| E:
eng.arch@ucd.ie