Intel continues its commitment to Women in Technology
Thursday, 30 November, 2017
This week at a special ceremony held in Dublin Intel Ireland unveiled its 2017 Women in Technology scholars as well as the recipients of its Women in Technology award.
Two UCD undergraduate Engineering students were among this year's scholarship recipients. UCD's scholar recipients are Laura Nagle and Aoife Brennan.
This is the sixth year of the Women in Technology program for Intel in Leixlip where the initiative was introduced following the success of the same program which has been supported by Intel in Shannon since 2006.
The scholarship program aims to encourage a new generation of high-achieving women to take up the challenge of a career in science and technology. The program forms part of a wider focus by Intel on empowering girls and women by fostering educational opportunities and encouraging women to participate, prosper, and lead in the global economy.
Intel has worked closely over the past number of months with both local schools and a number of universities and institutes of technology to share details of the initiative and encourage applications from women embarking on third level education and were delighted with the record number of applications received to the program this year.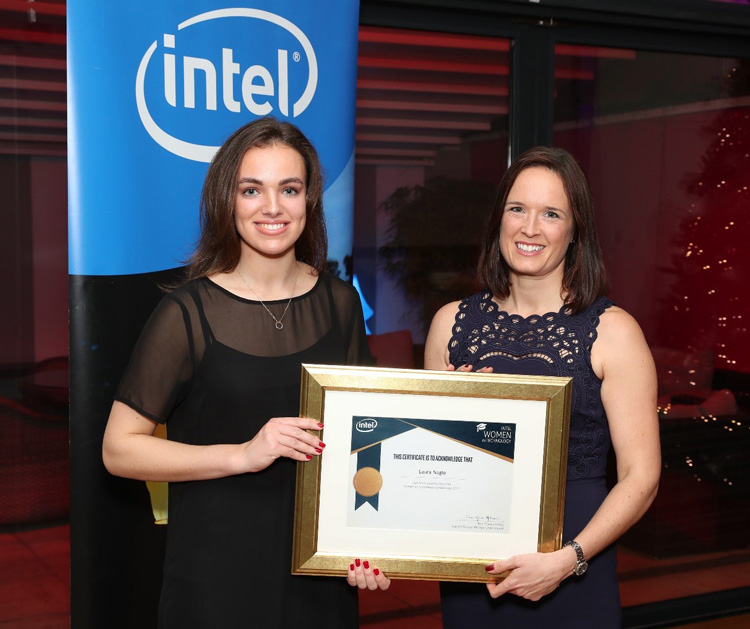 Laura Nagle receives her Intel Women in Technology scholarship from Intel's Martina Nolan
Intel in Leixlip this year awarded a total of 9 new scholarships bringing the total number of scholars to 48 with a total investment since 2012 of €350,000.
Each of this year's selected scholars have just begun their first year of studies in a Science, Engineering or Technology course at either Trinity College Dublin or University College Dublin. This year scholarships were awarded by numerous business groups across Intel in Leixlip including fab operations, manufacturing validation and research.
The scholarship program offers a monetary grant valued at €3,000 per annum as well as opportunities for work placements at the Intel Leixlip campus. Each scholar is also assigned a mentor who is an Intel Leixlip employee to assist and provide advice on managing their academic career. The program is open to school leavers entering undergraduate degrees in relevant courses at third level institutions across Ireland.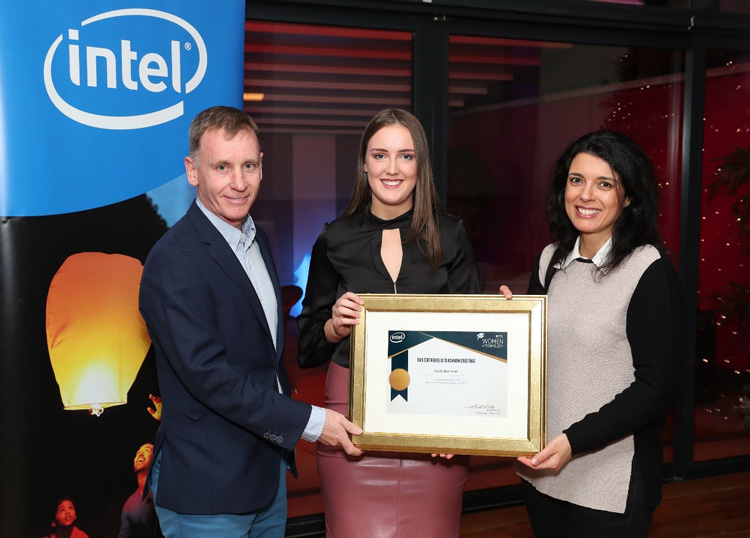 Aoife Brennan receives her Intel Women in Technology scholarship from Intel's Stephen Best and Patrizia Odierna
Speaking about the Women in Technology programs at the presentation event, Sarah Sexton, Intel Public Affairs, said "At Intel we have a strong commitment to diversity and recognise that the world in which our business operates today is one of increased dynamism where women are key consumers and key contributors of valuable perspectives and ideas. We are delighted to once again have the opportunity to encourage more young women to pursue careers in science and technology, as well as giving them first-hand experience of the career opportunities at Intel".
Look out for further details on www.intel.ie/womenintechnology of Women in Technology Scholarships and Awards in the New Year.
UCD College of Engineering and Architecture
Room 122 & Room 126, UCD Engineering and Materials Science Centre, University College Dublin, Belfield, Dublin 4, Ireland T:
+353 1 716 1868
| E:
eng.arch@ucd.ie