Equality Impact Assessments
Page updated 4 July 2022
Our University community comprises a wide range of people with diverse backgrounds and circumstances, whom we value and regard as a great asset. As part of our continued commitment to equality, diversity and inclusion (EDI), we strive to create an environment in which all members of our community should expect to be able to;

• thrive
• be respected and valued for their unique perspectives and contributions
• achieve their fullest potential
• have a real opportunity to participate in, and contribute to, our activities.

In order to support our commitment to EDI the University developed and is piloting an Equality Impact Assessment (EIA) tool. The purpose of the EIA Tools is to assess University policies systematically from an equality, diversity and inclusion perspective across the ten grounds identified by the University: age, race, disability, socio-economic status, religion, gender, sexual orientation, family status, civil status, and membership of the travelling community.
Conducting an Equality Impact Assessment
The Equality Impact Assessment (EIA) Tool was developed as part of the University Policy Management Framework to ensure equality, diversity and inclusion principles are embedded in the process of policy design and development. Using this Tool helps those drafting or reviewing policies to produce documents that are non-discriminatory and promote equality, diversity and inclusion. It is a mandatory requirement that an EIA form (available on the Policy Management Framework site) is completed and submitted with the policy to the relevant approval body in order for it to be approved. Helpful guidelines can also be found at this location.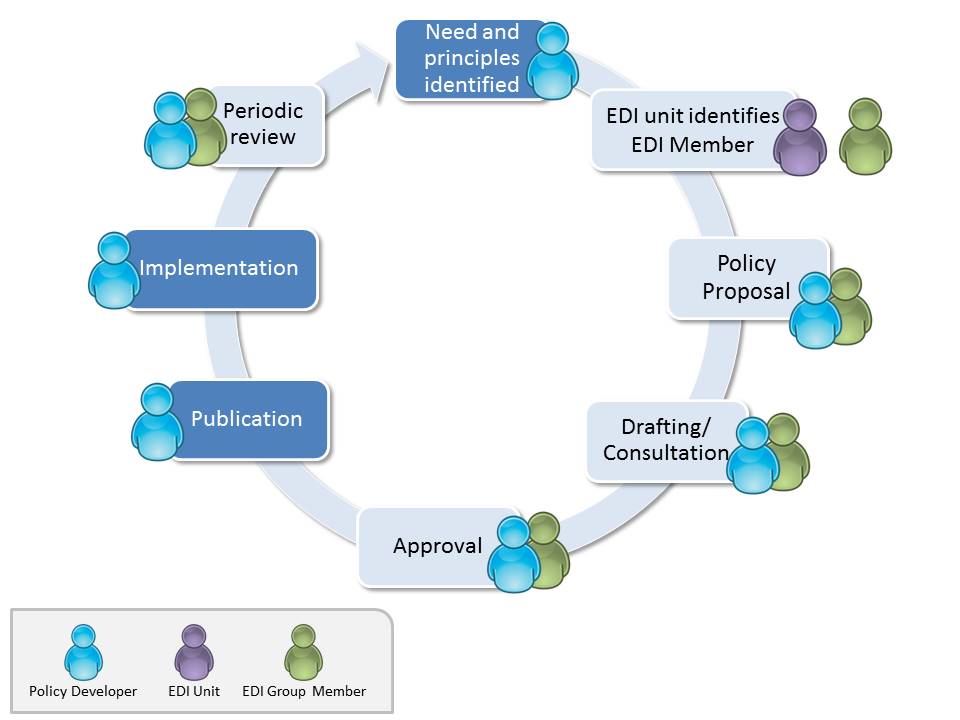 ‌
Equality Impact Assessment - The Process
Having identified the need for a policy, the Policy Developer, as part of the UCD Policy Development Framework, contacts the EDI Unit (edi@ucd.ie) for support in conducting an Equality Impact Assessment.
The EDI Unit identifies a member of the EDI Group who will partner with the Policy Developer for the purposes of carrying out an EIA. An EIA is required to be carried out at policy proposal stage and after the policy is drafted, in advance of submission to the relevant body for approval.
The EDI Group member meets with the Policy Developer and supports them in carrying out an an EIA at the various stages, offering advice and occasionally bringing in additional expertise.
Once the policy including the completed EIA, is submitted for approval to the approval body, the EDI Group member ensures that a copy of the Equality Impact Assessment and any feedback is submitted to the EDI Unit.
During periodic reviews of your policy, the EIA form should also be reviewed to ensure it remains consistent with UCD's 10 grounds.
Policy Developer/Working Group
To complete EIA on policy proposal
To complete EIA on policy during development
To submit to approval body* at each of these stages
EDI Group Member
To assist policy developer in carrying out the EIA on policy proposal
To support the policy developer in carrying out an EIA as policy is being drafted and prior to approval stage
To help identify potential stakeholder groups/experts for consultation
*An approval body could be the Academic Council or UMT for example.
What are the benefits of Equality Impact Assessments?
They support achievement of Univesity Strategic Objective 5, "Attract and retain an excellent and diverse cohort of students, faculty and staff"
They support the development of robust policies that are non-discriminatory and promote EDI in the University
They facilitate the mainstreaming of EDI throughout the University as policy developers take responsibility for ensuring their policies are promoting EDI
They enhance the inclusive culture and reputation of the University
They enable the University to meet its Public Sector Duty Requirements
Resources
Sample documents
To support policy developers, a sample policy proposal, sample policy and related Equality Impact Assessments have been developed. Please note that these documents are not real university policies and have been developed to include examples of phrases that could be discriminatory. The documents are for illustrative purposes only.
Contact UCD Equality Diversity and Inclusion
University College Dublin, Belfield, Dublin 4, Ireland. E:
edi@ucd.ie