UCD Policies
---
Equality, Diversity & Inclusion Policy
UCD believes in equality, diversity and inclusion and embeds these fairness principles into all aspects of University life. UCD's vision for EDI is to be a leader and role model in equality and diversity in the higher education sector nationally and internationally, and for EDI to be at the heart of all we do. Learn more about how we do this in our policy on Equality, Diversity & Inclusion.
More information on the EDI Policy can be found on our publications section and the new EDI Strategy and Action Plan can be downloaded by clicking here: EDI Strategy and Action Plan 2018 - 2020 - 2025.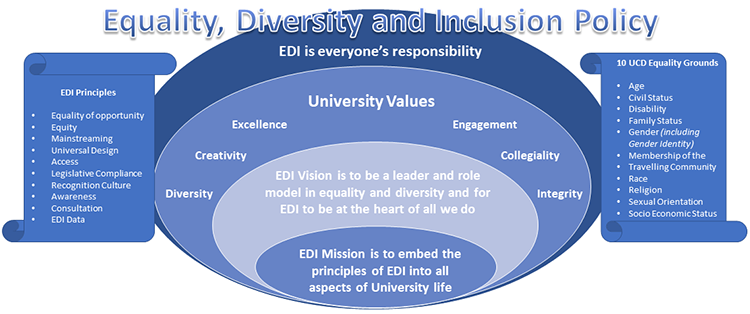 ---
Gender Balance on Committees
This policy articulates UCD's commitment to a minimum gender balance of 40% women and 40% men on all decision making committees (and among their Chairs).
---
Core Meeting Hours
This policy aims to facilitate the embedding of core meeting hours across the University, as part of a range of actions to support a family-friendly working environment. Core meeting hours are defined as the hours between 9:30am and 4:00pm, Monday to Friday. They do not represent the working day, but rather are a subset of the working day. Meetings include all University, College and School level meetings, seminars, workshops etc. which employees are either required or invited to attend. They do not include timetabled teaching or assessment.
---
Dignity & Respect Policies
This Dignity & Respect website brings together information on the Bullying & Harassment and Sexual Misconduct policies in UCD. In addition to the policies, you will also find information on a range of informal and formal options for resolution. The Dignity & Respect Support Advisory service can take you through these policies and explore the range of options and supports available to you.
Bullying & Harassment Policy - Read the policy in the Governance Library now or learn more about the scope and key features of the policy on the Dignity & Respect site.
Sexual Misconduct Policy - Read the policy in the Governance Library now or learn more on the Dignity & Respect site about the scope and key features of the policy
---
Gender Identity and Expression Policy
Gender identity and expression is a positive, core part, of being human and experiencing wellbeing and fulfilment. UCD celebrates its diverse community of employees and students and their diverse gender identities and expression. Fundamental equality and inclusion in UCD's community is central to our University's ethos of academic excellence and integrity and our aspiration to be leaders in our society.
Learn more about Gender Identity & Expression at UCD or view the policy.
---
UCD Support for People Taking Family-Related Leave Policy
This policy and guidelines provide support for managers and employees to navigate the period before, during and after family-related leave. Managers can also find guidance so that they can provide a high standard of support to employees during this time.
Learn more about Supports for Parents and Carers at UCD or View the policy.
---
UCD Code of Practice for the Employment of People with Disabilities
The purpose of this Code of Practice is to provide a statement of policy and guidance in relation to the employment of people with disabilities.
---
UCD Mediation Service Policy and Guide
Mediation is a framework for resolving conflict in an informal manner which is impartial and objective, and aims to resolve conflict at the earliest opportunity. Find out more about mediation at UCD or view the policy.
---
Out of Hours Email Policy
The purpose of this policy is to make it clear to employees that they are not expected to read or reply to emails outside of their normal working hours, except in exceptional situations. This policy is designed to promote employee wellbeing by demonstrating the importance of recovery time away from work and support other policies such as Core Meeting Hours which promote a family-friendly working environment.
Show/hide content Open Close All
Manager Guidelines to implementing UCD's out of hours email policy

The concept of 'always on' is widely viewed as impacting negatively on employee wellbeing. Receiving and responding to email out of hours can have a significant role in propagating this situation. Best practice in many organisations is to establish a culture where it is viewed as acceptable not to read or respond to email out of hours.

Rollout of out of UCD's out of hours email policy is a highly visible action demonstrating our commitment to employee wellbeing. Line managers play a pivotal role in the implementation of the policy and ultimately changing the culture of the organisation for the better.

Due to UCD's global footprint with employees traveling and working in many time zones, a range of approaches will be needed. Potential ways line managers (and other colleagues) can support this policy are suggested below. All are adaptable and account for different working preferences and styles.
Communicate the policy
Communicate and indicate your support for the policy among your team by referencing it at team meetings and reminding colleagues as and when needed.
Avoid sending out of hours email
In recognising the spirit of the policy and the intention to promote employee wellbeing, managers should set the tone in their own areas by avoiding sending out of hours email where possible.
When travelling
Inform your team you are away and that they may receive out of hours emails that you do not expect them to respond to until their normal working hours. This can be prior to your departure or as a footer to your email.
Delay sending out of hours emails
Many reasons including travel, absence from the office, flexible working etc may result in the need to work on email out of normal working hours. Where this occurs, technological solutions may be used to delay sending the email to the recipient(s) until their normal working hours.

For example in Google's Gmail a simple dropdown option on the send button allows an email to be sent at a scheduled time. Similar options also exist for desktop email clients such as Outlook.
Insert an email footer
Awareness of the policy can be raise by adding a footer to email signatures to indicate that there is no expectation placed upon the recipient for a response outside of their normal working hours. Suggested wording may include the following phrases, and could be adapted by individuals:
"As UCD is a global University, it is possible that this email may reach you outside of your working hours. If so, please do not feel you have to read or respond until your normal working hours."
It should be noted that no part of this policy prohibits an employee who chooses to read and respond to emails out of normal working hours from doing so. However, it is incumbent upon line managers and other colleagues not to create a sense of pressure to read/respond to email out of hours and to adopt the strategies above with the intention of creating a better working environment for all.
External Policies
Show/hide content Open Close All
The Employment Equality Acts 1998 and 2004:
Promote Equality
Prohibit discrimination (with some exemptions) across nine grounds
Prohibit sexual harassment and harassment
Prohibit victimisation
Require appropriate measures for people with disabilities in relation to access, participation and training in employment
Allow positive action measures to ensure full equality in practice across the nine grounds
Aspects of employment that are covered include:
Advertising
Equal pay
Access to employment
Vocational training and work experience
Terms and conditions of employment
Promotion or re-grading
Classification of posts
Dismissal
Collective agreements
The Acts apply to:
Full-time, part-time and temporary employees
Public and private sector employment
Vocational training bodies
Employment agencies
Trade unions, professional and trade bodies
The Acts also extend to:
The self-employed
Partnerships
People employed in another person's home