UCD Policies
---
Policy on Equality, Diversity & Inclusion
UCD believes in equality, diversity and inclusion and embeds these fairness principles into all aspects of University life. UCD's vision for EDI is to be a leader and role model in equality and diversity in the higher education sector nationally and internationally, and for EDI to be at the heart of all we do. Learn more about how we do this in our policy on Equality, Diversity & Inclusion.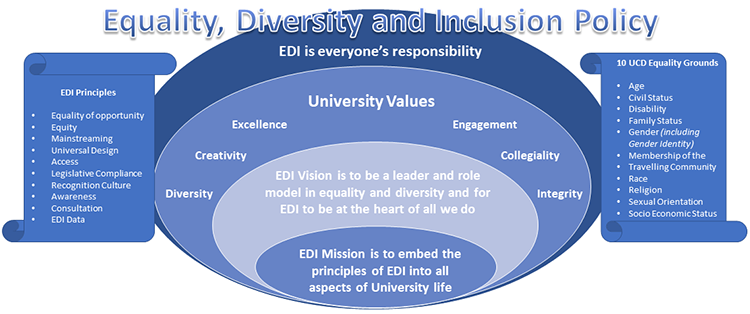 ---
Gender Balance on Committees
This policy articulates UCD's commitment to a minimum gender balance of 40% women and 40% men on all decision making committees (and among their Chairs).
---
Core Meeting Hours
This policy aims to facilitate the embedding of core meeting hours across the University, as part of a range of actions to support a family-friendly working environment. Core meeting hours are defined as the hours between 9:30am and 4:00pm, Monday to Friday. They do not represent the working day, but rather are a subset of the working day. Meetings include all University, College and School level meetings, seminars, workshops etc. which employees are either required or invited to attend. They do not include timetabled teaching or assessment.
---
Gender Identity and Expression Policy
A University Management Team Working Group was established in September 2016 to draft a UCD Gender Identity Policy and supporting Guidelines. The Working Group met on a number of occasions and after reviewing best practice, is now in a position to consult with the University Community on a draft Gender Identity and Expression Policy and Guidelines. The purpose of this consultation process is to enhance the draft policy documents and to advance understanding of gender identity. We would therefore like to encourage you to participate in this consultation process as your opinion matters.
Learn more about Gender Identity & Expression at UCD or view the policy.
---
UCD Dignity & Respect Policy
This policy sets out the framework for dealing with complaints of bullying and harassment, including sexual harassment. It includes information for dealing with complaints informally as well as information on the formal procedure. It also contains information on the supports available for staff and students.
Leare more abou Digity & Respect at UCD or view the policy.
---
UCD Code of Practice for the Employment of People with Disabilities
The purpose of this Code of Practice is to provide a statement of policy and guidance in relation to the employment of people with disabilities.
---
UCD Mediation Service Policy and Guide
Mediation is a framework for resolving conflict in an informal manner which is impartial and objective, and aims to resolve conflict at the earliest opportunity. Find out more about mediation at UCD or view the policy.
---
External Policies
Show/hide contentOpenClose All
The Employment Equality Acts 1998 and 2004:
Promote Equality
Prohibit discrimination (with some exemptions) across nine grounds
Prohibit sexual harassment and harassment
Prohibit victimisation
Require appropriate measures for people with disabilities in relation to access, participation and training in employment
Allow positive action measures to ensure full equality in practice across the nine grounds
Aspects of employment that are covered include:
Advertising
Equal pay
Access to employment
Vocational training and work experience
Terms and conditions of employment
Promotion or re-grading
Classification of posts
Dismissal
Collective agreements
The Acts apply to:
Full-time, part-time and temporary employees
Public and private sector employment
Vocational training bodies
Employment agencies
Trade unions, professional and trade bodies
The Acts also extend to:
The self-employed
Partnerships
People employed in another person's home