The Open Doors Initiative
UCD recently became a member of the Open Doors initiative who is a group of over 95 companies and NGOs, who work with government to create pathways to employment for marginalised people. These can be internships, scholarships, training courses, aiding entrepreneurs or full/part time employment, from a range of backgrounds and abilities. These can be developed out on a bespoke basis with organisations to include specific projects. The people they work with include refugees, asylum seekers and migrants, people with disabilities and disadvantaged youth (including those from a traveller background, LGBTIQ+ and so on).
The Open Doors Initiative offers online training, mentorships, assisted learning, seminars, inhouse training for existing employees on a range of subjects and can assist with funding for training courses. The Open Doors Initiative has ongoing meet ups with other companies and supporting partners who are working to create diversity and inclusion within their organisations.
For more news and events please visit https://www.opendoorsinitiative.ie/news-events
Follow The Open Doors Initiative via Social Media: Twitter and LinkedIn
We are proud to be an inclusive member of The Open Doors Initiative, helping people in need into education and employment.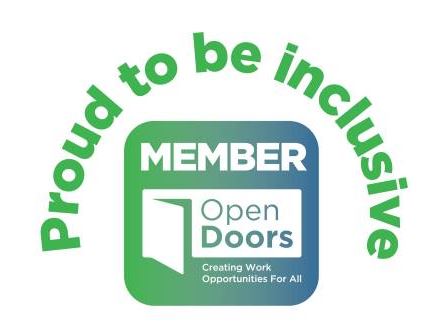 Download the Open Door Initiative badge and include it on your email signature.
ODI Member Badge

PNG

|

391.4 kB
Open Doors Annual Report
The Open Doors Initiative recently published the full Annual Report (2019 - 2020)
Show/hide content Open Close All
Projects
Entrepreneurial Incubator
aimed at helping shape marginalised entrepreneurs has begun with HotHouse TUD and a serial entrepreneur as an advisor. We are looking for funding to put the model in place and hold an awards competition. A deck is available for anyone looking for more information on these and other projects
The Open Society
takes refugee families from Syria and other places of extreme need and resettles them here in Ireland, within a community of allies. We have been asked to develop the support relationships through Cairde – the Allies Network, with business, sport, the religious, and other community groups. We are looking for business and academic partners to support this work.
Launch of Employers for Change Service
The Taoiseach and Sinead Burke launched Employers for Change - the new Employers Disability Information Service in March. This service aims to make employers more confident in hiring people with disabilities and retaining them in the workplace. There has been excellent uptake of this offering.
Migrant Hub – we are building a hub for all material related to migrant employment in conjunction with Supporting partners and other NGOs in the area. This will feed into the work with Cairde and align with what is being done on the Employers Disability Information Service.

Skillsbase – Volunteer hub to directly connect professional volunteers with NGOs on a needs basis. In talks with Volunteer Ireland and Chambers Ireland on how this can be utilised.
Remote Working Centre – An Crann, David Stanton TD and local businesses are all involved, along with ODI. Looking to finalise a partnership with Cork City Chamber and Govt. This work meets the Tánaiste's proposals around remote working, with a focus on people with disabilities and others who need remote working resources.
Computers for Direct Provision: We are working with a range of migrant groups to collect 900 computers for people in Direct Provision who are in education or looking for work. Several companies have already contributed.

Jobs board additions: We are featuring a Jobs board on the website, advertising internships, jobs and other relevant positions direct to marginalised groups. Interest from participants has been very strong. All companies are encouraged to send positions to us. We have participants trained up to Doctorate level, so all positions are applicable, including grad roles. The wording of the spec should be aimed at encouraging marginalised people to also apply, which we can help with. https://www.opendoorsinitiative.ie/positions-apprenticeships-and-internships