See Change Green Ribbon Campaign to End Mental Health Stigma
See Change

UCD is committed to the creation of a work environment whereby every employee can feel supported no matter what issues they may be facing in life and where mental health and wellbeing is promoted. To this end, UCD partner with organisations such as See Change, who are dedicated to ending mental health stigma. Stigma against mental health can involve the use of negative labels towards people with mental health difficulties and can lead to social exclusion. As a consequence of stigma in society, people experiencing mental health difficulties feel devalued and may decide to conceal their mental health difficulty.
Green Ribbon Campaign
Each year in May, See Change roll out a national Green Ribbon campaign to encourage people to end mental health stigma. To find out more about See Change and the work they do, you can visit their website here: https://seechange.ie/ In 2019, UCD participated in See Change's Green Ribbon campaign and, amongst other initiatives, lit up UCD landmarks green.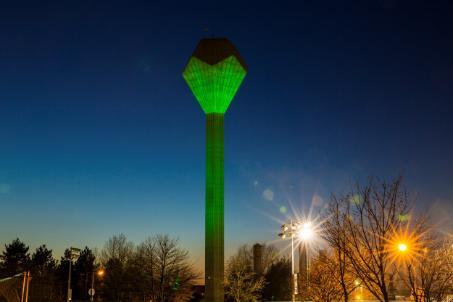 How to Support See Change this May 2020
This year, due to the current Covid-19 situation, See Change have decided to postpone their Green Ribbon campaign until the Autumn. However, there are ways for us to support See Change this May and work towards the elimination of mental health stigma while we continue to work remotely. UCD EDI would like to encourage employees to take part in an online campaign.
Continue reading below to find out how you can help us support mental health wellbeing in UCD this May:
Social media is a great way to start a conversation and spread awareness. If you are sharing a story, anecdote or simply want to show your support, follow UCD_EDI on Twitter, add a Green Ribbon "Twibbon" to your profile and use the hashtags #GreenRibbonIRL and #EndStigma in your tweets and retweets.
Add a Green Ribbon banner to your email signature for the month of May:
Double click on the banner image below and "copy" or download here
Open Gmail
In the top right, click Settings. See all settings.
In the "Signature" section, add the image banner by double clicking under your signature text and "paste".
You may need to resize the banner, to do so select one of the corners and drag the cursor of the mouse down.
At the bottom of the page, click Save Changes.

Follow and share See Change's tips on maintaining your mental wellbeing at work:
Don't bottle things up - ask for help if you need it
Take your breaks - change of scene and fresh air
Celebrate achievement - don't focus on what you haven't done
In-House supports – what wellbeing supports area available through work? (see UCD's Employee Assistance Service here - requires log-in)
Work-life balance – make time for non-work activities and friends
Sometimes, the most helpful thing you can do is to let someone know that you are there for them and simply listen. See Change compiled a list of tips to start the conversation based on the insight and feedback from people facing mental health difficulties:
Take the lead from the person – as a first step, ask how you can help
Talk, but listen too – simply being there means a lot
Don't just talk about mental health – chat about everyday things
Small things make a big difference – ask someone how they are doing, have a virtual coffee chat
Avoid clichés – phrases like "cheer up" won't help; being openminded and listening will
Download See Change's Talking Cards here.
Mental Health and Wellbeing in UCD
UCD EDI developed a webpage on Minding your Mental Health and Wellbeing during Covid-19. This page is continuously updated with new resources and information and we encourage everyone to visit it regularly.
If you are worried about your mental health and wellbeing, UCD's new Mental Health First Aid Peer Support Group are available for a chat and information via Zoom. Do not hesitate to reach out to one of our colleagues in complete confidentiality.
UCD Employee Assistance Service is free, confidential and available to all employees and their immediate family members. They provide a range of services and resources to help support your wellbeing. Supports include specialist information and support; manager support guidance; online resources; freephone helpline; face to face counselling.
Contact UCD Equality Diversity and Inclusion
University College Dublin, Belfield, Dublin 4, Ireland. E:
edi@ucd.ie