Podcast
UCD Neurodiversity Group in collaboration with Allen Higgins, UCD Quinn School of Business and UCD's Equality, Diversity and Inclusion Unit present a four-part podcast series exploring neurodiversity, arts and culture and the lived experience of neurodiverse people. The Blindspot podcast is presented by Tina Lowe, Campus Accessibility Officer, UCD.
Neurodiversity and Invisible Disabilities
Dr Blánaid Gavin, Associate Professor, School of Medicine, Chair of UCD EDI Neurodiversity Working Group
Dr Deirdre O'Connor, Assistant Professor, Chair of UCD EDI Disability Subgroup and Associate Dean for Equality, Diversity and Inclusion, College of Health and Agriculture
A Student Perspective and Diagnosis
Catriona Nicholls, Student, UCD
Actor and Autism Activists
Assistance Dogs for Neurodiverse Children and Teenagers
Eimear Kenneally, Apprentice Assistance Dog Instructor, Irish Guide Dogs Association
The Blind Spot Podcast by Tina Lowe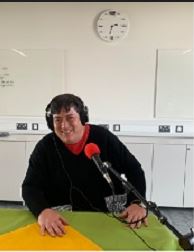 Get the lowdown on equality and access, on accessible-first designs, and discover how good design benefits everyone. Thinking about 'inclusion first' opens the world. Great designs, amazing technologies and good policies improve the lives of everyone, in communities, places, spaces, landscapes, buildings, technologies and more. This podcast focuses on real people facing real challenges that can and will be fixed.
Listen to the podcast: https://anchor.fm/blindspot-ie

Contact UCD Equality Diversity and Inclusion
University College Dublin, Belfield, Dublin 4, Ireland. E:
edi@ucd.ie