Japanese Women in Leadership in Science and Society
On June 15 at 2pm, UCD played host to an event entitled 'Japanese Women in Leadership in Science and Society'. Speakers included the Japanese Ambassador and Professor Reiko Kuroda (pictured below).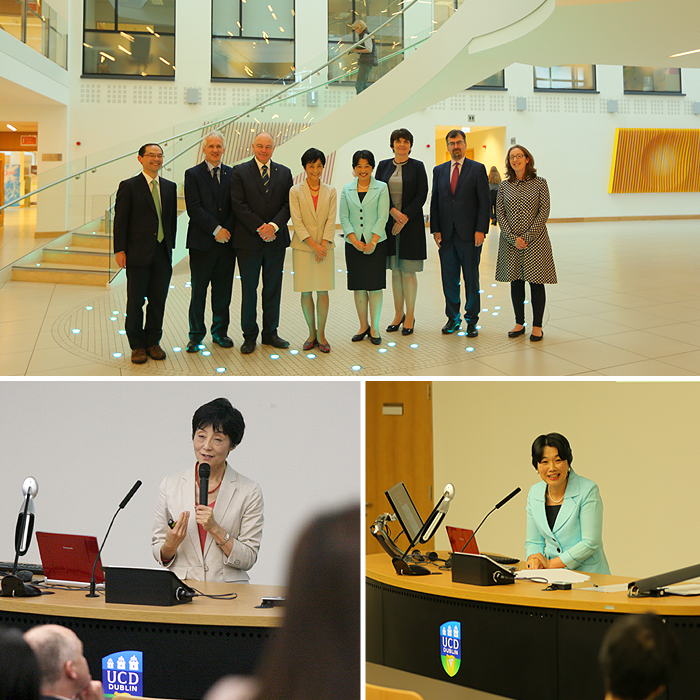 Pictured at the event on 15 June in UCD O'Brien Science Centre
(l-r) Dr Naonori Kodate (UCD School of Social Policy, Social Work and Social Justice); Prof. Joe Carthy (College Principal, UCD College of Science); Prof. Andrew Deeks (

UCD President

); Prof. Reiko Kuroda (Tokyo University of Science/Emeritus Professor, University of Tokyo); The Ambassador of Japan Mrs Mari Miyoshi, Prof. Orla Feely (UCD Vice-President for Research, Innovation and Impact); Prof. Colin Scott (College Principal, College of Social Sciences and Law); Dr Sheila McBreen (UCD School of Physics). (Photo: Tetsutaro Kawakami)
Professor Kuroda is a Japanese chemist/biologist who is a professor at the Research Institutefor Science & Technology, Tokyo University of Science. Previously, she was a Professor at the Department of Life Sciences at The University of Tokyo. Her field of research is primarily chirality in the field of chemistry and biology. In 2006, Prof. Kuroda was appointed to serve as a governor for the Cambridge Crystallographic Data Centre, and now serves as a publishing board member of the Royal Society of Chemistry. In 2009, she was elected a foreign member of the Royal Swedish Academy of Sciences in its class for chemistry. In 2013, Prof. Kuroda was awarded the L'Oréal- UNESCO Awards for Women in Science.
Organised by:
UCD Women in Science (WiTS)
UCD Centre for the Study of Women and Gender
UCD College of Science
UCD College of Social Sciences and Law
‌