LGBTI Pride Month
Page Updated: 12th September 2022
A range of events took place across the University to celebrate LGBTI Pride Month, beginning the 1st June 2022. Below, you can read some information on the events and watch back our How To Be An Ally Workshop which took place in association with Dublin Pride.
How To Be An Ally Workshop - 23rd June 2022
In association with Dublin LGBTQ Pride and the Pride at Work training programme, we were delighted to host a workshop for all staff entitled "How To Be An Ally".
This one hour workshop aimed to show people how they can make a huge difference through everyday acts of kindness. Being an LGBTQ+ ally can make a huge difference for those in the workplace, as well as in everyday life, whether you show your allyship by showing up to Pride Parades or just standing up against homophobia or transphobia. It is super easy too – but sometimes we may worry about using our voices in case we offend or say the wrong thing.
The session was facilitated by Christelle "Chris" Gebhardt (they/them). Christelle joined the Dublin Pride Team in November 2020 after graduating from UCD with an MA in Cultural Policy & Arts Management. Initially starting as Communications Assistant, Chris has since taken on the role of Cultural Programming & DEIB Training Manager at Pride. Over the years, they've worked with various arts organisations, festivals and non-profits in their native Austria, Germany and Ireland.
You can watch a video recording of the workshop here:
College of Science
The UCD College of Science invites you to celebrate Pride at 11am on Thursday 16th June. Join us on the Ground Floor of Science East, in the O'Brien Centre for Science for cake, tea and coffee as the University continues to mark LGBTI Pride Month 2022. All colleagues are welcome on the morning and are encouraged to grab themselves a cupcake!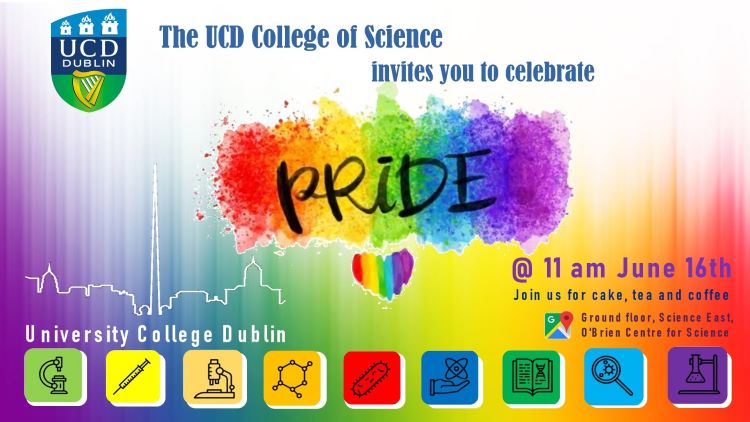 School of Veterinary Medicine & Veterinary Hospital
The School of Veterinary Medicine & Veterinary Hopstial are hosting their annual Pride celebration on June 3rd at 12noon in the Vet Foyer (right inside the main doors of the School). This is their first in-person Pride celebration since 2019 and they invite you all along to join them to mark the beginning of Pride month. As ever, there'll be a gorgeous cake and refreshments and the usual craft table for you to pick up a Pride-themed friendship bracelet or make one yourself!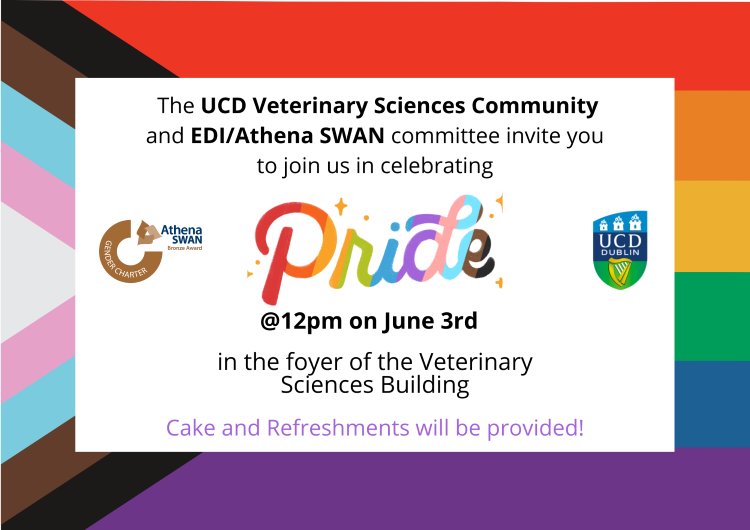 #UniversityPride Campaign
We are delighted to be working alongside the Irish University's Association on their #UniversityPride Campaign. At its simplest, #UniversityPride is an IUA campaign which aims to celebrate LGBTQ+ events, activities and stories in our University members, as well as celebrating advancements and challenges for the LGBTQ+ community throughout the years, centred around events happening across our Universities for Pride in June, and the other summer months.
As part of the campaign the IUA lplan to feature some videos of LGBTQ+ groups and champions from across the IUA University community, key contacts and links to supports for staff and students and reach out to key voices in LBGTQ+ organisations like LGBT Ireland and Belong To. More information on events taking place as part of the campaign can be found on the Irish University's Association's website.
FLAC LGBTQI+ Legal Clinic:
Free Legal Advise Centres (FLAC) is committed to providing a welcome and confidential environment for LGBTQI+ people seeking legal advice. Building on previous initiatives, FLAC has established a pilot LGBTQI+ free legal clinic in order to meet the specific needs of the gay and trans community. This clinic was launched on the 30th May 2022 is funded until the end of August 2022.
Past/Present/Pride - Latest Episode
Past/Present/Pride is a collaboration between MoLI and UCD's Equality, Diversity and Inclusion programme. Over the last number of years UCD has made an explicit commitment to promoting an inclusive community where people identifying as LGBTI+ feel safe, valued and provided equal opportunity.
Coming soon! Past, Present Pride, 2022 with Dr. Paul D'Alton, UCD in conversation with screenwriter and playwright Sonya Kelly. Catch-up on the fourth episode of Past/Present/Pride where Dr Paul D'Alton speaks to Young Adult writer Adiba Jaigirdar - you can watch this episode here:
Previous episodes of Past/Present/Pride are available to watch at the following links:
Get Involved
Join us and celebrate Pride by:
Attending one of our events throughout Pride Month 2022
Adding the below UCD Progress Pride Flag visual to your signature for the month of June
Read more about the Progress Pride Flag here
Read more about LGBTI History in Ireland from the guide created by our LGBTI Sub-Group for LGBTI History Month in February 2022.
Contact UCD Equality Diversity and Inclusion
University College Dublin, Belfield, Dublin 4, Ireland. E:
edi@ucd.ie