Neurodiversity Celebration Week at UCD
Welcome to Neurodiversity Celebration Week at UCD. Join us for a week-long celebration and reflection on neurodiversity. During this week we explore the concept of neurodiversity through the lens of art, culture, architecture, business and technology. From neurodivergent artists and advocates to students, graduates, and employees, this week explores the lived experiences of neurodiverse people and shares the latest best practice.
Join us to hear from Sienna Castellon, Founder of Neurodiversity Celebration Week and learn more from experts working in the field of neurodiversity inclusion. Take a moment to explore the Neurodiversity Celebration Week webpage and to register for upcoming webinars and events. Over the coming weeks we will be adding more content, events, blogs and a podcast.
Neurodiversity Celebration Week is organised by UCD Neurodiversity Group and UCD Equality, Diversity & Inclusion Unit. UCD's Neurodiversity Group is tasked with developing a set of recommendations to review supports for neurodivergent employees and students and to ensure UCD is an equitable, supportive and neurodiversity friendly environment for all to study and work.
Launch of UCD Neurodiversity Celebration Week | Exploring Neurodiversity?
To launch this week we join experts in Neurodiversity talking about what the concept of neurodiversity means, why we need to raise awareness of neurodiversity in places of learning, workplaces and across society.
Blanaid Gavin, Associate Professor, Chair of UCD Neurodiversity Group, School of Medicine, UCD
Deirdre O'Connor, Assistant Professor, Associate Dean of EDI for the School of Agriculture and Food Science, UCD
Jeffrey Glennon, Assistant Professor, School of Medicine, UCD
Tina Lowe, Campus Accessibility Officer, UCD (Moderator)
Highlights: UCD Neurodiversity Celebration Week Webinars, Workshops & Blogs
Student Event: What is Neurodiversity? | 18:00-20:00, 21st March 2022
UCD Neurodiversity Group in collaboration with UCD Students' Union presents an event at UCD Global Lounge to talk about all things neurodiversity, connect with students, and increase visibility of neurodiversity inclusion on campus.
Stephen Howell, Senior Program Manager, Microsoft Azure Engineering

Laocin Brennan, Team Support Officer, AHEAD

Hannah Bryson, Auditor of Disability Inclusion Awareness Society, UCD

Associate Professor Blánaid Gavin, Chair of UCD Neurodiversity Group, School of Medicine, UCD

Darragh Kane O'Toole, Disability Rights Campaigns Coordinator, UCD
Meet with students in a relaxed environment to learn more about the concept of neurodiversity over a bite to eat.
Explore the website to learn more about events, webinars, blogs, courses and initiatives: click here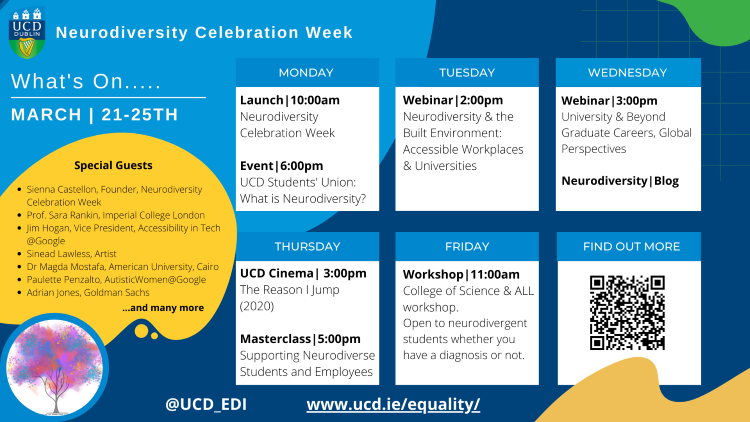 Contact UCD Equality Diversity and Inclusion
University College Dublin, Belfield, Dublin 4, Ireland. E:
edi@ucd.ie