UCD Celebrating Bi Visibility
"Celebrating Bi Visibility is an opportunity to raise the visibility and inclusion of bisexual people in our University. Affirming a sexual orientation that often gets forgotten about, we are marking this day to send a clear message of inclusion to bi people in UCD and to mitigate against biphobia. "
Dr Niamh Nestor and Associate Professor Paul D'Alton, Chairs of UCD LGBTI Subgroup
What is Bisexuality?
Bisexuality is romantic attraction, sexual attraction, or sexual behaviour towards both males and females, or to more than one gender. It may also be defined to include romantic or sexual attraction to people regardless of their sex or gender identity, which is also known as pansexuality.
Bi people may describe themselves using one or more of a wide variety of terms,including, but not limited to: bisexual, pan, queer. Bi identity is also an umbrella for variety of identities such as polysexual, fluid, onmisexual and multisexual.
Bisexuality does not necessarily equate to equal sexual attraction to both sexes;commonly, people who have a distinct but not exclusive sexual preference for one sex over the other also identify themselves as bisexual. Read more.
Did you know….?
Wendy Curry, Michael Page, and Gigi Raven Wilbur, three bi activists from the United States, founded the day in 1999. Jen Yockney started the day in the UK and coined it Bi Visibility Day, which has since spread worldwide. (Thanks Jen!). Michael Page an LGBTQ+ activist, is well-known in the bisexual community for designing the bisexual flag in 1998. Do you know what the colours of the bi flag represent?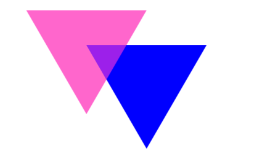 Page discovered that many members of the bi+ community did not feel they could connect with the traditional rainbow flag, and so set out to create a flag with symbols that the community could relate to. The different colours on this flag represent the appeal to multiple genders. Pink represents homosexual attraction; blue represents attraction to various genders; and the overlapping purple colour represents attraction regardless of sex or gender. Page got inspiration from overlapping bi-angles. Read more.
The top 40% of the bisexual flag is pink, the middle 20% is purple, and the bottom 40% is blue. These colours, like the majority of LGBT+ flags, have meaning. Take the LGBT flag quiz: click here
Five small but impactful things you can do to be an ally to bisexual colleagues and students in UCD and support Bi Visibility Day:
Be mindful of stereotypes: bi people are not confused or afraid to 'come out' as gay. Bi people can feel isolated from straight and gay and lesbian communities. Bi people "are significantly less likely to be out to friends or family because they fear prejudice. However, when they look for support fromother members of the LGBT community, they often experience rejection there, too." (Stonewall 2020)
Use neutral language e.g. 'partner'. Don't make assumptions that if a person has mentioned a partner of a particular gender that they are heterosexaul or gay/lesbian.
Addressing Biphobia - Biphobia is a fear or dislike of someone because of prejudice towards, or negative attitudes about, bi people. Biphobia can be targeted at people who are, or who are perceived to be, bi. While biphobia shares common elements with homophobia and transphobia,it has several distinctive elements. Crucially, biphobia can come from two directions – it is expressed both by straight people, and by gay/lesbian people, creating exclusion and prejudice from within and outside the LGBT community. This exacerbates the challenges already faced by bi communities and compounds the shame and prejudice that many bi people experience. (Stonewall 2020). Supporting bi students and colleagues is important. See experiences of sexual harassment and violence in higher education in Ireland: Reports on National Surveys of Student and Staff Experiences of Sexual Violence and Sexual Harassment in Higher Education launched by Minister Harris (www.gov.ie)
Be an active bystander- If you witness biphobia against students or colleagues, you can use the"Four Ds" model for positive intervention. This model will help you to safely intervene: Distract, Delegate, Delay, Direct

The Four Ds

Distract: Influence the situation indirectly. Change the topic. Try to get the person experiencing the behaviour out of the situation. For example, you could say that they need to take a call or you need to speak to them.

Delegate: Involve other people. Alert someone else to what's going on. Seek support from UCD's dedicated Dignity and Respect Support Service (email respect@ucd.ie). In an emergency, call the emergency services on 112 or 999 (off campus) or 01 716 7999 (on campus).

Delay: Take action after the situation ends. Wait for the situation to pass, then ask the person experiencing the behaviour if they are ok and offer to help. Report the incident to UCD.

Direct: Ask for the behaviour to stop. Calmly ask the person acting inappropriately to stop.

Don't forget: Only intervene directly when safe to do so! If the situation does not feel safe, contact the emergency services on 112 or 999 (off campus) or 01 716 7999 (on campus).

Remember that sexual orientation is a continuum to which we all belong! Read 'A quick guide to bisexual history' Glossary of sexuality and romantic identities: read more
UCD LGBTI Subgroup is seeking members from the bi community to join the group. If you have an interest in supporting greater inclusion of the bi community in UCD's LGBTI inclusion activities, why not send us an expression of interest.
Submit an expression of interest
Supports
Contact UCD Equality Diversity and Inclusion
University College Dublin, Belfield, Dublin 4, Ireland. E:
edi@ucd.ie