New book showcases digital forensic research by UCD law enforcement graduates

Cyber and Digital Forensic Investigations,

A Law Enforcement Practitioner's Perspective
features contributions from graduates of the UCD MSc in Forensic Computing and Cybercrime Investigation, based on their dissertations (major research projects).
There are few research books in the literature where all first authors are Law Enforcement members (or were when they did their research).
The book was co-edited by Dr Nhien-An Le-Khac, Lecturer/Assistant Professor in UCD School of Computer Science and co-Director of the UCD MSc Forensic Computing & Cybercrime Investigation, working closely with the authors and his colleagues including co-editor Professor Kim-Kwang Raymond Choo of The University of Texas at San Antonio, USA. Contributors are from many countries around the world.
This is the first time that a research book has been published based on the outputs of a single education programme. It discusses the state of the art in incident response and digital forensic.
About the Editors
Professor Kim-Kwang Raymond Chu
Cyber and Digital Forensic Investigations is published by Springer https://link.springer.com/book/10.1007/978-3-030-47131-6#about
1st ed. 2020, XV, 278 p. 138 illus., 124 illus. in color
Print ISBN
978-3-030-47130-9
Online ISBN
978-3-030-47131-6
Other Links:
Dr Nhien-An Le-Khac was also editor of Security, Privacy and Digital Forensics in the Cloud, listed Best New Digital Forensics Book to Read in 2019 by BookAuthority. It features papers by FCCI graduates Sebastian Schlepphorst (2014) Cloud Forensics: Model, Challenges, and Approaches, James Plunkett (2013) Digital Forensic Process and Model in the Cloud, and Michel Mollema (2016), Robert Craig (2016) and Steven Ryder (2015) Data Acquisition in the Cloud. More here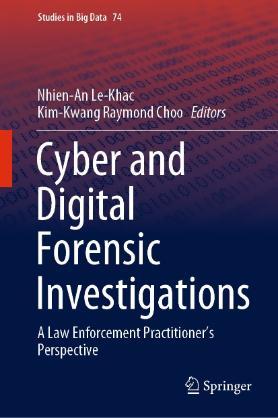 University College Dublin School of Computer Science https://www.ucd.ie/cs/
UCD MSc Forensic Computing & Cybercrime Investigation education programme