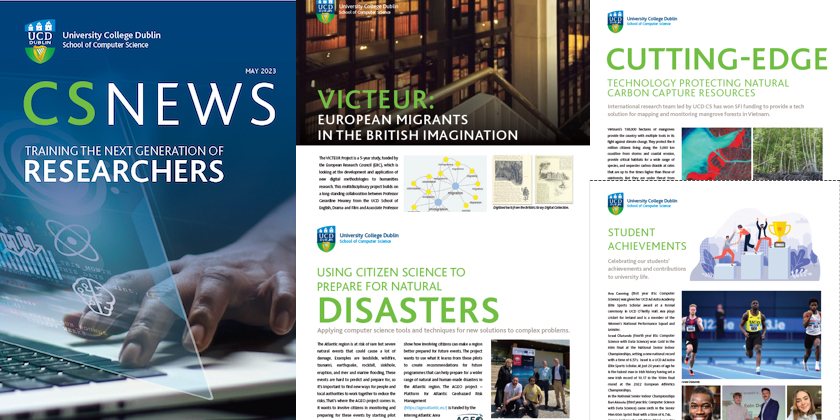 Welcome to issue three of our magazine bringing the latest news from around the School to our students, alumni, collaborators, staff, friends, and the worldwide computer science community.
In this issue, we present the VICTEUR project, a European Research Council funded, multidisciplinary project between Professor Gerardine Meaney from the UCD School of English, Drama and Film and Associate Professor Derek Green from our school. It is a great example of how data analytics is extending its reach from science and technology into arts and culture, in this case being used to support the analysis of Victorian fiction.
Data analytics comes to the fore in three other projects, AIMVIE, AGEO and BIGO, that tackle health and environmental challenges. AIMVIE is a project funded by Science Foundation Ireland and Irish Aid that aims to apply AI and remote sensing technologies to map, monitor and restore the mangrove of Vietnam, which are key to protecting the coastline
from storms and coastal erosion. Citizen science is exploited to good effect in the AGEO project to prepare people for natural disasters, such as wildfire, tsunamis and earthquakes; and again in the BIGO project, that tackles childhood obesity.
The researcher spotlight is on Ad Astra Fellow Madhusanka Liyanage who tells us what motivates him in his computer science research. Dr. Pasika Ranweera tells us about life as a post-doctoral researcher in the school. We also spotlight the SFI Centres for Research Training, which are supporting many of the PhD students in the school.
We have a diverse, international cohort of students across our multiple undergraduate and graduate programmes. Maintaining our teaching programmes during the pandemic was a challenge that required extra efforts from both academic staff and students alike. Associate Professor Henry McLoughlin relates the story of the Beijing Dublin International College (BDIC) programme, in which teaching was carried out remotely over a number of trimesters,
while the pandemic raged in Europe and China.
We catch up on our students' achievements beyond the classroom, in sports, in promoting diversity and inclusion, and contributing positively to university life. Finally UCD Alumnus and Internet pioneer, Dennis Jennings is interviewed by PhD student Jack Geraghty, to glean an interesting perspective on careers in technology.
Many thanks to the editorial team of Rupert Bowen and Colm Ryan. Enjoy!
Neil Hurley, Head of School
Published May 2023