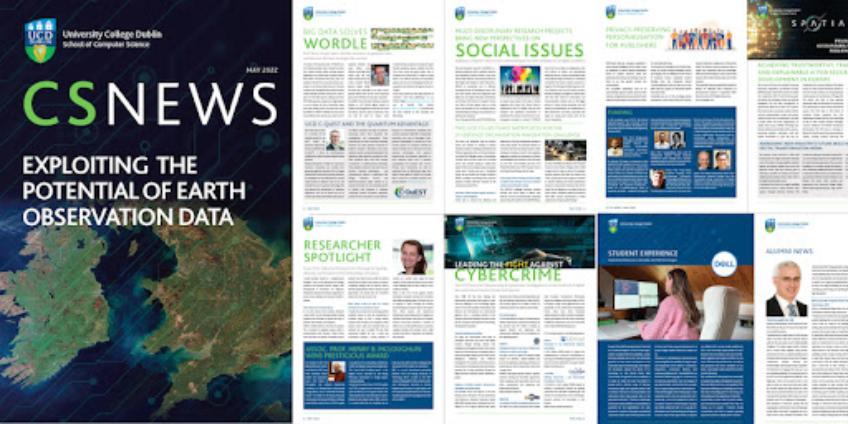 Welcome to CS News 2022
We are delighted to present the second issue of our UCD School of Computer Science magazine, CS News
. The magazine brings the latest news from around the School to our students, alumni, collaborators, staff, friends, and the worldwide computer science community.
In this issue, we highlight the CAMEO project, led by Michela Bertolotto, which is establishing a new national repository for satellite images of Ireland together with a set of software tools for analysis of the data. The project received €9 million in funding from the Department of Enterprise, Trade and Employment and industry sources.
Professor Barry Smyth explores the world of Wordle, the hot new word game obsessing puzzle fans globally. Barry employs big data techniques to analyse Wordle players' performance and to test the best game playing strategies. The School's SFI-Defence Organisation Innovation Challenge projects are featured. FireFly aims to develop an online decision support system to enhance aerial firefighting. MENTOR seeks to harness machine learning and virtual reality to provide more effective and environmentally sustainable pilot training.
The staff spotlight is on Catherine Mooney as she takes on the role of College of Science Vice Principal for Equality, Diversity and Inclusion. The research centre profile is on the Centre for Cybersecurity & Cybercrime Investigation. In research news, we are involved in UCD's exciting new centre for quantum computing, C-QuEST. We received funding for 3 IRC funded Coalesce projects researching anti-immigrant sentiment in Ireland, the impact of policy measures on migrants, and the proliferation of false information on social media. The SPATIAL project is enhancing accountability and resilience in edge computing and privacy-preserving AI. The School's latest spinout, recsyslabs, is commercialising an AI tool that automatically tailors newsletter content to individual subscribers based on their interests.
On the education side, there's an update from the Advance Centre which offers courses for professional learners. Congratulations to Henry McLoughlin who received the Great Wall Friendship Award from the Beijing Municipal Government in recognition of his outstanding contributions to education in Beijing. Finally, we catch up with our student interns and alumni.
Many thanks to the editorial team of Rupert Bowen, Léan Ní Chléirigh and Colm Ryan.
Enjoy!
Chris Bleakley, Head of School
May 2022