UCD wins at AI Ireland AI Awards

UCD researchers win Artificial Intelligence awards
On 23 November, AI Ireland held its 4th annual awards ceremony at the Gibson Hotel, Dublin, to celebrate Irish Innovation in Artificial Intelligence (AI). AI Ireland is a non-profit community devoted to promoting AI in Ireland and supporting Data Science, Machine Learning and Artificial Intelligence (AI). The AI Awards aims to increase public awareness of AI and bring academia and industry together to showcase the excellent work done on the island of Ireland and recognise the hard work and dedication of those working in the field.
https://aiawards.ie/2022-ai-awards-winners-revealed/
UCD AI_PREMie project team won two awards for
Best Application of AI to Achieve Social Good
and
Best Application of AI in an Academic Research Body
Preeclampsia is a dangerous complication that can develop during pregnancy, affecting almost one in every 10 pregnancies. Preeclampsia is characterised by the development of high blood pressure and protein in the urine. However, warning signs are difficult to detect, meaning preeclampsia often goes undetected until complications become serious, often life threatening.
AI_PREMie is a multidisciplinary, Science Foundation Ireland funded project led by UCD's Prof. Patricia Maguire that combines AI with patented biomarkers and clinical expertise to accurately diagnose pre-eclampsia and predict patients' future outcomes. The AI_Premie team includes collaborators from the Rotunda Hospital, the National Maternity Hospital, and the Coombe Women & Infants University Hospital as well as collaborators from SAS and Microsoft.
Brian Mac Namee from the School of Computer Science brings his expertise in machine learning to the AI_Premie project. Using machine learning models the team is combining insights available in patient history, patented blood biomarkers, and other clinical data into an accurate and reliable model that can predict, early in pregnancy, the likelihood that a patient will develop preeclampsia. This can help clinicians make better decisions for mothers and babies.
These awards recognise the team's work to provide a new risk stratification tool for preeclampsia for everyone who needs it across the world. The team continues to work to achieve this.
More on this
​​https://www.heanet.ie/ai_premie-case-study
https://www.ucd.ie/conwaysphere/research/ourresearch/aipremie/
https://www.ucd.ie/discovery/aihealthcarehub/teamfromucdshortlistedinnationalanalyticsaiawards2021.html
https://www.irishtimes.com/business/technology/ucd-team-using-ai-to-help-diagnose-pre-eclampsia-and-save-lives-1.4574879
Follow @AIPREMie
CS student wins
Best Application of AI in a Student Project
Eoin Delaney, a 3rd year PhD student at the Insight Centre for Data Analytics & VistaMilk SFI Research Centre in UCD won this award for his research on Explainable AI (XAI), specifically on how black-box AI models can be explained to developers and end-users using counterfactual explanations. Eoin talks about the research here: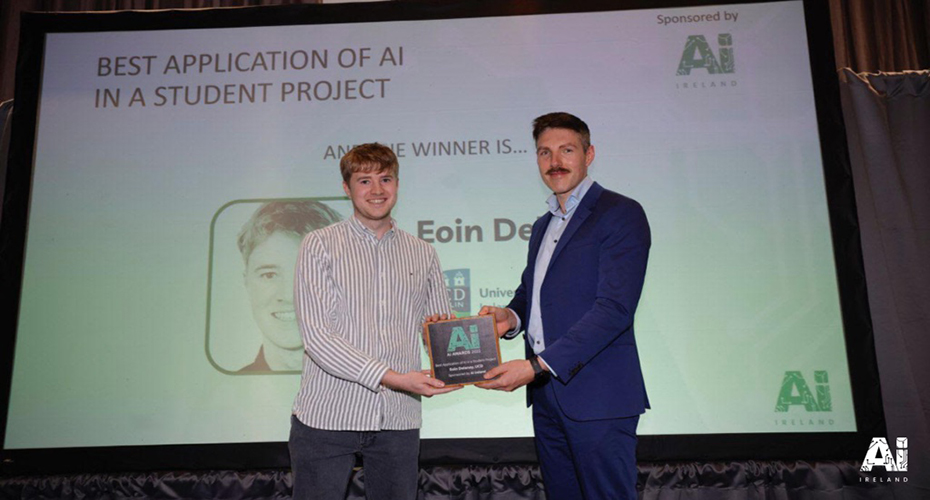 "AI systems are frequently deployed in high stakes decision making scenarios (e.g., disease detection, credit assignment and self-driving cars). However, the predictions and actions of these systems are often plagued by a lack of transparency. The focus of my research is in developing explanations that can help users understand how opaque models operate. Specifically, I work on counterfactual explanations where the aim is to highlight how a model's prediction could change if some input information was different. Together with my colleagues I developed the first counterfactual method for time series data. We also worked on understanding the properties of good explanations according to humans by conducting user studies. A core focus of our work has also been on explanations in the smart agriculture domain where we developed a technique to provide feedback to farmers on how they could operate more sustainably while boosting their production and profit. This work has won two best paper awards at international conferences. I am extremely grateful for the AI award which recognizes our hard work and research. I would especially like to thank my supervisors Dr. Derek Greene and Prof. Mark Keane for their invaluable guidance and also all of my friends and colleagues at VistaMilk, Insight and UCD.
More on this:
https://www.irishtimes.com/business/2022/11/23/bank-of-ireland-akara-and-webio-among-companies-honoured-at-ai-awards/
https://www.siliconrepublic.com/machines/ai-awards-ireland-artificial-intelligence-winners
https://twitter.com/EoinDelaney_/status/1595436264878215169?s=20&t=PIxt4XpyFzmubJ621_aYmg
Published 13.12.22