NCAD, IADT and UCD consortium successful in securing majority funding award for innovative Creative Futures Academy
Posted 6 October 2020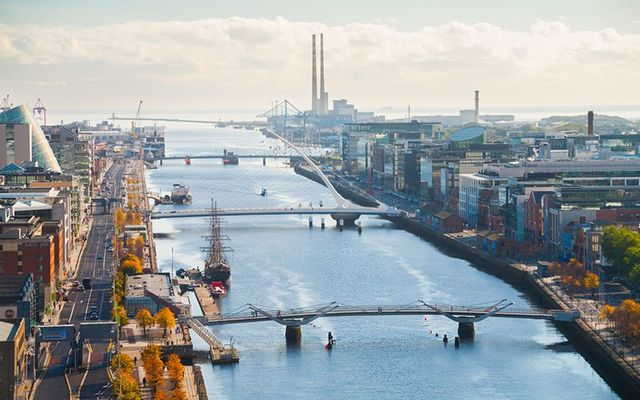 NCAD, IADT and UCD, welcome the announcement that the Creative Futures Academy will receive over €10 million in funding to innovate in the delivery of creative education for learners at all stages of their careers.
The funding award was made, by the Minister for Further and Higher Education, Research, Innovation and Science, Simon Harris, TD.
The funding will be awarded under the Human Capital Initiative (Pillar 3, Innovation and Agility) which commands a total budget of €197 million over the 5-year period, 2020 to 2024.
NCAD, IADT and UCD in collaboration with a range of industry partners, led a bid to develop The Creative Futures Academy. This Academy will empower creative practitioners from a range of disciplines, and at different stages of their learning, with the sustainable and adaptable skills and attributes that they will require to shape the future of Ireland's creative sector. The Creative Futures Academy will prepare graduates for work in a major sector of the national economy; and support the early and mid-career needs of creative professionals in our fast-changing social, economic and technological contexts.
Speaking upon notification of the funding award, NCAD's Director, Professor Sarah Glennie said: "Together with NCAD's partners – IADT and UCD – we are delighted to receive this funding award. It places creativity and creative-thinking at the heart of Ireland's future and supports an HEI consortium that spans the creative sector to work together with industry towards a shared aim of empowering a dynamic creative sector during this challenging time in our history".
"We are grateful to Minister Harris, and the HEA, for having the foresight and understanding of the importance of investing in creativity in Higher Education, especially during a challenging period for society and our economy," added Professor Glennie.
IADT President, David Smith, remarked on the significance of the funding to the alliance; "The Academy presents three established centres of excellence with a unique opportunity to accelerate the professional growth and impact of the creative and cultural sectors."
"The funding of the Creative Futures Academy is a significant endorsement and recognition of the value and potential of art, design and media – and the wider arts and humanities – to drive the creative economy and broader innovation agenda. This funding will enhance the future-skills of our graduates and those of our partners within professional practice."
Professor Sarah Prescott, Principal and Dean of the UCD College of Arts and Humanities added that the Creative Futures Academy is "an exciting opportunity for UCD College of Arts and Humanities to build on our scholarly expertise in a range of creative and cultural subject areas and to equip our students with the skills to succeed".
"We look forward very much to working in collaboration with NCAD and IADT on this important initiative and to supporting the future of the creative arts and creative economy in Ireland and beyond."
Associate Professor PJ Mathews, UCD School of English, Drama and Film, added: "The Creative Futures Academy represents a ground-breaking initiative in the Irish creative sector. It will draw on UCD's distinguished tradition of innovation and achievement in literature, theatre and film; IADT's expertise in the creative cultural and technological sectors; and NCAD's reputation for producing leading practitioners in art, design and visual culture. This exciting project will be developed with input from key industry partners and national cultural bodies (such as the Arts Council, RTÉ, Screen Producers Ireland and Design and Crafts Council of Ireland) to nurture world class talent and shape the future of Ireland's creative sector."
About the Creative Futures Academy
As an alliance of three HEIs by leading providers of creative education in Ireland (National College of Art and Design, Institute of Art, Design and Technology, Dun Laoghaire and University College Dublin), the Creative Futures Academy will play a major role in ensuring that Ireland realises its potential as a dynamic, resourceful and creative society. The Academy will achieve this with the direct engagement of national representative bodies and industry partners who have agreed to be key collaborators in the development of the Creative Futures Academy. These partners include sectoral bodies, all of whom have regional representation, mandates and outreaches; Arts Council of Ireland, Institute of Designers in Ireland, Design and Craft Council of Ireland, Publishing Ireland, Screen Ireland and Screen Producers Ireland, who will form an Industry Council that will contribute significantly to the development and oversight of the project. This Council will work with the Management Committee to agree the critical attributes needed to sustain successful careers in the Creative Sector. This group will also work with the Work Programme Leaders in the development and co-creation of the new programmes within the Creative Futures Academy and will provide oversight and evaluation as they are rolled out. The Academy will also engage with the technology sector, cultural organisations, SMEs, Micro Enterprises, Design Agencies, Art Collectives, Creative Practitioners and Start-ups across the country.
The Creative Futures Academy will address the siloed nature of the creative arts in Irish HEIs and will develop a best-practice model of inter-institutional collaboration that may be scaled up and/or replicated across the regions, according to specific regional dynamics, demands and opportunities. This proposed model of co-creating and co-delivering an evolving curriculum with industry stakeholders will ensure that the proposed provision will be designed with rather than for industry and that graduates can meet the changing needs of the creative sector. Equipped with the future-oriented skillset, graduates from the Creative Futures Academy will also work as agents of transformation in a rapidly developing sector of economic value. This initiative will have national impact and national reach with a large measure of the proposed delivery online and the benefits of the Academy should be available to all.
College of Arts and Humanities
University College Dublin Belfield Dublin 4 Ireland T:
+353 1 716 7777