Dr Orla Tinsley receives Honorary Doctorate at UCD Arts and Humanities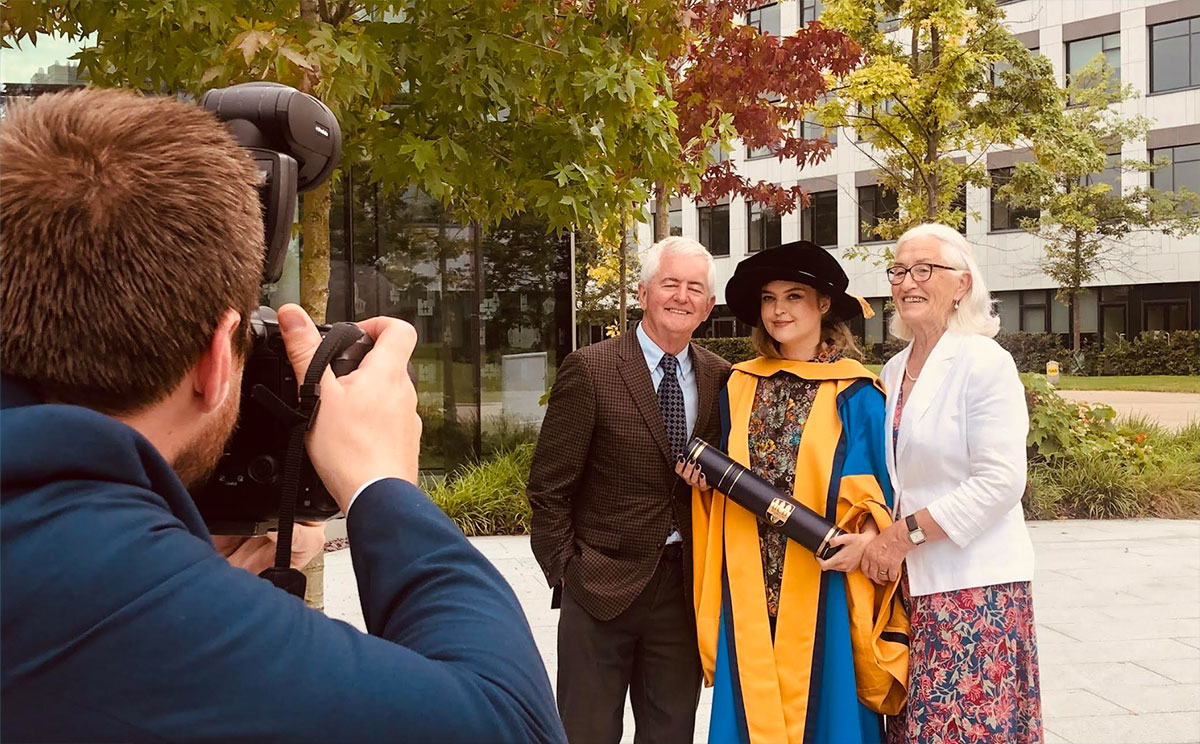 Congratulations to award winning-writer and patient advocate Orla Tinsley was awarded Degree of Doctor of Literature, honoris causa, a the conferring for UCD's BA Joint Honours graduates on Thursday 7 September. Dr Orla Tinsley was joined by their parents, extended family, friends and faculty from the School of English, Drama and Film. In line with the running order, you can read the Citation which was delivered by Professor Regina Uí Chollatáin, Principal and Dean UCD College of Arts and Humanities, followed by Dr Orla Tinsley's response to the citation.
Citation by Professor Regina Uí Chollatáin
President, Graduates, Colleagues, Honoured Guests
A Uachtaráin, Céimithe, Comhghleacaithe, agus aíonna onóracha
Orla Tinsley has challenged government thinking and policy, traversed continents, literally crossing the ocean in the pursuit of courageous journalism while pursuing their love of writing and teaching. UCD Arts and Humanities are renowned for producing leaders and critical thinkers who impact on society. As a global ambassador for UCD, Orla Tinsley is the epitome of the soul and depth of the creation of leaders in the broadest and most inspiring understanding of education.
An award-winning journalist and writer, Orla Tinsley has excelled, not only in writing and reporting the story, but creating it. This story changed and influenced Government policy and healthcare, literally extending life spans for certain health conditions. Orla's writings also focused on the rights of transgender people to attain gender recognition in Ireland, resulting in their award of Journalist/ Broadcaster of the Year, for the National Gay and Lesbian Federation of Ireland in 2013.
In September 2005, at 18 years of age, Orla Tinsley's first writings in The Irish Times focussed on Cystic Fibrosis care in Ireland, challenging government policy and supports. In 2006 Thomand Coogan invited Orla to join the Adult Education Programme in UCD. Balancing study for a BA degree, with their campaigning for healthcare and dealing with loss and death of friends, necessitated a pause in their studies to focus on campaigning. The pause in studies, which was replaced with their unstinting and tireless campaigning, was acknowledged within UCD and beyond, with the Rehab Young Person of the Year award in 2008, and the UCD President's Award for Excellence in Extracurricular Activities in 2009. Today we acknowledge this work and the resulting achievements in the fullest sense on the occasion of the conferring of the Degree of Doctor of Literature on Orla Tinsley.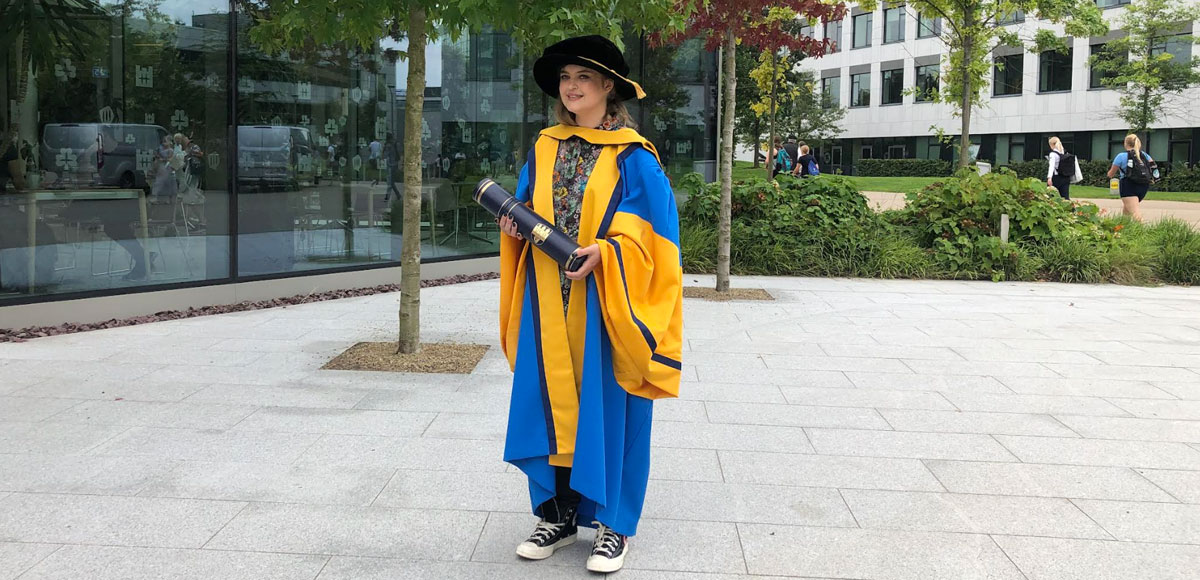 The Irish Government's halting of the allocated funding for the Cystic Fibrosis Unit in 2009, coincided with Orla Tinsley's leaving UCD to take up an internship in The Irish Times. It is a testament to their work in the public domain that they were also a recipient of the Tatler Magazine Woman of the Year, and the Junior Chamber International Outstanding Young Person awards in 2009. Their columns in The Irish Times related stories of many people, not least the energy of people with Cystic Fibrosis and their families in Ireland. Orla's relentless campaigning was the cornerstone in the opening of the first Healthcare Centre in St Vincent's University Hospital Dublin in July 2012. This unit also has two floors of isolation rooms for people with cancer, and for those with infectious diseases who need isolation. Similar units have now opened in Cork University Hospital and University Hospital Limerick.
In 2010 their work was repeatedly acknowledged with national and international awards such as the Pfizer Outstanding Award for Healthcare, the Young Medical Journalist of the Year Award, and the Aramark award for Excellence in Healthcare. They were shortlisted for the National Newspapers of Ireland Young Journalist of the Year in 2011 and awarded the CMG Healthcare Person of the Year in 2013. Their campaigns included other media outputs, not least, the award nominated documentary 'Life Interrupted' for RTÉ's Prime Time. In exploring other ways of telling the story. Orla's best-selling memoir, Salty Baby : A Memoir, was shortlisted for the Best Newcomer at the Bórd Gáis Irish Book Awards in 2011. Their awareness campaign for a life-saving drug as it advanced through approval stages with the FDA and European Medicines Agency, was instrumental in making the drug available to patients in Ireland and in raising awareness on making 'orphan drugs' for rare conditions accessible.
Moving into Chapter Two of Orla's life combines their quest for awareness of health care with the realisation of their lifelong ambition to be a writer and teacher. This began with a scholarship to Columbia University in New York in 2014, concluding with their appointment as Creative Writing Instructor in Columbia University 2019-2021, and Creative Writing Instructor in Livingston Elementary School, New Jersey in 2020.
The story did not end there, however, as yet again, Orla became the main character in the story when they received a double lung transplant in December 2017. This is the subject of the Orla Tinsley: Warrior documentary, which Orla co-produced. Within ten days of the programme being aired, almost 10,000 people registered as organ donors in Ireland. Shortly afterwards, the Irish government published a draft bill on organ donor legislation with the Minister for Health acknowledging Warrior as a key factor in creating awareness and influencing public action.
They returned to Columbia as a researcher and instructor in 2018. Orla Tinsley's storytelling was acknowledged with the Public Relations Institute of Ireland's highest honour for excellence in storytelling in 2018. This has only been awarded to five other recipients in the 60-year history of the Institute, including John Hume, Mary Davis and Gay Byrne. In 2020 the Warrior documentary was nominated as a finalist in the New York Festivals TV and Film Awards.
Orla Tinsley received the Bar of Ireland Law Library Human Rights Award in 2020, and the Arts Council of Ireland Literary Bursary award. They are now a Creative Writing Instructor in the Irish Writers' Centre, and they continue to address public audiences at national and international level, the most recent being the Carmichael Lecture in the Royal College of Surgeons in 2023.
When I met with Orla, they said that teaching and writing and their contribution to society is their main passion. In the context of the very full and inspiring Chapter Two in the life of an exceptional thirty-six-year-old journalist, author, teacher and health activist, I would like to finish with some words from them which were written on October 9th 2019:
Here is something I learned while dying: accumulation of things cannot truly fulfil anything. And you can't take it with you. An empty room with love and passion is far better than a full room and an empty heart. Stuff is, ultimately, worthless. Connection is all that matters.
Orla Tinsley is without question, the living embodiment of how words really can change the world. We look forward to Chapter Three.
Prae Honorabilis Praeses, totaque Universitas, Praesento vobis hanc meam filium, quam scio tam moribus quam doctrina habilem et idoneam esse quae admittatur, honoris causa, ad Gradum Doctoratus in Litteris; idque tibi fide mea testor ac spondeo, totique Academiae.
***
Dr. Orla Tinsley's response to the citation
Dia dhaoibh mo chairde, tá sé mar a bheadh brionglóid agam. Tá sé dochreidte go bhfuilim aris anseo!
Cead míle buíochas d'Uachtarán agus di mhuintír an Choláiste do Social na nDannachtaí agus go háirithe don Ollamh Uí Chollatian as an ónóir seo. Ba mhaith liom Comhghairdeas a ghabháil do gach céimí anseo innu - maith shibh! D'éirigh do geal libh! Is mór an ónóir domsa bheith anseo i bhùr measc.
I want to express my deepest thanks for this honorary doctorate. It is with great appreciation that I accept it and I wanted to tell you also that I am definitely the least likely person from my graduating class at UCD to be standing here in front of you. In fact I didn't graduate at all.
And before I say anything else, I really hope that gives everyone hope. What I discovered by not graduating, and feeling pretty lousy about it at the time, was that there is always another way. And embracing that non-linear path - even though there was little choice - I've learned, is one of the most secure and sacred ways to live.
But no matter what path you choose to take after this very day, you've done it! Congratulations! There will never be another moment like this where each one of us is standing here together celebrating so let's take a deep breath together right now. Ready? 1,2,3! That feels better. Breathing is this miraculous thing but we never think about it until there's a problem, until we can't do it anymore.
I am standing here in front of you today because of the selfless act of a young woman who, six years ago, decided to be an organ donor. In her death, she took me off the most extreme form of life support and gave me back my life. This, in my opinion, is the greatest gift a person can give and the most profound legacy we as people can leave. I wanted to honour her today.
I am also here because of my friends, my family, my professors, my extraordinary medical teams and my community - like the one here at UCD that opened its arms to me when I needed it most. We do nothing alone.
When I arrived at UCD, in 2005, it was by invitation of the remarkable Thomand Coogan who heard me on the Marian Finucane show, an interview I did about my first ever article was published in The Irish Times. I was on the program to discuss the lack of facilities for people with cystic fibrosis and I mentioned how I had not gotten into the college course I wanted. Moments later, someone phoned into the show. The next day, I was standing right here in Belfield trying to find my way to the Adult Education Centre. I didn't know it then but it would be a gateway to the new, an introduction to a burly crew of misfits who - like me - had returned to education after working for decades, or being sick, or spending time in prison. For so many reasons we found ourselves on campus two nights a week together, trying to wrangle our way back into a system we had never felt comfortable with in the first place. If we succeeded, we were told, we might make it onto the degree program. We were bonded by that line Patti Smith says 'those that suffer understand suffering and therefore extend their hand'. We had been in that world, it had shaken us ip and spat us out and now we were back, fulfilling our own destiny.
Being sick in childhood is actually the perfect incubation period for a writer. It's an artist's residency you don't have to pay for and for which no one gives you a deadline.. Sick kids are the greatest untapped creative resource in the world. Artists come and go, visiting hospitals, trying to understand their point of view and figure out why they are inspirational.
Now, this creeped me out SO MUCH when I was a child. I was just myself. I loved English class and spent the majority of Maths class editing poems I had written the night before. But there is a particular frame that is placed on a child who is sick or even just different - the plot points, the predestined scenes, the life expectancy - a narrative that can squash instead of stimulate.
Within my own narrative, I had two people, who saw beyond the prescribed plotpoint of my chronic illness. My father, an actor and creative, and my mother, a nurse. Luckily, they took my obsession with being a writer seriously. At age 7, in between bursts of Enid Blyton, C.S. Lewis( and my fathers own stories) , there was one lady I couldn't get enough of : Jessica Fletcher of Murder She Wrote. I wanted everything J.B. had – a small town life with big town themes! Murder! Divorce! Feuds around family inheritance! She modelled for me a life that seemed exciting and entirely realistic. It was settled, I would become a bestselling mystery writer who also solved real life crimes that just happened to occur in the very place I was researching my next book!
Now, this was a handy dream for a kid trudging in and out of hospital several times a year. It fostered curiosity in others and often, I would write up a profile about whomever I was sharing a hospital room with. For example: "Happy in the morning. Sad at lunch. Spat out his sausages! And : I think I stole my Lion King Gameboy!" or some such entry.
And ok, so I wasn't Jessica Fletcher but the fact of being hospitalised created ample opportunity for thinking and that, coupled with having to address and deal with adults every day - many of whom were unable to translate medical speak into clear communication for children- made me a better writer. I provided some doctors with a language when they stumbled in after a long on call night, but first I had to figure out who they were. Could I trust this guy who arrived eating a bag of Tayto to sedate me? It was my own act of translation.
It required a deeper level of listening to navigate, survive, and stupefy expectation and this is why, personally I am deeply committed to the development of Narrative Medicine as a MANDATORY medium for all healthcare professionals. It fosters empathy, tenderness and the ability to reflect back a true representation of the collective experience between the human being and the healthcare professional. And within the patient experience, my profound belief is that the power of self-actualisation through the tools of Creative Nonfiction can not just rearrange and re-illuminate our personal narratives but the very act of trying to write these narratives is the beginning of reclaiming moments we would otherwise lose forever. Moments that then serve as a conduit to communicate and clarify the personal within the universal experience of illness, disintegration and survival.
It is also, most importantly, a vital component of activism and campaigning.
The more I wrote, the more writings and poems became theories or maps that charted the unexplainable things around me. From the words of Patti Smith to William Blake to the sculptures of Brancusi.
Somehow, sitting with a blank page and waiting however long it took for something to arrive, nurtured me through the immense loss of friends and the urgent need to make change happen. And over the years, the more I committed, the more it changed me. Within the search for freedom in healthcare, home and heart, showing up, over time, has made me feel free. No matter how things are, no matter what field you find yourself in - showing up makes the difference. It is that very embrace of the non-linear, that liminal space where anything can happen, that makes the difference. That is if you are willing to wait long enough in the discomfort. The uncertainty of a project, the feeling of failure, the temporary pause on your passion because rupture or illness has caused. When one medium doesn't work - you try another. Or as Patti Smith would say: when you find a wall, kick it in.
Yes, it is important to make things that move and challenge the world, but if they do not move and challenge you then what is the point? Of course it is a luxury to suggest one can always be in a position to work on something that moves our innermost selves, but we should always aim for it. Keeping our eye on it as we work through whatever is preventing us from being with it. During my transplant I moved from written word to documentary making in an effort to convey a story happening faster than I could write it - I was lucky to have an amazing team and - once again - a university that believed in me. This time my intention was aimed at omitting a message that we needed to do better with organ donation, and that the laws needed to change.
Depending on what moment you are in, different narrative voices and mediums are required. In the beginning I wrote to try and save my friends and in the process I also saved myself. Words as world builders, words as ways to wake people up - politicians, governments, whole populations - words as balm surrounding the dead, words as salt in the wound leaving an unmistakable burn, a mark or memory, words as transformational rather than transactional.
During my time at UCD, the Creative Writing space, so often missing within English degrees, was a place to experiment with our passions, elevate our senses and eulogise that which we loved.
I almost missed out on this opportunity so I sat outside James Ryan's office until somehow, I convinced him to let me into the workshop that had filled out in minutes. That transformative time at UCD assured me I had found my tribe. And now, with an MFA from Columbia, teaching Creative Nonfiction has given me something beyond what I expected. Facilitating space for others to grow and galvanise their own ideas is profoundly meaningful and an honour to spend time doing. There is an interconnectedness in the Creative Writing Classroom that is not found elsewhere and it exists whether working with activists, artists, or those who have never considered storytelling as a medium before.
Whether you write, paint, make films, or speak through another medium - it is all about balance. It took me years to figure this out, because when people are dying the world moves at lightning speed and so too does the mind, there is no time to think of balance or craft as a young activist - it was about saving lives. But I firmly believe as much as actions save lives, so too do words. And art saves lives every single day. Where do our doctors, our lawyers, our salesmen and IT specialists turn for comfort but to movies, museums, sculptures, books, newspapers and albums - to art.
In my own life the words of Patti Smith lit a fire beneath me propelling me forwards, inspiring me to apply to Columbia, and one evening after my grandmother died, alone in New York within my dream, the voice of Laurie Anderson stilled me into silence. I have not yet found words for the paintings of Agnes Martin that traced their way through the Guggenheim the Christmas before my transplant.
Writers, artists and activists exist in this liminal space surging towards something at irregular intervals while trying to build the work from the ground up. Perhaps this is the truest representation of what an artist and an activist is. Transitionary, always pulling society along rather than pursuing it, and ultimately committing beyond what other people deem usual.
Work as the transformational thing that can reach beyond time and space and grow with us, and without us. That is the great privilege and challenge of being where we are - our goal is to create something that will last beyond our lives on earth and catapult into reality new ways of thinking.
And that is why we need you - We've been waiting for you. All we have is one another and we have no other time, the time is now. Thank you.
College of Arts and Humanities
University College Dublin Belfield Dublin 4 Ireland T:
+353 1 716 7777