Equality, Diversity and Inclusion Report
Posted 22 September, 2021
This report provides details of some of the key activities and initiatives related to Equality, Diversity and Inclusion (EDI) that were carried out in the College of Arts and Humanities in the academic year 2019/20. It was drafted collaboratively, with input from across the College, facilitated by the respective EDI reps in each School. This report does not capture everything, partly because colleagues under time pressures were perhaps not able to provide details of their activities, and also because others perhaps never saw their work as related to EDI matters. This document will, however, hopefully serve to raise awareness in this regard and encourage colleagues to see their own work through an EDI lens in future.
The report is organised under different key headings, based loosely on UCD's EDI categories, which are further divided up into the areas of Research, Teaching and Learning, and Outreach, Impact and Service. Although much of the work done is intersectional in nature, the headings are there both to help colleagues identify other people working in areas of shared interest and also to highlight areas that require more focus. We can see, for example, that nothing was reported that fits into the EDI category of 'Age' and there was only one activity that related to the 'Traveller Community'. By contrast, a great deal of work is being done in the areas of 'Gender, Sexuality, and Civil and Family Status'. The various initiatives in relation to 'Racialisation and Decoloniality' also signal this field as a clear strength, although more must be done to ensure that, in tandem with the curriculum becoming more diverse, the College and University also does more to attract and retain more people of colour amongst our students, staff and faculty.
Our College is shaping and driving discussions around EDI, both in the university and beyond, since many of our academic interests intersect with EDI matters in various ways. This comes through in the wealth of activities and initiatives listed below. Key activities from across the different categories include:
The now award-winning Access Classics programme, developed and introduced by Tasneem Filaih, Bridget Martin and Christopher Farrell, which aims to widen participation in, and encourage engagement with, ancient Greek and Roman civilisations, their interactions with other cultures, and their continued impact on our world.
Tasneem Filaih, Christopher Farrell and Bridget Martin of the Access Classics Team
Efforts towards decolonisation and diversification of the curriculum across the College, including work by Marc Caball, Annette Clancy, Sharae Deckard, Treasa De Loughry, Jamie Jones, Jorie Lagerwey, Emma Penny, Sandra Scanlon and others, in dialogue both with students and with the research of decolonial thinkers.

The School of Languages, Cultures and Linguistics' Athena Swan Bronze Award, with Pascale Baker and Bettina Migge chairing the self-assessment team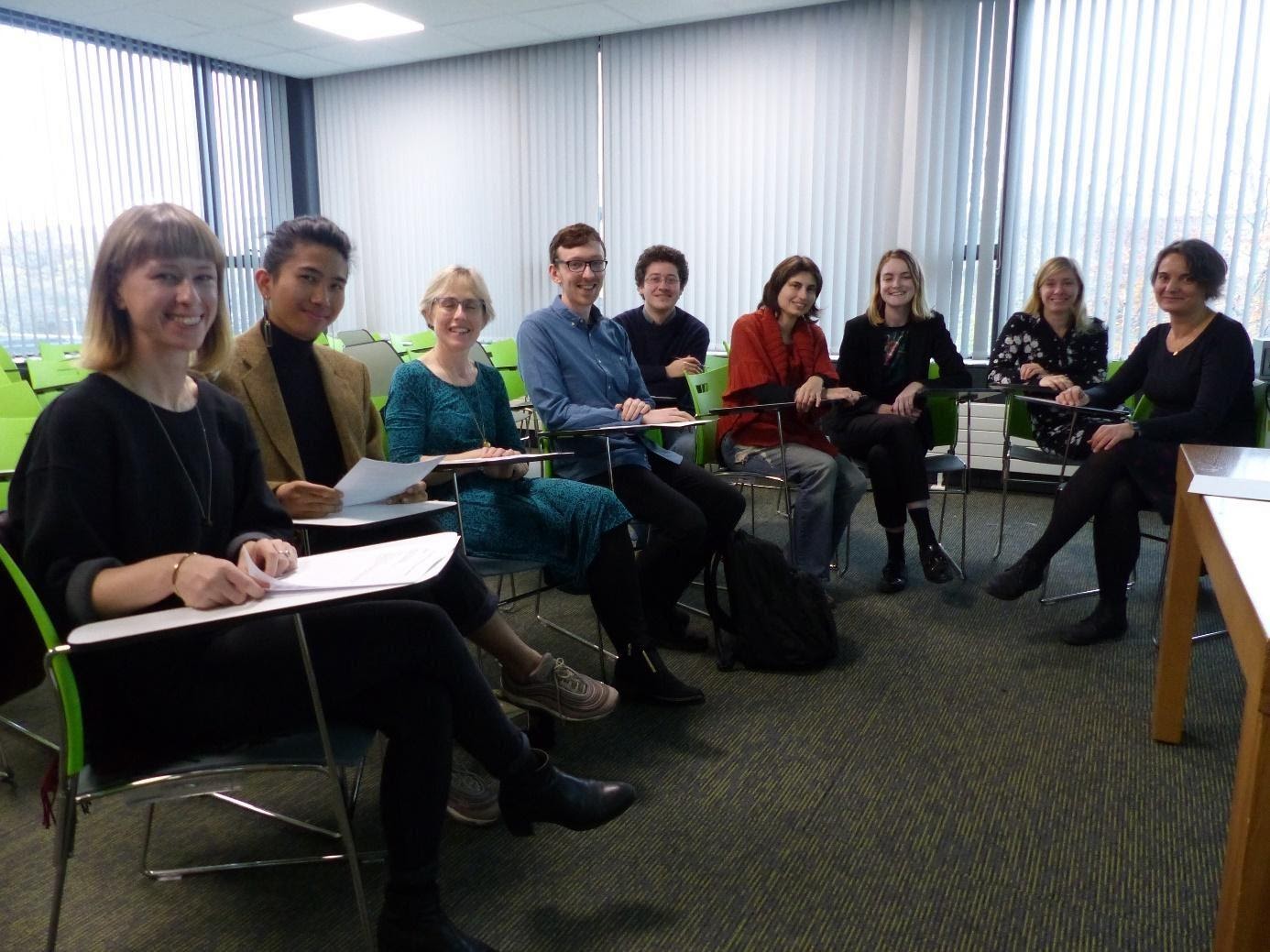 A Meeting of the School of Languages, Cultures and Linguistics Athena Swan Self-Assessment Team.
The Brokering Intercultural Exchange network, co-founded by Victoria Durrer, which seeks to build understanding of the role of arts and cultural managers as intercultural brokers in our context of globalisation, internationalisation and global migration

The new Irish language rap, 'Seo Mo Spás' [This Is My Space] by Eoin McEvoy, celebrating the diversity within the Irish-speaking community
Kathleen James-Chakraborty's grant from the Global Architectural History and Theory Teaching Collaborative's 'Anti-Racism and Global Architectural History' special call

Gerardine Meaney's (SEDF) ERC-funded project 'European Migrants in the British Imagination: Victorian and Neo-Victorian Culture', which addresses long-term attitudes to migrants as well as tracing the contribution of migrants to literature in a transhistorical framework

Peter Moran's song-writing workshops with the Dublin Simon Community, including a performance at Dublin Castle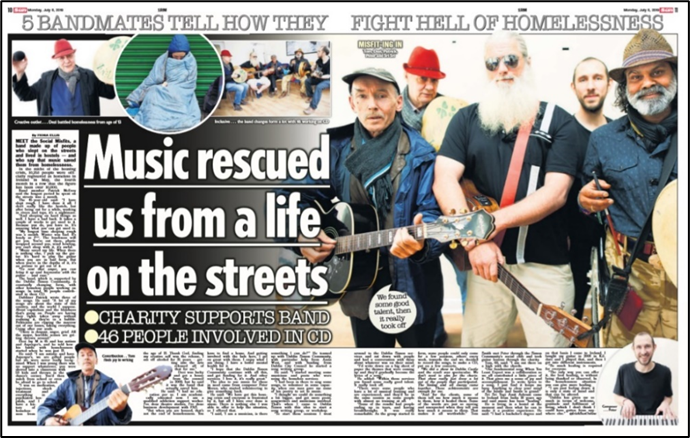 Article in the Irish Sun on The Social Misfits, a band formed through Peter Moran's initiative with the Simon Community
The workshop '#MeToo and the University', led by Cormac O'Brien and visiting scholar Dawn Campbell (South Carolina), designed to speak to the EDI categories of gender and sexual orientation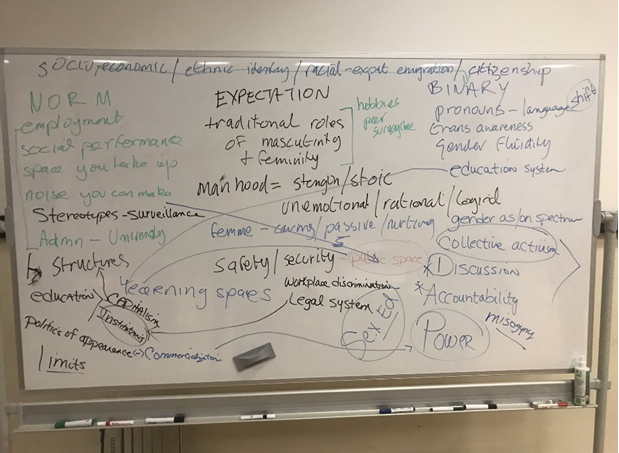 Key Concepts from the '#MeeToo' workshop
Maria Stuart's Welcome-funded project 'Metaphoric Stammers and Embodied Speakers', connecting clinical, cultural and creative practice in the area of dysfluent speech
This report also highlights how colleagues are working with external bodies (such as Arts & Disability Ireland; The Gay Project, Cork; MASI The Movement of Asylum Seekers in Ireland; Queer Action Ireland; and the George Padmore archive) to promote equality, diversity and inclusion outside the UCD campus.
A central aim of UCD's EDI policy is to mainstream EDI issues in all areas of the university. I would like to thank colleagues for their commitment to matters of Equality, Diversity and Inclusion.
I invite you to explore the College's events and initiatives for 2020/21 in the links below. I hope this report recognises this far-reaching and widespread commitment, but can also build momentum and contribute towards further cultural change.
Joseph Twist (Vice Principal, EDI)
Contents
Show/hide content Open Close All
2019/20:
Chair: Joseph Twist (Languages Cultures of Linguistics)
Laura Anderson (EDI Officer for Music)
Martin Brady (EDI Officer for Classics)
Annette Clancy (Spring Trimester, EDI Officer for Art History and Cultural Policy)
Niall Dennehy (College Office)
Sarah Feehan (History)
Mary Farrelly (Languages, Cultures and Linguistics)
Tasneem Filaih (Spring Trimester, Classics)
Kelly Fitzgerald (EDI Officer for Irish, Celtic Studies and Folklore)
Emily Gallagher (Undergraduate Rep)
Kathleen James Chakraborty (Autumn Trimester, EDI Officer for Art History and Cultural Policy)
Francesco Lucioli (EDI Officer for Languages Cultures and Linguistics)
John McCafferty (EDI Officer for History)
Cormac O'Brien (English, Drama and Film)
Emma Penney (Postgraduate Rep)
Maria Stuart (EDI Officer for English, Drama and Film)
Michelle McDonnell (Autumn Trimester, Classics)
NB: Alongside these members, work on this report was also carried out by members of the 2020/21 Committee Victoria Durrer (EDI Officer for Art History and Cultural Policy) and Elva Johnston (EDI Officer for History).
This survey was implemented in order assist the school with identifying the areas they need to address in terms of EDI and feed into College and University policy. Once the School decided on the survey, focus groups were held in order to gauge what the issues were, and what the school wanted to achieve with the survey. We also wanted to reach out to the various stakeholders to help identify the key areas and recurring issues, and any other current research on campus.
Student Focus Group: The first of the focus groups involved student representatives. The Students Union, and other groups were invited, and a general call to students across English, Drama and Film. This was a really interesting exercise as we had a diverse range of voices, from across the student body. DF met with representatives of the LGBTQ+ and Disability societies. They detailed their issues, concerns and suggestions at a campus and school level which also fed into the survey design.
The top 5 issues from these meetings were: the transition to third level; social pressure; money and commute; mental health; time management.
The student focus groups brought up a number of issues, some specific to the school and some specific to the campus. Issues like lack of physical space (for study, or socialising, having lunch etc.), the shortfall of gender-neutral toilets, the physical inaccessibility of the Newman Building for students with a disability (in particular, the large lecture theatres) and supports for those with caring responsibilities are all areas that would have to be addressed at a campus level. However, areas which were school specific related to curriculum design, discussion on new concepts (student and staff training), visual inclusivity in the classroom and the associated resource materials. The student focus group was happy to have the opportunity to feedback, and felt this was something that should be continued, but were eager that action would be taken on needs.
Staff focus group: One of the main concerns of the staff focus group was what issues from the survey data they could address, and what issues would be campus wide and beyond the control of the school. Staff were eager to see both what students perceived as positive and as negative, and what steps could actually be taken to tangibly address any issues (bearing in mind existing pressures around workloads). The suggested questions added to the bank also included a lot around student workload and study management, and this is definitely a major concern for students.
The Survey: The survey was launched on Feb 17 and was open for responses until May 5. Unfortunately, due to the COVID-19 closures, students were off campus from March 13 and there was a drop off in participants after that point. However, those that did respond were very engaged and the responses were fascinating.
Demographics: 82% are undergraduates, and in the 18 – 24 age bracket. The majority of issues raised relate to the undergraduate programmes. The breakdown of the students further shows 67% of respondents identify as female, with just slightly over 5% of respondents not identifying in the traditional gender binary. The question regarding sexuality was left open for respondents to categorise themselves. The responses were varied and just under 50% identify as heterosexual. The area that highlighted a lack of diversity was in the category of race. This again was an open answer question, with suggestions like white Irish, black Irish, Mincéir, Asian etc. 90% of all survey participants were Caucasian. There were no Mincéir responders and the numbers of non-white participants were so low that it would not be fair to focus on just their replies as they could be identified.
Major issues from survey: 40% of responders have a mental health diagnosis. One third of students are commuting over 1 hour to campus with the commute of 5% taking over 2 hours. Over half of all participants are in some form of paid employment, and over 14% have caring responsibilities.
Related issues: Time management and structure; health – particularly mental health and concerns around resources on campus; commute (its impact on study time) and cost of living; lack of social spaces on campus and the impact of this on opportunities to connect with other students and a general sense of belonging.
The Positives: Survey contributors were very positive about staff, particularly administrative staff. Advisory hours were particularly popular, and participants wanted more opportunities to interact with teaching staff. Some responders said they were initially apprehensive about talking with staff but felt once they did it really benefited them. Staff were also commended for where they had diversified the curriculum and asking and using correct pronouns was really welcomed.
The negatives: Participants mentioned the lack of diversity in the staff cohort, and the need for continuing efforts to develop diversity in relation to the curriculum. They felt that training on issues such as correct terminology would be helpful for both staff and students.
Accessibility: Participants mentioned the physical inaccessibility of classrooms for those with a disability– no clear pathway, and steps. They also highlighted accessibility issues around online materials.
Postgraduate responses: Only 18% of survey responses were from the postgraduate community however there were clear threads through these responses. Here issues around pay and conditions were to the fore, particularly for teaching staff. Some respondents raised the issue of university policy on bullying/harassment.
Conclusions: particularly striking and impressive was the manner in which many students communicated their views. The responses highlighted their ability to have empathy and advocate on behalf of all of the student community. There was a real awareness of any of their own privileges and a willingness to detail these articulately. Tangible suggestions were made as to how to continue to make the school a more inclusive space. The survey highlighted that students want to spend more time on campus but there are a number of barriers to allowing them to get the most from their University experience, now exasperated with COVID-19.
School Actions: While there is very little the school can do about transport links, and accommodation prices, the school could advocate for more social space, and additional supports for mental health on campus. The school could also offer further gender/sexuality sensitivity training, continue the ongoing work of decolonising/diversifying the curriculum, and increase opportunities for students and staff to meet through better communication of what services are available to students.