The inaugural UCD Creative Fellows Mentoring Programme 2021: A Year in Review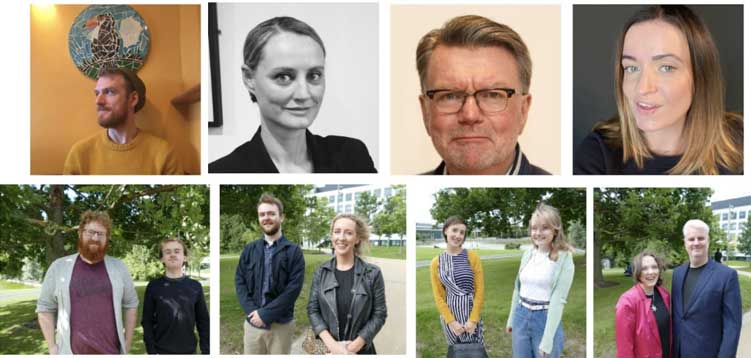 I really enjoyed chatting with my mentee about their creative goals; it's great to be in a position to be able to help in the early stage of someone's artistic journey, and I found it so rewarding to discuss the artistic mindset with someone in the process of discovering their own inspiration and ambition. By the end, I found myself rethinking my own processes and beliefs, just by chatting though all things that make a person want to be a playwright. - John O'Donovan, Playwright and recent winner of the Phelim Donlon Playwright's Bursary
2021 was a challenging year for students. They faced many challenges with learning and growing in a virtual world. They also faced added uncertainty about what the future would look like, particularly for those passionate about pursuing careers in the creative industries.
It is during years like this that community support is so vital. UCD Arts and Humanities has an amazing community of students, staff and alumni like no other. One group of alumni that joined forces with us to support students in 2021 were the UCD Creative Fellows. We are very grateful to the artists and creative industry leaders who joined forces with us this year in creating the inaugural UCD Creative Fellow student mentorship programme. This is a great example of how we love to work with our alumni community to help our students gain industry insights and find their futures and we extend a huge thank you to this year's mentors: Oriole Cullen, Martin Johnson, Pearse McCaughey, Siún Ní Dhuinn, John O'Donovan, Rachael O'Kane, Dave Rudden and Jessica Traynor.
The UCD Creative Fellows Mentoring Programme ran from April to August, with mentor and mentee meeting virtually on a monthly basis and collaborating on projects ranging from musical composition to works of fiction prose. The aim of the programme was to match students with professionals in the arts industry who were able to offer support in developing career ideas, as well as clarifying and expanding on professional goals and networks.
These mentoring relationships were hugely beneficial to both parties. The programme provided the opportunity to meet and nurture creative talent in a year often devoid of collaborative and even social occasions.
One mentee, Aoife Murphy worked with renowned Cellist Martin Johnson, producing an original vocal composition under his tutelage, which can be found below. Aoife wrote the following about her experiences in the Mentoring Progamme:
I was fortunate enough to have Martin Johnson Lead Cellist, RTÉ NSO as my career mentor. Under the guidance of Martin, I gained a considerable amount of knowledge and it also helped build my confidence and consider other avenues of my career. I was introduced to very accomplished people in different areas of music both here in Ireland and abroad and I hope to keep these connections into the future. I worked on a composition for both myself and Martin to perform virtually. This is something I very much enjoyed doing. The Career Mentor Programme provided me with a window into the many options for careers there are in the area I studied and has given me new outlooks on where I see myself going in the future. I benefited greatly from being a mentee in this programme and would recommend it to all UCD students.
You can watch their work at the video above.
Dave Rudden with his mentee Cormac Kelly


Author Dave Rudden, one of our Mentors this year, wrote of his experiences:
It is important to me as an author to find ways to help those just starting out in writing, and so I was incredibly grateful to the UCD Creative Fellows programme and the Alumni Office for the opportunity to mentor Cormac. They provided a helpful structure, were always on hand for advice and support and, crucially, brought us all together at the end of the programme to connect with other mentors and mentees. Community is essential to those starting out in the arts, and the hard work the Alumni Office are doing to foster that sense of community is extremely beneficial whether starting out or established in your field. I'm delighted to be a part of it.
Dave's mentee Cormac Kelly gave his testimonial on the mentoring programme as well, writing:
Along with providing great, practical advice, Dave was attentive, approachable and extremely generous with his time. I would absolutely recommend the mentorship programme to anyone wishing to receive tailored support and encouragement from a professional in their chosen field, in addition to gaining a valuable industry contact.
Building on its success, the Creative Fellows Mentoring Programme will open for a second year in 2022 for another group of students, who will have the chance to learn and grow under the wings of our amazing alumni.
Watch this space for more information
Siún Ní Dhuinn with her mentee Dónal de Brún


Martin Johnson with his mentee Aoife Murphy


Jessica Traynor with her mentee Alison Dunne
College of Arts and Humanities
University College Dublin Belfield Dublin 4 Ireland T:
+353 1 716 7777