UCD welcomes Artists-in-Residence Mark O'Halloran, Jenny Jennings and Dónal Lunny
Posted 13 September, 2021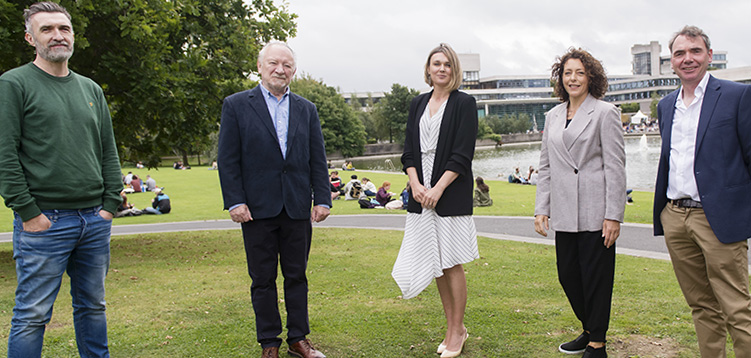 (Left to right: Mark O'Halloran; Dónal Lunny, Jennifer Jennings, Prof. Sarah Prescott, Assoc. Prof PJ Mathews)
UCD Arts and Humanities has welcomed three new Artists-in-Residence to the Creative Futures Academy. Mark O'Halloran joins as Screenwriter-in-Residence, Jenny Jennings joins as Artistic Director-in-Residence; and Dónal Lunny will be Musician-in-Residence.
These internationally-renowned artists, each a leader in their field, will work with Associate Professor PJ Mathews, Director of Creative Futures Academy and Nicolas Pillai in Creative and Critical Practice at UCD School of English, Drama & Film, and, Assistant Professor Annette Clancy at the School of Art History & Cultural Policy.

Actor and writer Mark O'Halloran will be based in the School of English Drama and Film and will contribute to UCD's new MA in Writing for Stage and Screen. With ground-breaking work seen around the world, he brings huge experience to this new role. "It is a great honour to be joining UCD and the Creative Futures Academy as Screenwriter-in-Residence and I look forward to engaging with the students and the faculty in the year ahead," O'Halloran said.
Jennifer Jennings, pioneering theatre-maker and director of THISISPOPBABY will work with students and colleagues in Drama and performing arts across the College of Arts and . She is widely recognised for her extraordinary vision, not only in reimagining the theatre experience but also for engaging in social issues. "The Creative Futures Academy is one of the most exciting and dynamic learning initiatives in the history of Ireland's third-level sector. I am energised and excited to be part of its inaugural year, and to meet and collaborate with the student body, faculty and leaders in the wider creative industry," Jennings said.

Musician and composer Dónal Lunny, a hugely influential figure for decades in Irish folk and traditional music, will be based in the School of Irish, Celtic Studies and Folklore. His workshops at UCD will develop new approaches to traditional music practice. "The last time I was in Belfield was many years ago, performing in the legendary Theatre L. I feel honoured to have been asked to be Artist-In-Residence in UCD this autumn and I'm very much looking forward to visiting the campus again," Lunny said.
Associate Professor PJ Mathews said: "I am delighted to welcome Dónal, Jenny and Mark to the team. It is a privilege to collaborate with such distinguished Artists-in-Residence as we work to re-energise the creative sector in rising to the challenges of the post-pandemic period. All three are highly-regarded and internationally-recognised practitioners, who are relentless innovators within their own disciplines, and who embody the spirit of artist-led creativity."
Professor Sarah Prescott, Principal of the College of Art and Humanities, added "The appointments bring world-class talent and experience to the Creative Futures Academy. Each of these artists will build on UCD's international reputation for developing creative talent, and will inform a fresh approach to education in the creative and performing arts".


---
About the Creative Futures Academy
In 2020, a UCD, NCAD and IADT consortium were awarded €10m funding to develop The Creative Futures Academy, under the HEA Human Capital Initiative (Pillar 3, Innovation and Agility). Launching in 2022, this new Academy, in collaboration with a range of industry partners, will offer students the chance to work with, and learn from, a broad range of leading academics, practicing artists, and creative industry professionals. The Creative Futures Academy is dedicated to developing career opportunities for graduates who want to make their mark in the rapidly-evolving creative and cultural sectors.
For Creative Futures Academy news and updates, search #CreativeFuturesAcademy



---
About the Artists-in-Residence

Mark O'Halloran:
Mark is an actor and writer from Ennis, Co Clare. As an actor he has worked with all the major theatre companies in Ireland. On screen he has appeared in numerous films, most notably as one of the eponymous heroes in Adam & Paul, for which he also wrote the screenplay. He had the lead role of MP in History's Future directed by Fiona Tan, for which he was nominated as Best Actor at IFTA awards 2017. Most recently he played the role of Craigy in Shane Meadow's TV series for Channel 4, The Virtues. He also appears in Darklands and Dead Still, Sky Italy TV series Devils, and Brassic for Sky One.
In addition to Adam & Paul, his writing credits include: Garage; the television series Prosperity; Viva, a Spanish language feature set in Havana, Cuba; and Rialto, which premiered at the 2019 Venice Film Festival. His work has been seen at Cannes, Berlin, Toronto, Telluride and Sundance film festivals.
For the stage he has contributed text to the award-winning production LIPPY and co-wrote Beckett's Room for Dead Centre at the Gate Theatre. He is currently writing on the TV adaptation of Sally Rooney's Conversations With Friends for the BBC and Hulu. Also this year he will premiere a new play, Conversations After Sex, at the Dublin Theatre Festival. In November his stage adaptation of Bergman's The Silence with Dead Centre at the Stadsteater in Göteborg, Sweden, will premiere. He has also written a libretto called TRADE, which premieres in New York in early 2022.


Jennifer Jennings:
Jennifer Jennings is a theatre and festival-maker based in Dublin. She is co-founder and co-director of acclaimed Irish theatre company THISISPOPBABY.
THISISPOPBABY production highlights include RIOT (Co-Director, World Tour / Winner Best Production – Dublin Fringe 2016), Absolute Legends (Director, Irish, UK & Australian Tour 2018/19), Panti's High Heels in Low Places (Producer, World Tour 2015-2017 / Soho Live films 2018) and Alice in Funderland (THISISPOPBABY Producer / Best Production Nomination, Irish Theatre Awards 2012 / currently in film development with Treasure Films).
Jennifer is co-creator and co-curator of THISISPOPBABY's Where We Live Festival (Gold Medal Design Winner, ICAD Awards 2018), WERK (Performance art club - Abbey Theatre, Irish Museum of Modern Art, Melbourne Festival), POPTENT (Electric Picnic Music Festival 2008-2010) and Queer Notions Arts Festival (Project Arts Centre 2009-2010).
She is a co-founder of Neon Lights music and arts festival in Singapore, where she also worked as Artistic Director for the inaugural two editions. In a short space of time, Neon Lights has gained a reputation as the premier music and arts festival in South-East Asia.
In 2011/2012, she was Arts Programme Director for Harvest Music & Arts Festival in Australia, where she devised, curated, designed and produced the Harvest Arts programme in three cities: Sydney, Melbourne and Brisbane. In its debut year, the festival won the Best Major Festival prize in the Sydney Music, Arts and Culture Awards. Jennifer also worked as Head of Programming for Abbotsford Convent, Australia's most unique arts, culture and learning site.
Previously she was Programme Director for Dublin Fringe Festival, Festival Manager for Dublin GAZE Film Festival, Marketing Director for Ireland's renowned Festival of World Cultures and Development Officer for The Corn Exchange Theatre Company.
Jennifer was a member of the European Cultural Parliament (2004-2010). She is currently a UCD Creative Fellow, and in 2004 received a UCD Masters in Cultural Policy and Arts Management (First Class Honours).


Dónal Lunny:
Dónal has been involved with some of the most innovative bands to emerge from Ireland since the 1970s, including Planxty, the Bothy Band, Moving Hearts, Coolfin, and more recently Mozaik. He has toured across the world, collaborating with musicians of many different cultures.
In the early days of Planxty he played a modified round-backed Greek bouzouki until he commissioned Peter Abnett to build a flat-backed version. This was widely copied, soon becoming known as the Irish Bouzouki, and is now one of the staple instruments in Irish music.
Dónal co-founded Mulligan Records and produced 17 albums for the label, among them all the Bothy Band albums, the early Frank Harte albums, and albums by Andy Irvine and Paul Brady. Since then he has produced tracks for and collaborated on albums with Clannad, Kate Bush, Mark Knopfler, and Baaba Maal, among others. He produced the internationally-acclaimed "Common Ground" album for EMI, featuring such artists as Elvis Costello, Bono, and Neil and Tim Finn. He continues his work in studio production, also occasionally composing music for theatre, television and film.
He received an Honorary Doctorate in music from Trinity College Dublin in 2008 and is a member of Aosdána.
He currently plays in ZoDoMo, with Zoe Conway and Máirtín O'Connor; in Usher's Island, with Andy Irvine, Paddy Glackin, Mike McGoldrick and John Doyle; and in Atlantic Arc, with Aidan O'Rourke, Pauline Scanlan, Jarlath Henderson, Padraig Rynne, Graham Henderson, Sharon Howley, Ewan Vernal, and Davie Ryan. He regularly performs as a duo with Andy Irvine and Paddy Glackin respectively.
College of Arts and Humanities
University College Dublin Belfield Dublin 4 Ireland T:
+353 1 716 7777