Emilie Pine wins UCD Research 2019 Impact Competition
Posted 02 December 2019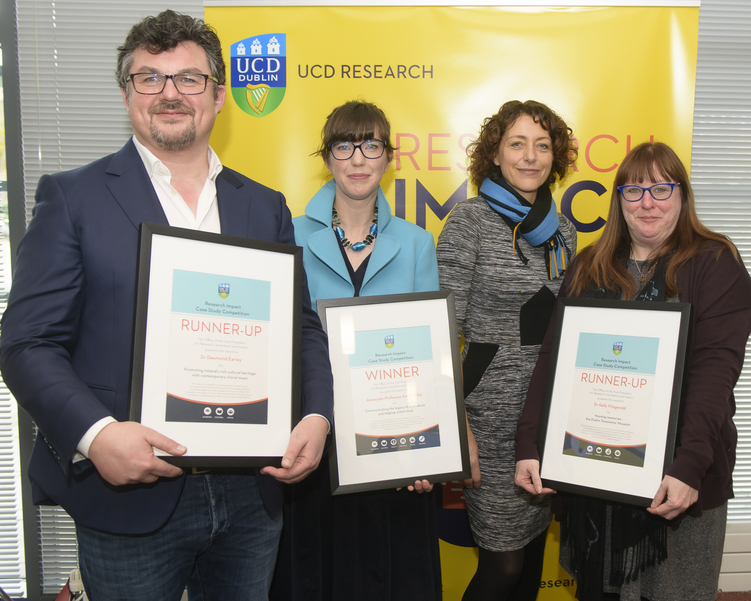 Pictured above l-r: Dr Desmond Earley, Associate Prof. Emilie Pine, Professor Sarah Prescott, Dr Kelly Fitzgerald
Associate Professor Emilie Pine from UCD School of English, Drama and Film was today announced overall winner of the 2019 Research Impact Case Study Competition.
Her case study, 'Communicating the legacy of child abuse and helping victims heal', showcased research combining humanities-led inquiry and digital technologies to produce new knowledge of the scale and complexity of institutional abuse. Dr Pine's team conducted a systematic analysis of how abuse operated, developing a deeper societal understanding of the issue. Her work has also helped victims heal, especially through Survivors' Stories, a project strand that preserves the memories of victims of abuse, housed in the National Folklore Collection.
Speaking at the awards, she said: "I'm delighted with this recognition of the collaborative work of colleagues across the university and survivors of institutional abuse. This really shows the academic and real-world value of Humanities research."
The College of Arts and Humanities also saw 2 runners-up Dr Desmond Earley and Dr Kelly Fitzgerald.
Dr Desmond Earley, UCD School of Music, was awarded runner-up for his work in 'Promoting Ireland's rich cultural heritage with contemporary choral music'. The research, composition and performance of Irish choral music by Dr Earley and the Choral Scholars of UCD has created significant worldwide engagement with the poetry and music of Ireland. The ensemble's recordings have performed exceptionally well, with sales in over 80 countries and more than 16 million views on social media.
Dr Kelly Fitzgerald, UCD School of Irish, Celtic Studies and Folklore, was awarded runner-up for her work on 'Housing memories: the Dublin Tenements' Museum'.
The Dublin Tenement Museum tells the story of a Georgian townhouse from a family home to its incarnation as a tenement house for the city's working poor. Research by Dr Fitzgerald and her team enriched the museum experience through narratives, audio exhibits, a theatre production, and a re-created tenement.
Speaking at the awards, College Principal Professor Sarah Prescott said "Associate Prof. Emilie Pine (Overall Winner), Dr Desmond Earley, and Dr Kelly Fitzgerald have all been deservedly recognised today for the outstanding impact of their research and creative practice-based research. Each of these projects brilliantly showcases the research expertise within the UCD College of Arts and Humanities and the demonstrable impact of humanities research on wider society, diverse audiences and political policy as well as cultural engagement and understanding."
Watch below to hear more about these studies:
Dr Desmond Earley
Dr Kelly Fitzgerald
Associate Prof. Emilie Pine
For more information see:
College of Arts and Humanities
University College Dublin Belfield Dublin 4 Ireland T:
+353 1 716 7777