UCD Creative Futures Academy presents Sprawl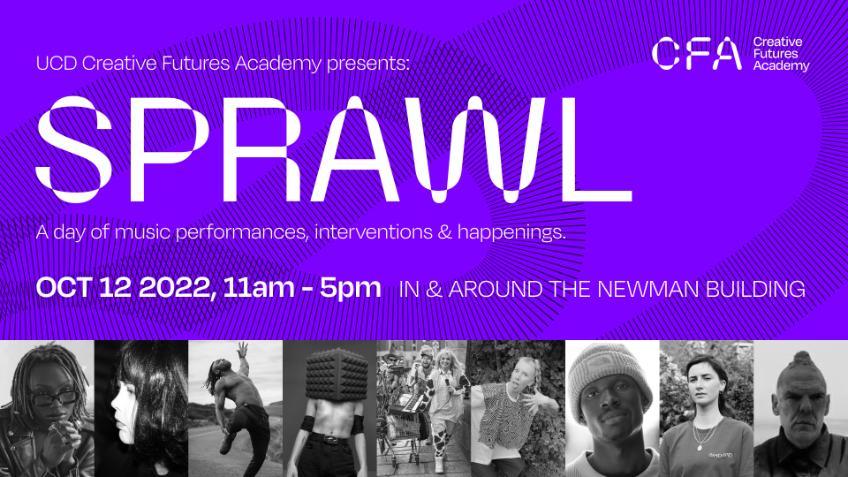 UCD Creative Futures Academy invites you to join Sprawl, a day of music performances, interventions & happenings in and around the Newman Building, 11-5pm, 12th October 2022.
As a new horizon shifts, our future dawns and sets in a haze of mere speculation. Amid this distortion, the merit of creativity and the importance of expression are amplified through our collective quest for meaning. Sprawl proposes a creative setting for some of Ireland's upcoming and established musical, visual, and performance artists in and around the Newman Building. It is an optimistic proposition and an expression of the relentless energies, and definitive perspectives of artists across multifarious fields that have in some contexts redefined, or who have broken new ground through their artistic endeavours.
SPRAWL is a new terrain, a platform for expression, and a space for us to reconsider our future, together. Sprawl was curated by Brendan Fox and funded by the Department of Tourism, Culture, Arts, Gaeltacht, Sport and Media, through the Local Live Performance Programming scheme.
The Creative Futures Academy is a ground-breaking partnership between three leading creative institutions: The National College of Art and Design, University College Dublin, and the Institute of Art Design + Technology. Together we offer new skills, fresh networks and opportunities for learning throughout your life and career - creativefuturesacademy.ie
Schedule + Venues
11 -11:50 am, Theatre N, The Newman Building
Kate Butler, Lecture : This is a Story about Control: Music, Technology and Gendered Roles of Creativity


12 pm, Main Stage in front of The Newman Building
Nigel Rolfe, Onsite Performance

12:45 - 1.30 pm, Orbiting the Main Stage area, in front of The Newman Building
Day Magee, Onsite Performance


1 - 4 pm, Various Corridors across Campus
Chronic Arts Collective, Onsite Performance Series


3:30 - 4:30 pm, Theatre N, The Newman Building
Léann Herlihy, Performance/Lecture : The Field

2:30 - 4pm, Orbiting the Main Stage area, in front of The Newman Building and around around campus
Acid Granny, Mobile Music Performance


12:45 - 1:45 pm, Main Stage, in front of The Newman Building
Felispeaks + UCD Spoken word Artists


2 - 2.30 pm, Main Stage, in front of The Newman Building
Abdul Malik Onilenla, Spoken Word Music Performance


2:30 - 3:30 pm, Main Stage, in front of The Newman Building
Kate Butler DJ Set, Music performance/lecture

3 - 3:30 pm, Main Stage, in front of The Newman Building
Sly Boogie feat Kate Butler, Improvised Dance performance

4 - 4:45 pm, Main Stage, in front of The Newman Building
Katie Kim, Music performance
Follow us throughout the day using #sprawl #creativefuturesUCD
About the artists
Nigel Rolfe
Nigel Rolfe is a seminal figure in the history of live art. His work encompasses many media that includes sound and audio production, video and photography. His primary reputation for the past forty years is working live, making performances throughout Europe, and the former Eastern Bloc, North America and Japan.
Rolfe first Performed in New York at Franklin Furnace in 1978 and De Appel in Amsterdam in 1979. In the 1980s and 90s he worked with the pan-European group Black Market International. Since the late 1990s he has made solo performances in Ireland at the National Sculpture Factory in Cork in 1998, the Cork Film Centre in 2002, The Church Gallery, Limerick in 2003 and Mountshannon, Co. Clare in 2004 both as part of the Irish Museum of Modern Art's National programme.
In 2004 he took part in the European Performance Art Festival in Lublin, Poland and made a performance in the Images 04 Festival in Vevey, Switzerland. In 2010 he took part in the EPAF 2010 at the Centre for Contemporary Art, Warsaw. In 2011 Rolfe performed alongside Mary Nunan and Oscar Mascarenas in the Irish World Academy, University of Limerick. In 2013 he took part in Infr'Action in Venice and Live Action, Sweden's leading annual international performance art festival. Rolfe has also performed at Pompidou Centre in Paris and ICA in London.
Retrospectives include Museum of Modern Art in Paris, France, Irish Museum of Modern Art, Ireland, Red Brick Museum, Beijing, China. Biennales include Busan and Kwangju in Korea and Sao Paulo in Brazil.
Born in the Isle of Wight in 1950, Nigel Rolfe lives and works in Dublin, Ireland.
Photo courtesy of the artist
Katie Kim
Hour Of The Ox will mark the long-awaited return of acclaimed singer, multi -instrumentalist and songwriter Katie Kim for her sixth full-length album. The Dublin based artist enters a new epoch as this raring release is set to be her concluding album under the Katie Kim moniker. A sonically opulent and majestic new territory, written and recorded while in the process of moving to New York and subsequently mixed after being forced back to Ireland during a global pandemic, Hour of the Ox tells a story of longing, alienation and desperation for something connected. An incompatible, disparate but devoted view of the world, told through lush strings, an orchestra of synthesisers, up front vocals and live minimalist style drums.
Produced, arranged and recorded by Katie Kim and long-time collaborator John "Spud" Murphy (Black Midi / Caroline / Lankum) across Dublin, the sprawling Faithlegg countryside and New York, this collaboration between the two, may be their most ambitious. Featuring a roster of previous bandmates, friends and allies, Radie Peat, Kate Ellis, Ellie Myler, Sarah Grimes and Shane O Brien.
Katie Kim (Katie Sullivan) has been writing and recording for over 15 years.
Mood is central to the expansive musical landscape throughout Sullivan's releases. Whether they be bedroom, field or studio recordings. Darkened corners, icy atmospheres and hypnotic knife edge soundscapes. Piano chords stretch to infinity. Cinematic in scope and tectonic in delivery, many have used her scores in documentaries, film and TV to help deliver their stories. She has collaborated extensively with many artists over the years, throughout the genre spectrum and continues to scout the unexplored.
Katie Sullivan aka Katie Kim. Photo by Thom McDermott
Felicia Olusanya (Felispeaks)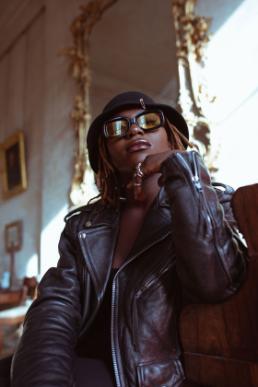 Felispeaks is a Nigerian-Irish Poet, Performer, Playwright from Co. Longford. As well as being a member of the Dublin City Council's Culture Company Advisory Panel; Joined 2018, Felispeaks is a member of the Board of Members for Poetry Ireland; appointed June 2020. Felispeaks has been nominated 'Best Performer' by Dublin Fringe Festival Sep. 2018 Judges for her performance in 'BOYCHILD', a co-written play by Dagogo Hart and herself. Felispeaks has also had the opportunity to perform her poetry at Concern 50th Anniversary in Dublin Castle in September 2018 that included speakers such as UN Deputy Secretary-General, Amina J. Mohammed, President of Ireland Michael D. Higgins, President Bill Clinton and Former President of Ireland Mary Robinson. Felicia has also been honoured with an award by the (APNI) African Professional Network of Ireland for her unique contribution to the art scene in Dublin City, December 2017. Felispeaks' poem: 'For Our Mothers' is in the English Leaving Cert Curriculum 2021 - 2024. Felispeaks is member of WeAreGriot, a poetry collective consisting of herself, Dagogo Hart & Samuel Yakura - curating poetry/rap events - Talkatives, writing plays - Felispeaks is currently enjoying creating poetry and performance pieces that always promise to introduce her audience to the journey of emotion in every story.
Photo courtesy of the artist
Acid Granny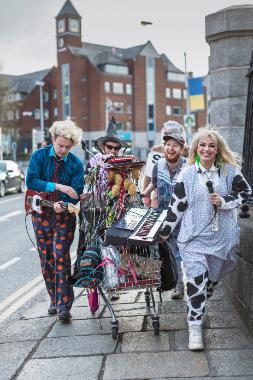 Acid Granny are fully grown toddlers, armed with a shopping trolley loaded with speakers, synths and spuds. They are available for hire to disrupt any gathering, to spout any propaganda and smack any arse with a hurl.
Acid Granny have a long CV. Their musical shopping trolley has been a passport that's brought them to hurl on the streets of Dublin, Limerick, Belfast, London, and Berlin. This year they've hoored themselves out for fivers at Glastonbury, All Together Now, Open Ear, and Electric Picnic. Voted 'Top Talent' in the muck-to-mouth restaurant business, they've stunned hungry diners by harvesting culture crops from the city bog and foraging for fresh grooves. They're funnelling profits into a neo-trad landgrab, they're slapping their thighs in public, they've got hard drives full of pictures of your da. They are the past, present and future of the Irish toddlerwave scene.
You might have seen a trolley jammed with instruments, captained by a group of artists, rolling around Dublin city blaring out music over the last few months. They're known as Acid Granny, an improvised street performance art and music project "centring around a heavily adorned and electrified shopping trolley".
Until recently many people had only encountered the group walking across places like O'Connell Bridge late at night, but when two tilers stumbled upon the trolley early one morning and uploaded a video of what they saw onto YouTube, the wider world were introduced to Acid Granny.
The video has 365,000 views as I write this, with comments being overwhelmingly positive, with people saying things like, "They're having way more fun than the rest of us". The track they were playing in that clip was 'Smells Great', and now they've shared a version online.
Day Magee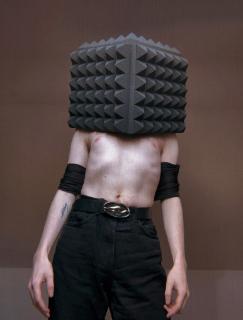 Day Magee is a performance-centred multimedia artist and writer based in Dublin. They have performed since 2011 as part of Livestock and the Dublin Live Art Festival, and graduated from Limerick School of Art and Design in Sculpture & Combined Media in 2021, during their time there staging group live art events managing the Evil Collective. By their penultimate year they had exhibited as part of Tulca Festival, group shows across Ireland and abroad, as well as being nominated for the Future Generation Art Prize 2020 its Irish partner platform Pallas Projects/Studios, and shortlisted for the RDS Visual Arts Awards. Upon graduating they were commissioned by Arts & Disability Ireland, as well as staging their first solo show Contraindications of the Cross in Pallas Projects/Studios in 2022. Most recently they have been commissioned by Aine Philips at Interface Inagh, completed a residency with Museum of Everyone at the Lab Gallery in Dublin, written regularly for Visual Artists New Sheet, as well as hosting and developing regular performance-centred workshops Bodyjam
Magee's work concerns the encoding and enactment of temporality and subjectivity via bodily vectors, and the lived mythographies of selfhood - the stories we tell ourselves about ourselves as simultaneously lived out. Adopting a phenomenological methodology to the live and lens-based performance of images and words, they chronicle their own bodily narrativisations of queerness, disability, and religiosity, towards an unbecoming of the self."
Photo courtesy of the artist
Léann Herlihy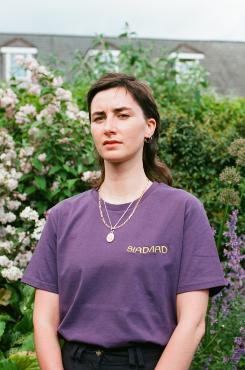 Léann Herlihy is an artist, researcher and educator based in Dublin. The methodological fulcrum of their practice pivots around academic studies in queer theory and feminist epistemologies which they utilise in tandem with live action, performance, video, sculpture and text. Pairing gestural action with in-depth research, their practice employs an emancipatory paradigm that actively destabilises gendered and sexualised dichotomies in an overtly heteronormative society.
Léann Herlihy is the recipient of the Arts Council of Ireland's Visual Arts Bursary [2021] & Agility Award [2021] as well as being awarded a Project Studio [2021-22] at Temple Bar Gallery + Studios.
Image Credit Artist Portrait: Photo by @jordan__hearns
Malik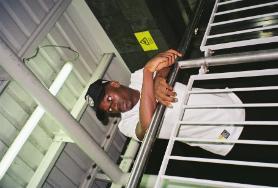 Malik is a 22 year old Nigerian/Irish musician, who's unique style of wordplay and lyricism, has interwoven a mental visual explosion of life from his experiences as a minority in the Emerald Isles. A foreign land, he now calls home, according to Malik, making music in Dublin was a way to express his perception and understanding of the reality outside of himself. Malik's music finds a way to address social hierarchy, gender roles, family struggles and the question of where spirit can be found in our modern environment. Malik's message "in this beautiful chaos we reside in harmony", is made clear in previous releases such as hide n seek, Errors n Mistake, Milage and Kush Kemet Fulani.
You can find Malik on all streaming platforms under the artist name Malik and on social media under the username melanatedmilitant_ .
Photo courtesy of the artist
Kate Butler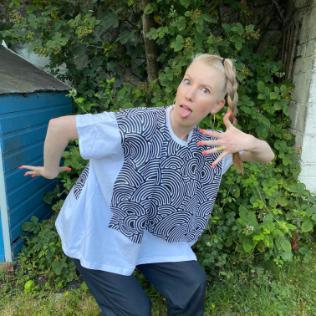 Kate Butler A writer and DJ in Dublin since the 1990s, Kate Butler has a monthly show on Dublin Digital Radio (ddr), inspired by rave culture, community clubbing and the disorientating futurism of contemporary dance music.
In 2017, she began producing Atomic, a series on ddr which gives young people an opportunity to host their own radio show. This year, Atomic has expanded into a pilot programme to teach primary school girls and non-binary children how to DJ (in collaboration with Music Generation Dublin City; the City of Dublin Education and Training Board; and Laetitia Deering and Dennis McNulty).
In January 2022, Kate conceived and wrote a short film, Sonic Cyborgs: FemTech 'n the Studio, directed by Eavan Aiken. Also in 2022, Kate worked on Viva Dean's Synthesize_Her_, a workshop that teaches analogue synthesis / noise-making technology to women and non-binary people. In September, Kate co-programmed, with Ashley Chadamoyo Makombe, For What You Dream Of: Talks, Dance Rhythms and Afro-future Imaginaries, at IMMA.
Kate is currently writing This is a Story about Control: Music, Technology and Gendered Roles of Creativity, a book and documentary about women and non-binary people using technology to make music.
Photo courtesy of the artist
Suleman aka Sly Boogie
Suleman aka sly boogie is founder of the infamous Raw Edge Crew and of Boogie Beast and WAjOO dance style. Sly is a poet, musician dance artist and performer and has performed around the world over the last 15 years. He has also worked with RTÉ as a choreographer on several projects.
Brendan Fox Curator
Brendan Fox is an independent curator, artist, writer & Theatre of the Oppressed (TO) facilitator. He holds a BA in Fine Art from NCAD & received the Global Undergraduate Award for his graduate project Biopredation in 2012. In 2020 he received an MFA in Art in the Contemporary World from NCAD which focused on the intersection of contemporary arts practice & community.
Fox has curated the work of hundreds of Irish & international artists in a broad spectrum of settings. He was project co-curator at Nag Gallery, Dublin, resident curator at Talbot Gallery, Dublin & is the Co-founder, Director/Curator of Foundation Arts in association with Offaly County Council & IMMA. He has devised numerous gallery & offsite exhibitions & has curated from the national collection at IMMA. He has been invited curator at Limerick School of Art & Design & NCAD where he facilitated with both BA & MA students. He is the instigator & curator of Games for Artists & Non-Artists which took place at IMMA in 2020 & saw him receiving the Arts in Participation Bursary Award from the Arts Council of Ireland. Fox is the founder of the Museum of Everyone (MOE), a multidisciplinary platform for artists & community-led initiatives with a focus on inclusion, diversity & active collaborations. MOE received the Dublin City Council Arts Office Incubation Space Award 2021-2022. 2021 sees him devising a major exhibition entitled Spectacular Vernacular in association with Offaly Arts Office which received the In the Open | Faoin Spéir : an Arts Council funded programme. Fox is currently devising projects in Giulianello, Italy and Chicago, USA in association with the Black Lives Matter Movement.
He has facilitated talks/workshops with the RHA, Goethe Institute, NCAD, IMMA, Limerick School of Art & Design, Temple Bar Gallery +Studios, UCD & Trinity College Dublin at The Innovation Academy. He is facilitator of VAI's Lifelong Learning Program. Fox is currently on the writing panel for VAN Magazine & is one of the invited judges for the Global Undergraduate Awards 2012 -2020 in the Art & Design category. 2019 has also seen him invited to the national steering panel for - Erasmus+ Project, 'GO UP': building resilience & intercultural competences in refugees & asylum seekers through theatre techniques.
This event is funded by

UCD Creative Futures Academy is supported by

College of Arts and Humanities
University College Dublin Belfield Dublin 4 Ireland T:
+353 1 716 7777