College of Arts and Humanities at the 2021 UCD Festival @ home
Posted 20 May 2021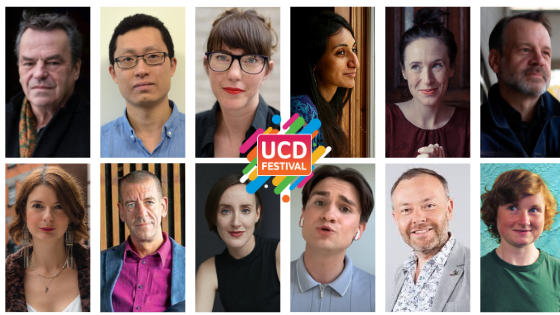 Pictured above l-r: Neil Jordan, Dr Fangzhe Qiu, Prof Emilie Pine, Nidhi Zak/Aria Eipe, Niamh Campbell, Assoc Prof Paul Perry, Dr Julie Morrissy, Prof Diarmaid Ferriter, Jessica Traynor, Ciarán O'Donovan, Rick O'Shea, Áine Gallagher
The College is thrilled to announce the full lineup of Arts and Humanities features for this year's UCD Festival @home. The virtual programme of talks and performances will stream via the UCD Festival @home website from 27-29 May 2021, with content available on YouTube, Zoom, and Soundcloud. You can also find activities in sport, science and innovation, health and wellbeing, and more.
The Arts and Humanities Festival activities range across conversations, performances, and exhibitions - all available from the comfort of your home - and feature collaborations with UCD Creative Fellows, MoLI, and Virgin Media Dublin International Film Festival.
Register for activities of interest below, and peruse the full lineup on the UCD Festival @home website. See you there!

Live In Conversation
Michael Collins Then & Now: Associate Professor Jorie Lagerwey, Head of UCD Film Studies, in conversation with UCD Creative Fellow Neil Jordan and UCD Professor of Modern History Diarmaid Ferriter. Thu 27 May at 7:00 pm
Poetry In The Early Free State: Presenter of RTÉ Radio 1's Poetry Programme Olivia O'Leary in conversation with UCD Creative Fellow Jessica Traynor, Peter Sirr, and Associate Professor Lucy Collins. Thu 27 May at 8:30 pm
More than Cúpla Focal: UCD Educational Technologist Eoin McEvoy in conversation with Comedian Áine Gallagher, Broadcaster & Film maker Ola Majekodunmi, and UCD Lecturer of Celtic Civilisation Fangzhe Qiu. Sat 29 May at 12:30 pm
The Novel in the Digital Age: Author and Director of UCD Creative Writing Associate Professor Paul Perry in conversation with Sunday Independent Literary Editor Madeleine Keane. Sat 29 May at 1:00 pm
Celtic Song: Renowned Traditional Singer Irial Ó Ceallaigh joins Clár Ní Bhuachalla, Gaeltacht UCD Director in conversation and song. Sat 29 May at 3:00 pm
Talks & Exhibitions on Demand
Father of Cyborgs: A discussion of the documentary, which originally aired during the 2021 Virgin Media Dublin International Film Festival.
Past/Present/Pride: Hosted by psychologist Dr Paul D'Alton, MoLI's Past/Present/Pride features stories from UCD alumna Emma Donoghue, UCD Creative Fellow Colm Tóibín, and former UCD lecturer Mary Dorcey.
Ireland's Generation X?: Join Professor Barry McCrea in three conversations, with musician Ian Lynch of Lankum, writer Belinda McKeon, and writer Caitriona Lally.
Performances
Three Poems for Brigid: MoLI and the Department of Foreign Affairs have collaborated on this series of three short online films, with poems from Doireann Ní Ghríofa, Paula Meehan and Nidhi Zak/Aria Eipe.
UCD DramSoc: Excerpts and performances of 'Old Shyte', 'Stone Cold Sober', and 'The Sleep of Death'.
Tír na nÓg: An excerpt from the new bilingual Irish musical written by UCD Alumni Shauna Carrick, Aidan Byrne & Barry Power.
Global Perspectives
GAA in the USA: GAA President Larry McCarthy, Mark Duncan, & Kara Kelly discuss the history of the GAA in the USA. Thu 20 May at 6pm
The Future of Theatre: Join UCD graduate Thalia Gonzalez Kane in conversation with theatre historian Dr Paul Halferty and Martha Fitzgerald of Fizz & Chips Theatre Company. Available on-demand
College of Arts and Humanities
University College Dublin Belfield Dublin 4 Ireland T:
+353 1 716 7777