Diarmaid Ferriter's 'Between Two Hells' hits Number 1 on the Irish Bestseller list!
Posted 15 September, 2021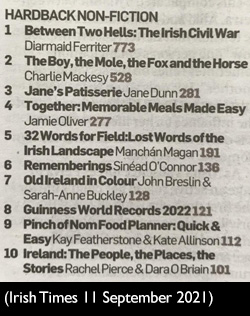 Today, Professor Diarmaid Ferriter's 'Between Two Hells: The Irish Civil War' hit Number 1 on the Irish Hardback Non-Fiction Bestseller List.
At the end of the Irish War of Independence, Dublin signed an unsatisfactory treaty with London that, amongst other things, required oaths of allegiance to the British Empire. To many this was a price worth paying, but for others it was impossible. Very quickly, in 1922 the country collapsed into a cruel civil war that split organisations like Sinn Fein and the IRA, local communities, and families. It was less devastating than some other European civil wars but it left a ghastly number of dead, injured and immiserated across Ireland, north and south. And it cast a long shadow across Ireland.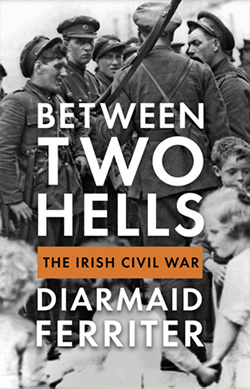 Fine Gael and Fianna Fail, the two parties that grew out of the rival factions, have ruled Ireland since the end of the civil war. It was only in 2019 - almost a century after the conflict - because of Sinn Fein's electoral success that the two parties could see their way to officially working together.
Drawing on completely new sources, Ferriter shows how important this tragic war was for understanding Ireland now.
Diarmaid Ferriter is Professor of Modern Irish History at UCD. He is a regular broadcaster on television and radio and a weekly columnist with the Irish Times. In 2010 he presented a three-part history of twentieth century Ireland, The Limits of Liberty, on RTÉ Television. His books include The Transformation of Ireland 1900-2000 (2004), Judging Dev: A Reassessment of the life and legacy of Eamon de Valera (2007), Occasions of Sin: Sex and Society in Modern Ireland (2009) Ambiguous Republic: Ireland in the 1970s (2012) A Nation and not a Rabble: The Irish Revolution 1913-23 (2015) On The Edge (2018) His most recent book is The Border (2019).
College of Arts and Humanities
University College Dublin Belfield Dublin 4 Ireland T:
+353 1 716 7777