As part of its Decade of Centenaries commemorations, University College Dublin marks the Centenary of WW1 Armistice through various events.
Friday 9 November 2018 11.30 am
Memorial walk, UCD Richview to Belfield House Rose Garden
UCD marks 43 who died and 445 who served and survived World War 1 as members of the British armed services.
Delving through WW1 records, UCD historian, Dr Conor Mulvagh, uncovered details of 488 staff students and graduates who served in the British army during the Great War through the Commonwealth War Graves Commission database. More regularly associated with the Easter Rising and subsequent emergence of an independent Ireland, UCD was a broadly based university and it was not surprising that students in particular went off to war between 1914 and 1918.
The first to die was James Barrett, surgeon with the Royal Navy, posted on HMS Imperiuse, who drowned on 18 December 1914. A total of 43 UCD men died; twenty students, twenty-one graduates and 2 staff. One of these was Tom Kettle, who died at Ginchy in the Somme on 9 September 1916. Kettle was Professor of National Economics at UCD, as well as political activist and member of the Irish Parliamentary Party and sometime MP for Tyrone East, and poet. There are no records of UCD women serving in the British army during WW1.
To mark the centenary of the ending of World War 1, current students and staff of UCD, led by a piper, will walk from Memorial Hall, Richview, to the Commemorative Rose Garden at Belfield House. The group will start at the WW1 memorial plaque in Richview at 11.30am and finish at the Tom Kettle plaque.
Voices of War Performances:
Friday 9 November 2pm, UCD James Joyce Library, Belfield
Sunday 11 November 4pm, National Gallery of Ireland, Dublin 2

‌The UCD Ad Astra Performing Arts Academy and UCD Decade of Centenaries Programme, in collaboration with the National Gallery of Ireland, present a performance of poetry and music to commemorate the centenary of the armistice in 1918. The performance draws on a range of work by poets from Ireland and abroad, including Ivor Gurney, Randal Jarrell, Thomas Kettle, Winifred Letts, Thomas McGreevy and Giuseppe Ungaretti, and contemporary poets Kevin Higgins, Robyn Rowland and Michael J. Whelan.
There are two performances of this programme. The first will be on Friday 9 November in the UCD James Joyce Library at 2pm, following the commemorative walk to honour members of the UCD community who served in the First World War. The second performance – at 4 pm on Sunday 11 November in the National Gallery of Ireland, Merrion Square – will incorporate words and images from the UCD archives and the collections at the National Gallery.
Voices of War International Poetry Competition:
Presentation - Sunday 11 November 2018 4.30pm, 90 Merrion Square, Dublin 2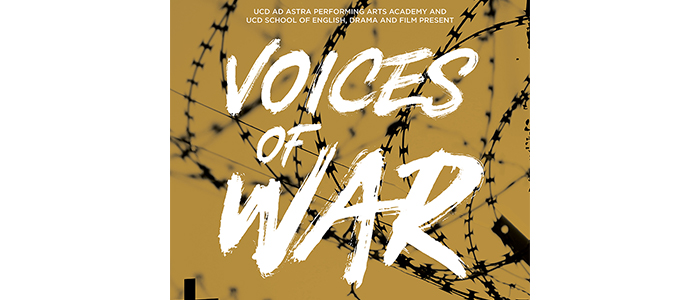 As part of the national and international commemorations of the ending of the World War I in November 1918, and to honour all those affected by violent conflict throughout the world during the last hundred years, University College Dublin established an international poetry competition for the best original poems on war and its effects. The poetry competition was instigated by Associate Professor in the UCD School of English, Lucy Collins.
Seminar "Lessons for a peaceful Europe 100 years after World War 1".
Saturday 17 November 2018 10am, G107, Newman Building, UCD, Belfield.
UCD School of History in partnership with German Embassy in Dublin.
Seminar "Lessons for a peaceful Europe 100 years after World War 1" Schedule
College of Arts and Humanities
University College Dublin Belfield Dublin 4 Ireland T:
+353 1 716 7777