Citation delivered by Associate Professor P.J. Matthews, School of English, Drama and Film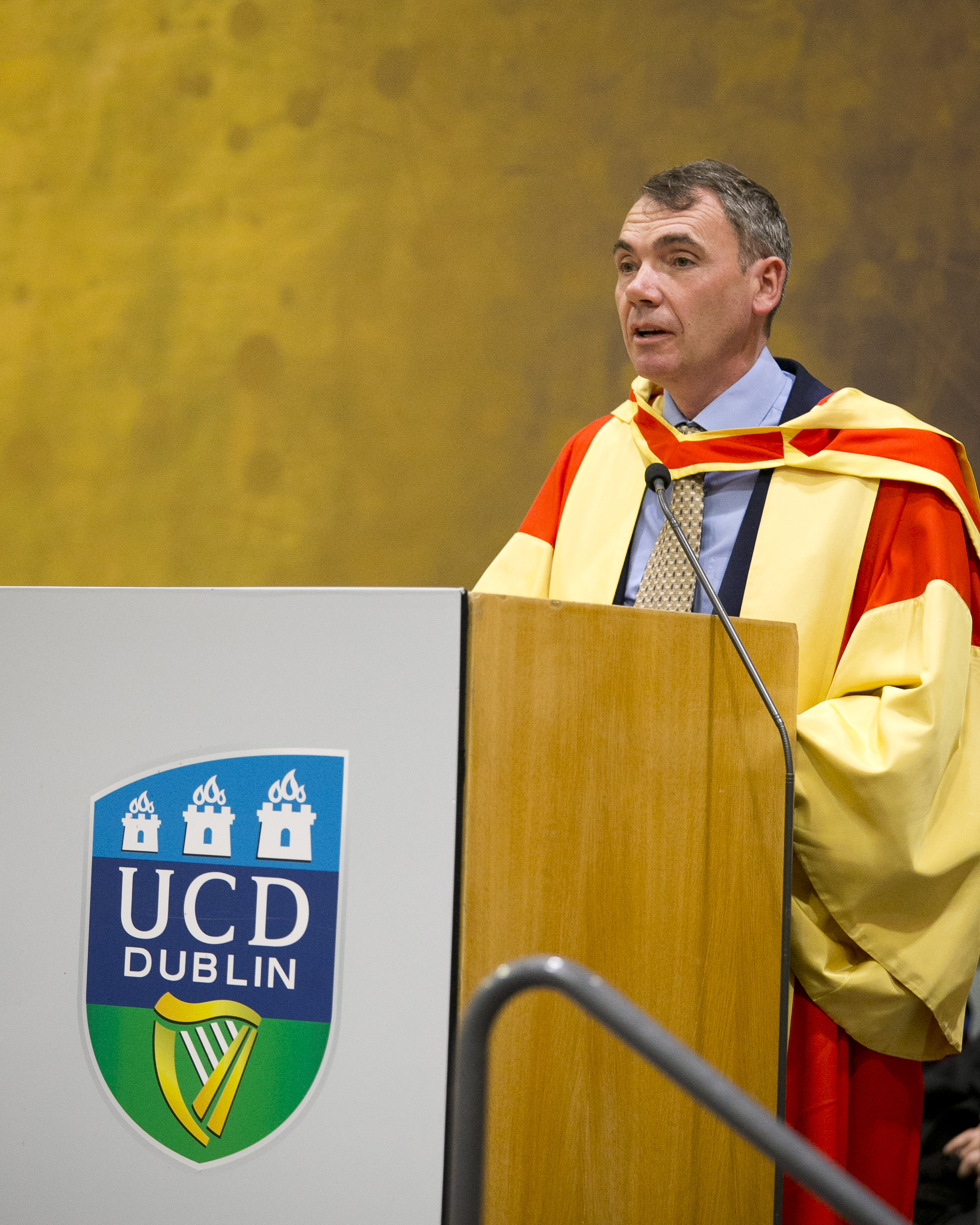 ‌A hUachtarán, a mhuintir na hOllscoile agus a dhaoine uaisle (President, members of the University and Distinguished guests), in recognition of her outstanding achievements as one of Ireland's great cultural innovators and leaders in the field of the creative arts, University College Dublin is proud this evening to honour the exceptional career of Moya Doherty. As a pioneering broadcaster, journalist, producer and executive director, and in her role as Chair of the national broadcaster, RTÉ, she has played a seminal role in the nurturing, development and showcasing of creative talent in Ireland and beyond. Her body of work truly has had a global impact. In parallel, Moya has worked tirelessly as a champion of the Arts, and as a cultural ambassador for Ireland on the world stage for over twenty years.
Moya was born and had a formative early upbringing in the village of Pettigo, County Donegal, close to the border with Fermanagh. [I'd like to welcome this evening Moya's husband, John; her sons Mark and Danny; and members of the Doherty family.] The sounds, rhythms and patterns of that place would leave a lasting impression on her and, as she acknowledges, inform her approach to creativity and artistic expression. The family subsequently moved to Dublin where Moya was captivated by the energetic buzz around the city's theatre scene, and the beat of the emerging folk music revival. She became a regular visitor to the Gate and Abbey theatres at a time when Donegal writers like Brian Friel, and later Frank McGuinness, injected new vigour into contemporary Irish theatre. Not surprisingly, she gravitated towards the rehearsal rooms of the Dublin Shakespeare Society and would go on to win a Best Supporting Actress award at the All-Ireland Drama Festival in Athlone. The step from stage to tv screen was a logical progression, and Moya quickly distinguished herself in the field of television production in the 1980s. After a start in RTÉ, she moved to the UK to work as a reporter and presenter on the ITV flagship breakfast programme, TV AM, appearing in the spotlight at a time when it was often difficult to have an Irish accent in London.
James Joyce, famously believed that 'the shortest way to Tara is via Holyhead', which may explain Moya's decision to return to Dublin in the early 1990s with invaluable experience of the wider world of television production and a renewed curiosity about her cultural roots. Back at RTÉ Current Affairs, she produced a ground-breaking and award-winning investigative documentary called 'The Silent Scream' for the Tuesday File series—one of the first television programmes to shine a light into the dark recesses of sexual abuse in Irish society.
It was as Commissioning Producer and originator of Riverdance for the Eurovision Song Contest of 1994 that Moya created the rarest of things—a moment of cultural exuberance shared across Ireland, Europe and the wider world. Riverdance harnessed an astonishing creative surge and opened up a new sense of possibility for an Ireland emerging from the darkness of more brutal times. Now at the remove of almost quarter of a century, the Riverdance opening night clearly stands out as a moment that radically altered the course of Irish cultural history, in ways that bear comparison to J.M. Synge's Playboy of the Western World in the Abbey Theatre in 1907.
Its fusion of avant-garde experimentalism and popular appeal broke free of older conventional approaches and reimagined the potentials of Irish dance, music, design and production. Riverdance created opportunities for Irish artists to perform on the global stage and to represent their homeplace differently. To date the show has been seen live by 25 million people in over 500 venues worldwide and has won numerous prestigious honours, including a Grammy award in 1997. It has also been given one of the greatest accolades of modern popular culture—that is, a parodic treatment in an episode of The Simpsons!
Riverdance has generated remarkable levels of interest in Irish music and dance at home, and can be rightly regarded on a par with the creative innovations of Sean Ó Riada and his coterie in earlier decades. It has generated unprecedented levels of interest in far-off places hitherto unfamiliar with Irish forms of cultural expression. Significantly, it has also generated employment opportunities for hundreds of dancers, musicians, designers and technicians in the creative sector, who might otherwise have been unable to pursue such career paths.
In addition to the artistic achievement of Riverdance, and its younger sister, Heartbeat of Home (which she also produced), Moya has contributed spectacularly to the development of the creative industries in Ireland. She is a founding Director of Tyrone Productions, one of Ireland's most successful independent television production companies, and of Today FM. In 2014 she was appointed Chair of the RTÉ Board. In this role she oversaw the appointment of RTÉ's first female Director General and instigated a reshaping of the organisation to respond to the challenges of the digital age.
The great Irish playwright, J.M. Synge, wrote that 'all art is a collaboration'. This wisdom is borne out by the example and outstanding achievements of Moya Doherty throughout her career and across all the fields and disciplines in which she has excelled. Like Synge's Abbey Theatre colleague, Lady Augusta Gregory, Moya deserves the highest recognition for her creative vision in conceiving of innovative cultural ideas; for her discernment in bringing together the most talented artists and workers to give spectacular life to those ideas; and for her bravery, dedication and hard work in executing those ideas to the enrichment of us all.
Here at UCD we greatly value and nurture creativity in all its forms and are, rightly, proud of our graduates' distinguished track record of achievement in the field of the creative arts. It is entirely appropriate that we honour the achievements of Moya Doherty this evening with the award of the degree of Doctor of Literature. On this exuberant occasion let us look to her example as we celebrate, too, the success of the Class of 2018. Follow your passion and embrace what makes you happy, wherever you may find it. Be ambitious, work hard with integrity and heart. Be proud of your homeplace and embrace the world!
_____________________________________________________________________
Praehonorabilis Praeses, totaque Universitas,
Praesento vobis hanc meam filiam, quam scio tam moribus quam doctrina habilem et idoneam esse quae admittatur, honoris causa, ad Gradum Doctoratus in Litteris; idque tibi fide mea testor ac spondeo, totique Academiae.